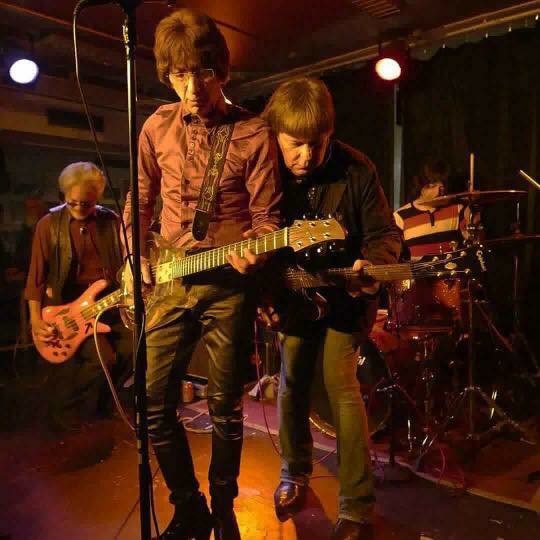 Many of the artists we grew up with continue to make new records, whether we want them to or not.
Sometimes, this is a very good thing: Scott Walker released Soused in 2014 when he was 71 years old, and it's the best album of the decade so far. Neil Young's Le Noise, made when he was 65, is a gorgeous, frightening and courageous record; and septuagenarians Bob Dylan, Paul McCartney and Ian Hunter consistently release high-quality new music worthy of attention.
Other times, it's another story: I closely scan every new Blue Öyster Cult release in vain for a mere shard of the jittery, diesel-burping monster they were in their prime; and I challenge each and every one of you to listen to "Be Lucky" by the Who (released in 2014) or the Rolling Stones over-processed and insanely obligatory "One More Shot" (2013) without a little part of you dying inside. In fact, each time I hear the Stones or the Who are releasing something new, I tape a little DNR notice to my soul.
Music's old priests handing down fresh edicts is not a new phenomenon. Louis Armstrong had his biggest chart hits when he was well into his 60s, Frank Sinatra hit No. 2 in the pop charts when he was 78 and people still eagerly anticipated Miles Davis' new work, even as he neared the end of his life.
On the other hand, I don't recall Dear Old Dad calling the record store to find out when the Boswell Sisters or Ukulele Ike would be releasing something new—and lest we forget (pay attention here, your mind shall be blown), when I was a lad listening to the Damned, Ukulele Ike's biggest hits were about 40 years old; just about as old as Never Mind the Bollocks, Fleetwood Mac's Rumours, or Bob Dylan's Desire are now. Whooooaaaaaa.
The absolute instant accessibility of music via the internet, and a new rock economics that encourages even the oldest acts to be out there making money and selling merch, have created an environment where it's certainly easier (if not necessarily advisable) for archival acts to put out new albums. As it happens, a couple of my favorite old-timey bands have just released new music, so I thought I'd take a moment to review these releases.
The Flamin' Groovies, who have been confusing and elating listeners for just about 50 years, existed in two distinct creative iterations: From (roughly) 1967 to 1972 the Groovies played scorching r'nboogie'n'blues not dissimilar from the early Pretty Things, Peter Green-era Fleetwood Mac, or Dr. Feelgood. The Groovies two albums from this period (Flamingo and Teenage Head, both released in 1971) are must-haves, summoning the spirit of Robert Johnson and the fury of the MC5.
[youtube https://www.youtube.com/watch?v=GRu66ghA2V8&w=420&h=315]
Around 1975, the Groovies made a stylistic change as dramatic as any in music history: switching out vocalists, they emerged as a band slavishly devoted to replicating Mersey Beat sounds and styles, releasing some of the finest faux Brit invasion material ever recorded on three studio albums between 1976 and 1979 (two of these—1976's Shake Some Action and 1979's Jumpin' In The Night—are essential).
But since 1980, the Flamin' Groovies discography is a twisted maze of live albums (both archival and contemporary), inferior re-recordings, re-releases, and vault material of varying quality. As far as I can tell, the Groovies haven't released a studio album of new songs since 1992's faintly amusing but generally tepid Rock Juice.
The Groovies have just released a new studio track called "Crazy Macy," and it is an honest-to-god return to form (and a rather dramatic one, considering the insulting re-recordings and clumsy live albums of the last few decades).
[youtube https://www.youtube.com/watch?v=oh8EXOpgfko&w=560&h=315]
"Crazy Macy" evokes the chiming, driving power of primo '76 – '79 era Groovies, with the added addition of a bit of the overdrive r'n'b raunch that marked the earlier ideation of the band. Recorded with a power and clarity that Rock Juice (and the re-recordings) completely lacked, the band seem to have referenced the best aspects of their productions from both eras of the band. "Crazy Macy" may not be quite up to the level of "Slow Death," "Shake Some Action" or "First Plane Home," but it's well within spitting distance, and that's damn exciting.
If the Groovies' discography is confusing, Hawkwind's is positively byzantine. I will not even try to trace a chalk outline around the fantastic pile of compilations, live albums, studio albums, studio albums under odd names, re-issues, EPs and related ephemera Hawkwind have released since the band formed in 1969 (along with an insane family tree—roughly 50 people have done time in Hawkwind, the only constant being guitarist/bandleader/frequent vocalist Dave Brock).
I have said this before (and it's likely I will say it again): Hawkwind 1971 – 76 (what fans/collectors call "The UA years") are probably my all-time favorite rock band.
Their vastly original feral/ethereal double-timed LSD-and-speed space rock is the missing link between Pink Floyd and the Sex Pistols, and if you have ever wished that heavy metal would sound like Deep Purple and the Stooges mainlining speed and fighting to death on mysterious Ice Planet Gliese 436b while Tangerine Dream played in the background, you'll love what Hawkwind achieved in the first half of the 1970s.
[youtube https://www.youtube.com/watch?v=HYAd0-ifNlM&w=560&h=315]
Now, in terms of pure acid-eating/E.T.-handjobbing space punk ecstasy, Hawkwind were never quite the same after the departure of bassist Lemmy Kilmister in 1975 and drummer Simon King in 1979; yet the band continued, did some goddamn good work and maintained their status as one of the greatest of Great British Cult Bands.
Since 2010, Hawkwind have been on a pretty good run, putting out powerful and precise albums that blended sluicing, charging, big-chord rock with sensurround synths and Dr. Who-esque sound effects (2012's Stellar Variations, released inexplicably under the name Hawkwind Light Orchestra, is especially good).
Hawkwind's new release, The Machine Stops, is actually a hell of an album. The grinding, soaring, spitting, oil-smoke belching machine of classic Hawkwind was long ago replaced by a gleaming zephyr who rode straight rails with almost synthetic precision (in great contrast to the whacakdoodle timing of classic Hawkwind), but The Machine Stops is still very much effing Hawkwind (in a way some of their other albums in the last 30 years haven't quite been).
[youtube https://www.youtube.com/watch?v=81bXCn49oRc&w=420&h=315]
Comparing new Hawkwind with old Hawkwind is like comparing Machine Head Deep Purple and Perfect Strangers Deep Purple, though this album takes you on a wild Space Invaders-meets-The Division Bell ride that MTV-era Purple never aspired to.
Even if The Machine Stops is not near the heights of the band's classic UA era, it still totally holds its own with the best of the band's post-1980 work (i.e., Levitation, Electric Tepee, Stellar Variations, The Business Trip), which is all to say it's a heck of a lot better than you'd expect a (nearly) 50-year-old band led by a 75 year-old space hippie to be. One big fat ET thumb up! on this one.
Now, if only Blue Öyster Cult would make a great record.