Russian billionaire Roman Abramovich is well on his way to joining the elite ranks of New York residents with supersized mansions.
The billionaire owner of the Chelsea Football Club has received approval from the Landmarks Preservation Commission to build an  Upper East Side megamansion—a tricky proposition given that he will be joining three townhouses on E. 75th Street into one massively-wide manse with a glass backside. And a pool.
So, how did Abramovich finally attain the elusive approval? His quest to build a palatial, Gilded Age-esque mansion began back in October of 2014, when he first started buying up the townhouses at 11, 14, and 15 East 75th Street, all in separate deals. Approximately $78 million later, Abramovich became the proud owner of all three townhouses, taking up quite a chunk of the block. Unfortunately for Abramovich, the townhouses weren't exactly easy to combine.
But, where there's a will, there's a way.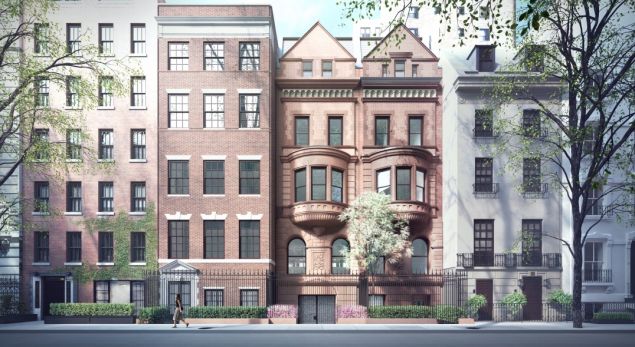 The townhouses are located in the midst of the Upper East Side Historic District, which means that Abramovich gets the super fun and exciting task of dealing with the notoriously fickle Landmarks Preservation Commission. Abramovich and his architects filed plans to combine the separate homes into his dream mansion. A $6 million plan, to be more precise–a thirty-foot backyard was involved.
But the Department of Buildings rejected his initial proposal, which would have created an 18,255-square-foot abode with a pool, and the Landmarks Preservation Commission weren't thrilled with the proposal that Abramovich's architect presented in April—among other issues, they weren't big fans of the changes he wanted for the façade, and he was told to go back to the drawing board.
"It would be very unusual for the committee to permit a tear-down in a historic district," a spokesperson at the Landmarks Preservation Commission told the Observer last year, when Abramovich had just finished purchasing his collection of Upper East Side townhouses. But, Abramovich prevailed–plus, he didn't actually try to tear down any of the buildings.
Not to be dissuaded, Abramovich's architect, Steven Wang submitted new plans, with international starchitects Herzog & de Meuron serving as design consultants. And, hallelujah! The modified plans have now been approved by the LPC, reports 6sqft. And so Abramovich is on his merry way to mansion bliss! Perhaps he took the Observer's advice to take some cues from billionaire former mayor, Michael Bloomberg, who is also working on his own Upper East Side mega-mansion just a few blocks away.
For those with the means to create mansions right out of an Edith Wharton novel, it seems like townhouse combinations are all the rage. Yes, Sarah Jessica Parker and Matthew Broderick, we're looking at your West Village palace, too. And, of course, don't forget about Madonna–she combined three townhouses at 152 East 81st Street, into one enormous home fit for a queen.
The original building proposals from April included restoring one of the façades back to its Queen Anne style, according to 6sqft—the new plans restore the houses in the preexisting Neo-Federal style. The main entrance will be at 13 East 75th Street, and there will be a vertical garden. Not to worry, though—it looks like Abramovich will still get his pool!
Because really, this is the man who built the world's second largest yacht, ever, Eclipse–perhaps Abramovich now wants the number one title, of biggest townhouse combination. Only time will tell, we suppose, if his square footage allows him to take the title.