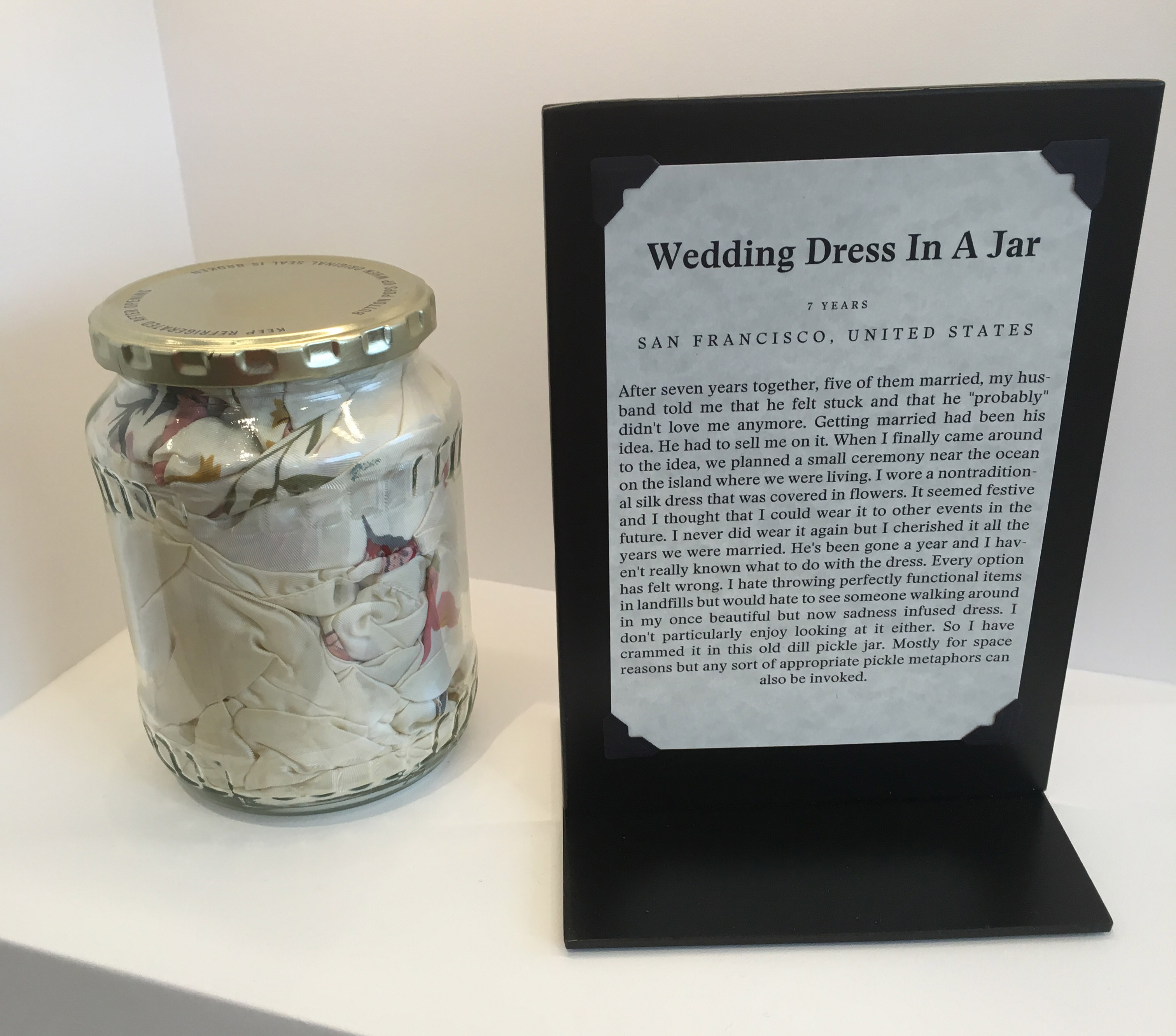 The first museum I ever visited in Los Angeles—about a week after my plane landed some time in the summer of 1996—was the Lingerie Museum and Celebrity Lingerie Hall of Fame inside Fredrick's of Hollywood. It was on Hollywood Boulevard, just down the corner from Highland Avenue, which was not yet a mall.
Back then, the boulevard was both pleasingly scummy and intellectual, replete with stumbling drunks and junkies and cavernous used bookstores.
The Lingerie Museum provided everything a transplanted Gen Xer might crave—kitschy enough to power an irony-fueled Miata while still providing the kind prurient thrills that are impossible to avoid these days but still held currency back then. There were moments of fragility too: the impossible smallness of Judy Garland's silk peignoir, the echoing emptiness of Marilyn Monroe's bustier. And Madonna's cones could poke your eyes out.
On Saturday June 4, the Museum of Broken Relationships opened up in the site of the old Fredrick's. The for-profit institution, an American cousin of the Zagreb, Croatia-based original, hits the touchstones of today's 20-somethings as squarely as the Lingerie Museum struck mine a generation ago. Irony has been replaced by "relatability;" garden variety lascivious desire with an insatiable need to inhabit the most intimate and vulnerable moments of complete strangers.
Laid neatly inside the clean, starkly-designed interior—the space has been scrubbed clean of any vestiges of hot pink, with only Fredrick's star out front to indicate its previous life— are artifacts of doomed unions and failed romances. Accompanying the empty tube of tooth paste, the collection of cologne bottles, the Peter Pan doll, are the stories of the anonymous individuals who held on to them all these years, totems of their broken hearts. Unlike Madame Tussauds next door, these are the genuine articles, authenticity guaranteed.
The feelings the place evokes—melancholic whimsy, nostalgia for someone else's life—are difficult to label. Surely, the Germans have several names for it, but the rest of us are left a little tongue tied trying to describe it.
"This taps in to a primordial need—it's a little bit gossip, a little bit craving for intimacy," says museum director Alexis Hyde. "It's permissive voyeurism. All of these donors are giving us permission to read. They want us to laugh with them, learn with them, and to take something away from their mistakes. Maybe just share a moment of their exhibitionist nature. Who knows what their reasons are? Bottom line is, it's all allowed in here. This is a shame-free space."
It is also a space—3,500 square feet of quietude flooded with natural light—that is unlike anything else on the Walk of Fame. Outside its doors, which during most hours of the day is thick with tourists and the dad-bod superheroes posing for their pictures, the Hollywood Boulevard of Pretty Woman is gone, razed by a successful, if sanitizing, urban redevelopment. By comparison, the Museum, designed by the West Hollywood-based Brown Design Group, is bracingly calm. It is intended to be a contemplative place where we are guided through disillusionment's emotional rollercoaster with careful deliberation.
It starts off whimsical (an "I Want to Believe" X Files pin), hitting it's heaviest moments in the middle (shredded blue jeans pulled off a husband who suffered a devastating motorcycle accident) and ends on moments of hopefulness (a stupid frisbee that was such an exceedingly lame anniversary gift you can be assured that you will never do worse). Think of it as a kind of Safe Space Mountain.
"Even if it is someone's first reaction is that this would be a depressing experience, the way we have curated it quickly dispels that notion," says assistant director Amanda Vandenberg who along with Hyde chose the hundred or so items on display. (The ever evolving exhibition is still accepting submissions). "By the end, you have experienced all the variants. Not all broken relationships are bad. We want to leave you with a sense of hope."
If you enter as a couple, says Vandenberg, you will likely leave pretzel-armed, "believing you can beat the odds."
The museum itself, which takes walk-ins and reservations and costs $18 for general admission and $15 for students and seniors, is the latest bet by John B. Quinn. Quinn is the founding partner of the storied litigation-only law firm Quinn Emanuel. He is also part owner of the equally storied (while comparatively new to the world) Q, an ultra-exclusive Edo sushi joint downtown.
He got the idea for the Museum of Broken Relationships when he stumbled into the Zagreb version while on vacation with family and friends. Every member of his varied group was moved in some way.
"This is a serious effort to share something important about the human experience," says Quinn. "It is also accessible. You don't need an archeologist, literature professor or art historian to explain any of this to you. You know who you are, and all of these things are immediately relatable."
Adds Quinn, "Part of the take away is that this is a universal experience."
In an age where we are able to left swipe paramours out of both our lives and consciousness, there is something grounding about baring witness to the physical debris left behind when we uncouple, consciously or otherwise. In the case of a melted cell phone on display, the results can look literally like a bomb went off.
"This is a reminder of physical things and their importance," says Quinn. "This is about the different ways memories can in a sense inhabit objects."
The museum is smack dab in the middle of one of the epicenters of American hucksterism. Ripley's Believe it or Not is across the street, as is one of the many headquarters of a religion dreamed up by a pulp fiction author, while the Oscars are held in a theater beneath a Johnny Rockets on the other side of Highland. This place is meant to stand apart from that legacy.
The Lingerie Museum supposedly held no such compunction: many of its allegedly historic items were rumored to be fakes. But then you get what you pay for and that place was free.
"I have a little bit of the Fredrick's carpet at home," says Hyde, still on the subject of mementos of things no longer here. "I couldn't resist taking a little piece."
Adds Hyde, "When you are writing something so vulnerable and so honest, you are really giving insight to your soul and your place in the world. Even if I wanted to write a hundred different stories, I would never be able to get to the kinds of truths that these stories reveal."
"Authenticity is maybe the most important idea here," she says. "A lot of people ask, 'Do we write the stories ourselves? Do we re-write them or fix them?' The answer is, we do very little. We will capitalize the I's, fix the spelling, and take out the last names. That is about it. We are trying to be as true to the story and to the actual experience as possible."