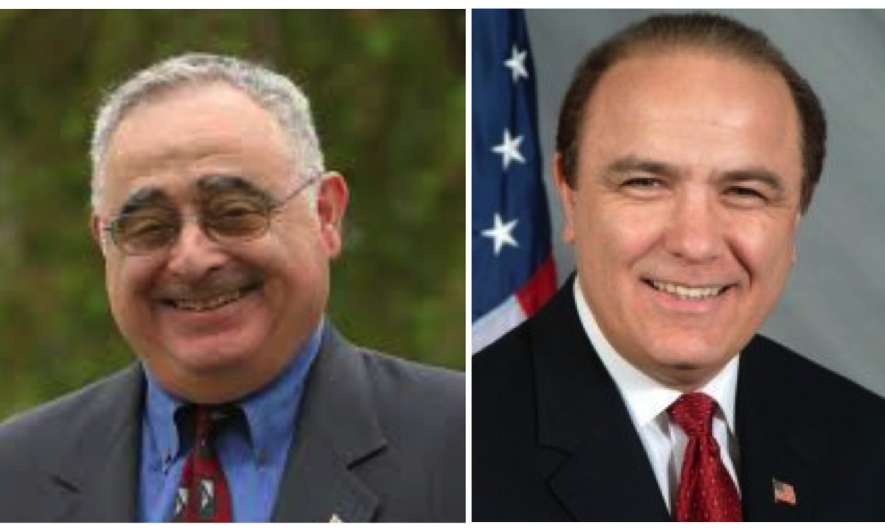 Members of the Bergen County Republican Organization (BCRO) will soon gather at the bi-annual reorganization meeting to decide whether Chairman Bob Yudin will remain the group's leader or if former Assemblyman Paul DiGaetano will be named the group's new chairman. A deep rift in the BCRO has made this particular contest increasingly strained. In the hours leading up to the June 21 meeting, the candidates and their supporters are still urging BCRO members to vote and sending out last-minute endorsements in an effort to bolster numbers for their candidate of choice.
The rift in the BCRO was spawned by election losses against the county's Democrats. Many of those who have jumped on the DiGaetano bandwagon say that Yudin has failed to create interest in races, fundraise, and selected candidates poorly. Meanwhile, Yudin claims he is still the right person for the job and that losses experienced by the party in recent years can be reclaimed.
The division has pitted many BCRO members against one another. On Yudin's side stand state Senator Kevin O'Toole, state Senator Gerry Cardinale, Assemblyman Scott Rumana, Assemblyman Bob Auth, and Assemblyman David Russo. In the past few days, former Rochelle Park Mayor Joseph Scarpa and Hasbrouck Heights Committeewoman Rose Heck have both issued letters of support for Yudin posted to his facebook page. Yudin's running mates in this election are Wyckofff Mayor Kevin Rooney, former Freeholder John Mitchell, Judith Fisher and Bob Taschler.
While Yudin may have much of the establishment support in Bergen, DiGaetano still has a significant number of supporters. Freeholder John Felice, who is not seeking reelection in November, has endorsed DiGaetano. The Bergen County Hispanic Republican Organization is also urging members to back DiGaetano in the chairman's race over Yudin. Two facebook groups—Women for Paul DiGaetano for Bergen County GOP Chairman and Young Republicans for DiGaetano—were created to show support for the challenger and encourage voter turnout.
On Monday, Yudin sent out an email to BCRO members blasting some of DiGaetano's supporters including the Young Republican's Matt Gilsen. In the email, Yudin also claimed that the hostility of the race has "reached a very scary level." In the correspondence, Yudin claims he received "vile" emails from DiGaetano supporters Hasbrouck Heights Committeeman Dennis Nuzzo and Hackensack Committeewoman Stephanie Shellenberger. He also referenced a June 19 email sent by failed CD5 congressional challenger Michael Cino titled "Cardinale was a Horrible Father – Father's Day Special Report on Yudin." According to Yudin, "'vile' does not even begin to describe" what Cino wrote in his email and he is "now concerned with [his] physical safety."
Notably, DiGaetano was not the only candidate who had initially challenged Yudin in the race. Though he is now a running mate, Rooney initially was also challenging Yudin. In March, Rooney left the chairman's race to endorse Yudin and in April, it was announced he would be on an LD40 ticket for an assembly position. DiGaetano has repeatedly blasted that reversal, calling it a "backroom deal." On June 17, mailers blasting Rooney for the reversal paid for by "DiGaetano for Chairman" hit BCRO mailboxes. Those mailers came just one day after mailers blasting prominent Bergen Republicans Jack Zisa, district 37 Chairman Thomas Toscano and Bergen County NJ GOP Committeeman Ben Focarino, DiGaetano supporters, were received by BCRO members.
Additionally, Yudin has also faced allegations that he used racial slurs against Italians in the lead up to the reorganization, something that the chairman has vehemently denied.
Earlier this month, allegations that DiGaetano had made a death threat against O'Toole in 2005 drove Yudin to call for DiGaetano to step out of the race. DiGaetano has denied that the incident ever occurred.
On Monday, Assemblywoman Holly Schepisi told Save Jersey that she was "embarrassed to be part of the BCRO" due to the ugliness of the chairman's race. She has not endorsed either candidate.
Votes will be cast by the group's members from 4 to 8 p.m. today. Results are expected to be announced around 10 p.m.