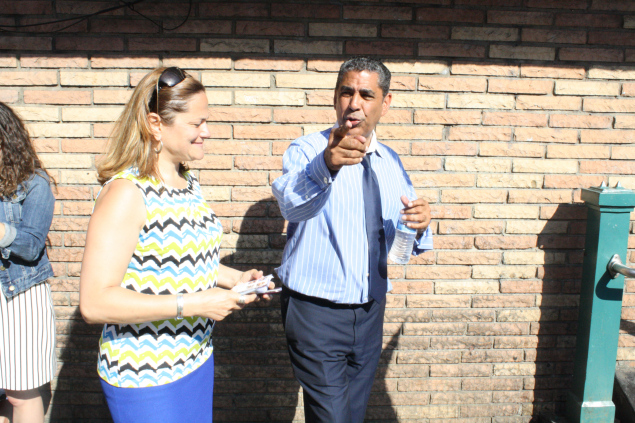 State Senator Adriano Espaillat has styled himself as a champion of agricultural laborers in New York—but fueling his bid for Congress are donations from a sugarcane plantation-owning clan with an international reputation for mistreating workers.
Federal filings show Mr. Espaillat's campaign to replace retiring Congressman Charles Rangel has received a combined $13,500 from four members of the Fanjul family: brothers Andres and Alfonso, the latter's wife Raysa and their son-in-law Luis Fernandez—making the Fanjul Corp. the single largest funder of the upper Manhattan lawmaker's election committee. The Fanjul business empire includes among its subsidiaries Domino Sugar, Florida Crystals and ASR Group, which runs processing facilities across the United States, Canada and Latin America.
In New York, Mr. Espaillat has spearheaded the drive for a Farmworker's Bill of Rights, which would establish basic protections for a class of laborers exempted under present law.
"Farmworkers are directly responsible for feeding all of us. The least we can do is make sure they are treated in a humane way," Mr. Espaillat said at a 2012 press conference.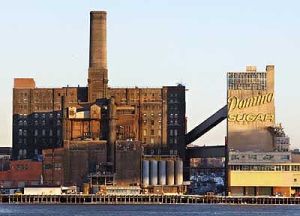 But Fanjul Corp.'s treatment of workers on its cane farming operations have drawn fines and lawsuits in the United States and opprobrium in Mr. Espaillat's native Dominican Republic. Over the years, numerous cane cutters—many of them imported from Jamaica—on the company's 155,000 acres in Florida have raised allegations of systemic wage theft and working conditions so poor one attorney referred to them as "modern-day slavery."
The U.S. Department of Labor has also repeatedly hit Florida Crystals and its offshoots for hazardous work environments in their sugar mills, including "exposing workers to lacerations and amputation injuries."
The Fanjuls' Central Romana subsidiary is the largest private property holder and employer in the Dominican Republic. The U.S. government has placed Dominican sugarcane, much of which comes from the Fanjul's 200,000 acre plantation, on its list of products created through forced or child labor. A 2008 documentary, Sugar Babies, exposed the substandard living and labor conditions of Haitian emigres working the Fanjuls' fields.
In 2013, the Department of Labor announced it had uncovered "evidence of apparent and potential violations" of labor standards outlined in the Dominican Republic-Central American Free Trade Agreement in the company's farms, including lack of access to drinking water, 12-hour work days, seven-day work weeks, employment of minors and overtime abuses.
The Cuban-born Fanjul brothers are also renowned for their influence over an array of American political figures, ranging from ex-President Bill Clinton to Sunshine State Sen. Marco Rubio. But both liberals and conservatives have bemoaned the way federal subsidies and price floors have bolstered the family's fabulous fortune.
They also enjoy a warm relationship with the government of the Dominican Republic. If victorious, Mr. Espaillat would be the first Dominican-American to serve in the House of Representatives, a point he repeatedly made when he challenged Mr. Rangel in 2012 and 2014.
A spokesman for the Fanjul family defended both the company's labor history—asserting conditions at its estates in the Caribbean are first rate, and that workers enjoy the benefit of unions—and its relationship with the state senator.
"We have done extensive work in the Dominican Republic to make sure worker rights are respected," said Gaston Cantens, a vice president at Florida Crystals. "Because they have had operations in the Dominican Republic for many many years, I understand he was introduced to them by some mutual friends. They're just happy to support a Dominican-American who's been successful."
Facing off against Mr. Espaillat in the Democratic primary on June 28 are Harlem Assemblyman Keith Wright, former White House aide Clyde Williams, Upper Manhattan Assemblyman Guillermo Linares, former East Harlem Assemblyman Adam Clayton Powell IV, former Ambassador Suzan Johnson Cook and stay-at-home dad Mike Gallagher.
Mr. Espaillat's camp responded by noting Mr. Espaillat's personal history coming to America from the Dominican Republic, and insisted he was committed to worker rights and immigration reform. Mr. Stevens also noted that Mr. Wright was named a "friend" by the New York Farm Bureau, which has opposed the Farmworkers Bill of Rights and legislation to increase the minimum wage.
"Adriano Espaillat came to this country as an immigrant, and he will never forget the hardship and exploitation that Latino, African and all immigrant populations face. There is no amount of money in the world that could influence his fight to bring undocumented workers out of the shadows and ensure they are treated fairly," said spokesman Tyrone Stevens. "That's why right-wing groups like the anti-immigrant, anti-minimum wage Farm Bureau will never consider him their 'friend.'"