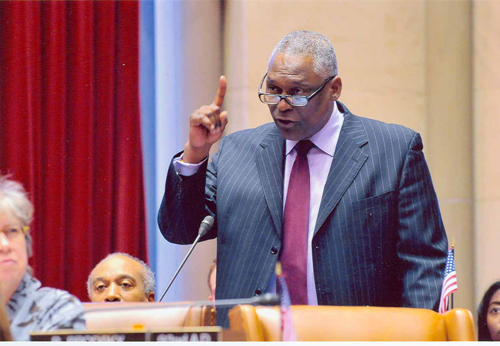 For 10 years Assemblyman Keith Wright pushed a bill to end the proliferation of methadone clinics in his native Harlem—but the aspiring congressman has had no problems taking donations from the property owner who has given the treatment facilities a home on 125th Street.
Between 1998 and 2008, Wright—retiring Congressman Charles Rangel's favored successor—repeatedly reintroduced a measure to stop the "oversaturation" of the heroin-alternative centers in low-income communities like his own.  Harlem hosts a disproportionate share of Manhattan's methadone clinics, and many blame the facilities for the large street population that loiters along the neighborhood's central commercial corridor.
"The purpose of this article is to further the fair distribution among communities of state facilities," the text of the legislation reads, continuing that it aimed to "preserve the social fabric of certain diverse neighborhoods by avoiding undue concentrations of institutional uses."
The bill, which never received any kind of vote in its decade-long lifespan in the Assembly, called for the state to take into account the number of patient beds as well as traffic and sanitation concerns when siting new treatment facilities.
But the most oversaturated spot in the neighborhood is a single property at the corner of 125th Street and Park Avenue, the where the first methadone clinic opened in 1987. A total of seven such facilities now operate at the same address—and state Office of Alcohol and Substance Abuse Services files show three of them receive funding from Albany.
Property records show that, from 1979 until January of this year, the parcel belonged to Giscombe Realty. And state campaign finance documents show Eugene Giscombe, the principal of Giscombe Realty, and his wife have donated $7,550 to Wright's political campaigns since 2002. He has also donated $1,750 to the New York County Democratic Committee, which Wright has chaired since 2009.
Giscombe also gave $4,200 to Wright's congressional campaign. The real estate developer—who has had a long relationship with Rangel and a number of his allies—did not respond to requests for comment.
The Wright camp defended the property mogul, noting that his tenants include several city agencies and the iconic Hotel Theresa.
"Mr. Giscombe's reputation is that of a revered business leader instrumental in making 125th Street one of the most iconic corridors in the world," said spokesman Hank Sheinkopf. "Assemblyman Wright is thankful for his support."