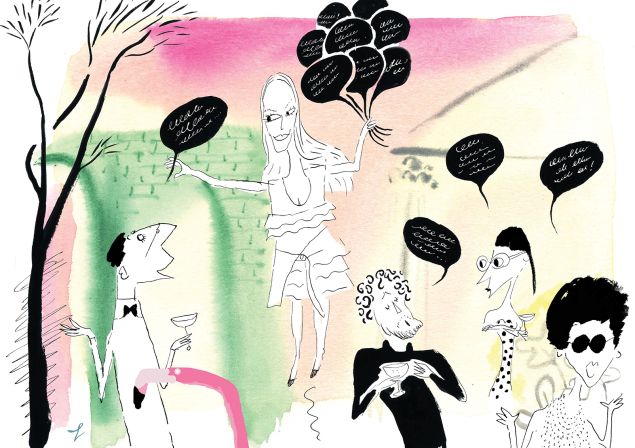 Stating the obvious: everybody thinks that their life is important and their opinion counts. And it is and it does. Or it feels that way in today's social media age, where the world is a stage for all of us. Thus, it's always worth starting a conversation with people who cross your path, at the very least it may provide an insight into something—or somebody—previously unfathomable to you.
In the case of my mother in the U.K., and it would seem everyone I know, this is embodied by the word "Trump." You may strongly disagree with an ardent Donald Trump supporter—but right now, they are among the most fascinating people on the planet. To date, there are more than 13 million of them in the world's most powerful country. I've not managed to find one yet, but when I do, I fully intend to listen to them.
What do you say to a person whose political outlook is the opposite of your own? For as long as you want to persevere with the chat you can throw in generic phrases such as: "On some levels we get the politicians we deserve," "a week is a long time in politics" and "Americans get the worst political campaigns that money can buy." As long as you don't mention climate change, words have no need to get heated.
Never be afraid of starting a conversation with someone who you believe to be smarter than you. They probably don't think that they are. The most intelligent man I know recently confided: "the key is to always be at the edge of incompetence." That edge is where you'll learn. Go somewhere that scares you, conversation-wise. Embroiled in a debate but can't find the right word? Don't panic—even the most skilled conversationalist has ways of buying time to figure out how to respond. Remark "interesting point" while you consider what to say next, or repeat the other person's point as you think. One TV host I worked with says "exactly."
Some of my colleagues in the arts worry the most about sparking conversations with people who make their money in the business world. Having drinks with a financier when the thought of numbers gives you nightmares of high school—or of 2008? Throw in the phrase: "Wall Street likes certainty," and see where that takes you—maybe to an unexpectedly lucrative venture? (Caveat: always follow Warren Buffett's philosophy of only investing in what you understand.) If the bankster-type you are talking to gets too big for their boots, ranting like Bernie Sanders might get you into trouble if you don't have Elizabeth Warren's in-depth knowledge. Instead, quote John Kenneth Galbraith: "The only function of economic forecasting is to make astrology look respectable" and pivot to a debate about psychics, a topic on which everyone has a stance. Trust me.
By the same token, some fear a cultural conversation. As with anything, you only need a few phrases to keep a discussion going with the hipster/Voguette/Broadway buff in front of you. You might even learn something, even if it's just the location of a non-hideous watering hole in the vicinity of Elmo-ridden Times Square. Toss out Nietzsche's maxim: "There are no facts, only interpretations." The phrase is actually applicable in all sorts of situations, but the arts have everything to do with interpretations. Often people ignored or pilloried in their own lifetimes later undergo entirely different analyses—El Greco, Puccini, Tchaikovsky, even Gershwin.
Of course, those who can't, criticize—so one should always be wary of the critic. If you're with someone who toils in the arts, they may well have been recently reviewed, even if it's just in the comments section of a blog. They will have feelings—perhaps even tears—to share with you about this.
Never fear that you will look like a fool if the effort to chat is not paying off. It's always possible to elegantly exit a verging-on-cantankerous tête–à–tête. Drop in: "Being right is highly overrated. Even a stopped clock is right twice a day." Then move on. Ultimately, if you don't like a conversation, the intelligent thing to do is change it. 
Imogen Lloyd Webber is author of  The Intelligent Conversationalist: 31 Cheat Sheets That Will Show You How to Talk to Anyone About Anything, Anytime, published by St. Martin's Press.