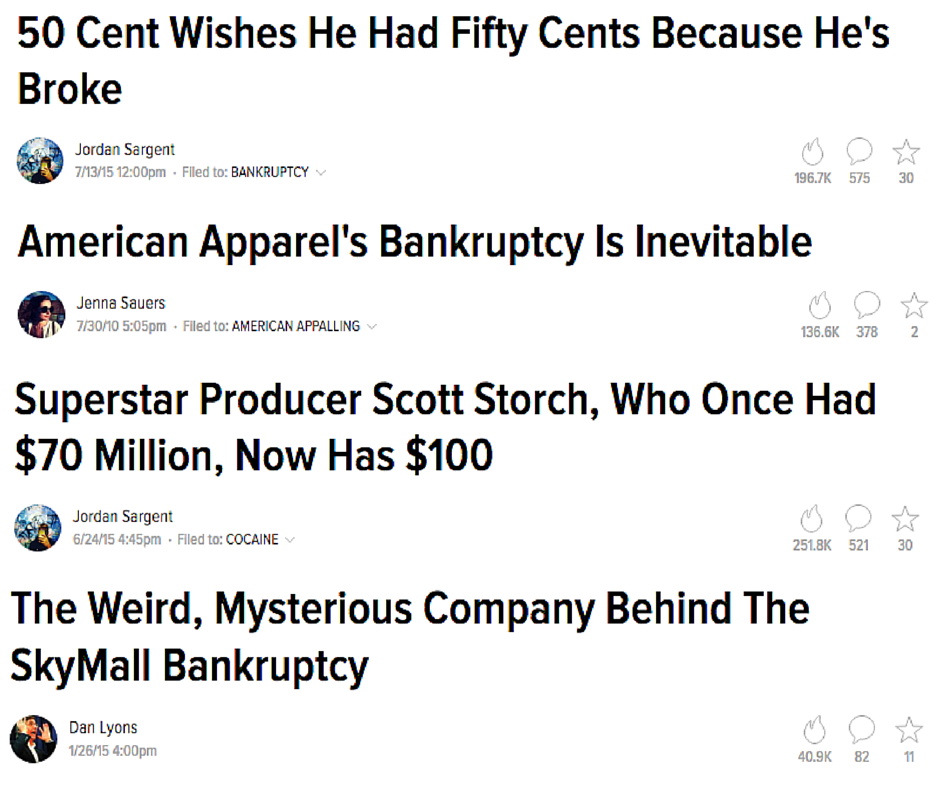 One of the worst elements of our culture is the way we gleefully celebrate the failures and losses of other people—often people we don't even know. In the media, we build people up and then tear them down, as though they aren't real human beings and like it is a game without consequences.
No one has been more guilty of this over the years than Gawker. No one has reported more credulously on frivolous lawsuits than Gawker and no one has been more ignorant of the complexities of the finances of big corporations or celebrities (why learn the facts when the facts would just make a story less sensational?) To the Gawker-writers of the world, every defendant is guilty and every bankruptcy is because the person is out-on-the-streets broke. No one is ever vindicated and a financial restructuring never works out.
Which is what makes it particularly rich that in the midst of a $140M judgement against the company and declaring bankruptcy last week, Gawker is insisting publicly that they will be proven right on appeal and that their bankruptcy and sale will change nothing. One of their reporters, J.K. Trotter, is purporting to cover his own company's bankruptcy objectively and doing so with a kind of sensitivity and sobriety never before seen on the site. If anyone else was in their shoes, Gawker writers would be fighting each other for the pageviews in dancing on their grave.
How do I know? Their own coverage from over the years. Here is a sample below—presented without comment—to give you a sense of how Gawker feels about other people who find themselves in trouble.
50 Cent Wishes He Had Fifty Cents Because He's Broke by Jordan Sargent
"Few rappers have made their wealth more central to their fame than 50 Cent, which makes it rather uncomfortable for him that he filed for Chapter 11 bankruptcy in a Connecticut court today. His declaration comes just days after the rapper was ordered to pay $5 million to Rick Ross' ex-girlfriend for distributing a sex tape involving her in 2009."
Date:  7/13/15
Pageviews: 196.7K
(Note: A public figure forced to declare bankruptcy for distributing an unauthorized sex tape. Sound familiar?)
American Apparel Has Finally Filed for Bankruptcy by Ellie Shechet
"The beleaguered company has lost over $340 million over the past 5 years, including $45 million just this year. Debts, sales struggles and a stock decline (which accelerated after Charney's departure), angry workers, and an extremely litigious ex-CEO have made this bankruptcy filing appear all but inevitable, especially after an August announcement that the company had 'substantial doubt' it could stay in business for another 12 months."
Date: 10/05/15
Pageviews: 15.4K
Dov Charney Is Delusional by Hamilton Nolan
"Skeevy entrepreneurial icon Dov Charney holds a majority stake in our favorite financially teetering retailer, American Apparel. The company—without Dov Charney at its head—could be attractive to buyers. But Dov prefers to wait it out. He's an optimist!"
Date: 11/03/10
Pageviews: 9.2K
American Apparel's Bankruptcy Is Inevitable by Jenna Sauers
"No, the manufacturing model wasn't American Apparel's problem; its vertically integrated structure probably gave it a competitive advantage in a garment industry where ordinary suppliers can take 4-6 months to complete orders in China. The problem was Dov Charney's bad judgment."
Date: 7/30/10
Pageviews: 136.6K
CNET Co-Founder Halsey Minor Is Bankrupt by Sam Biddle
"Minor is one of the Silicon Valley old guard who, despite many windfalls and solid investments, just couldn't stop wasting money on dumb ideas. 'A case might be made I should never have strayed from technology,' Minor said in an email."
Date: 5/30/13
Pageviews: 2.7K
Sam Zell: Failure by Hamilton Nolan
"Gnomish billionaire CEO of the bankrupt Tribune Co. Sam Zell may give up control of his company to creditors. Is it too early to declare Zell the biggest failure of the 'Death of Newspapers' era? No, let's just declare it!"
Date: 6/08/09
Pageviews: 3.3K
The Weird, Mysterious Company Behind The SkyMall Bankruptcy by Dan Lyons
"The company that publishes those SkyMall airplane catalogs filed for bankruptcy last week. That's perhaps not a surprise, considering the kind of junk they sell."
Date: 1/26/15
Pageviews: 40.9K
Why Didn't Annie Sell Her Fancy Houses? by Pareene
"Annie Leibovitz should probably just file for bankruptcy before her $24 million loan to Art Capital comes due. But could she have repaid the loan already, if she'd just sold her damn houses? Bloomberg thinks so!"
Date: 8/28/09
Pageviews: 10.5K
Marc Ecko Regrets Spending Millions on Doorknobs, Baseballs, Basketball Courts by Hamilton Nolan
"Ecko, the hip hop clothing line that morphed over a decade from underground to JC Penney chic, is in danger of going bankrupt. Maybe that 280,000 square-foot fantasyland office was a bit much?"
Date: 3/26/09
Pageviews: 16.5K
Superstar Producer Scott Storch, Who Once Had $70 Million, Now Has $100 by Jordan Sargent
"Scott Storch, a meerkat wearing sunglasses, once produced mega-hits for artists like Beyoncé, Chris Brown and 50 Cent. Because of that, he used to have a whole hell of a lot of money, which was way more than the amount of money he currently has, which is no money."
Date: 6/24/15
Pageviews: 252K
Steven Seagal Should Not Be Keeping Sex Slaves by Adrian Chen
"But he does, according to a former "executive assistant." Kayden Nguyen has sued Seagal for more than $1 million, claiming that he sexually assaulted her. Oh, and also that he hired two young Russian to be his sex slaves. Listen, Steven, nobody's Above the Law. I know that you may feel like your rights to employ sex slaves might be Under Siege, but I bet those sex slaves feel like their rights not to have sex with you are Under Siege 2. Believe me, it can be Hard to Kill the tainted image that comes with a sex slave scandal."
Date: 4/3/10
Pageviews: 20.9K
American Apparel Founder Dov Charney Is Nearly Broke and Homeless by Jordan Sargent & Impoverished Moppet Dov Charney Is Down To His 'Last $100K' by Ellie Shechet
"Getting swindled by a hedge fund puts Dov Charney in a class with plenty of other Americans, but it makes him seem no less stupid, as someone who was supposed to run a company, and, theoretically, be smart enough not to unknowingly transfer vast amounts of wealth to a damn hedge fund. As for the second point: should you have sympathy for Dov Charney? No. No you should not."
Date: 12/22/14
Pageviews: 135.1K
The Tribune Company Is Bankrupt by Hamilton Nolan  
"The Tribune Company, owner of the LA Times and Chicago Tribune, has filed for bankruptcy. Bummer. Pretty much everyone saw this coming. The company is $12 billion in debt, its revenues are going steadily downward, it's been having round after round of layoffs, and it's run by an angry (but honest!) billionaire gnome and a Ron Jeremy doppelganger of questionable sanity."
Date: 12/08/08
Pageviews: 5.9K
Jessica Cutler Owns Nearly Nothing by Choire Sicha
"Jessica Cutler, the Washingtonienne blogger who has declared bankruptcy after being sued by a former paramour, has filed new court documents about her financial situation. Looking into the big pink spread of Jessica's financial life fills us with a real agonizing sadness. On the bright side: Maybe she's a zen master, free from the burden of objects! Also she pays 400 bucks a month rent for an apartment just this side of Syracuse. Oh, Jesus, our future is so bleak."
Date: 6/14/07
Pageviews: 9.1K
Brian Tierney: Sam Zell With Hair by Hamilton Nolan
"He's an assertive, mouthy businessman with no newspaper experience who bought big into the industry at exactly the right time, vowed to turn around a failing paper, and instead rode it into bankruptcy, earning increasing wrath from the newsroom while doing so. So basically Brian Tierney is Sam Zell with hair. But he does smile occasionally, so cut him some slack."
Date: 2/25/09
Pageviews: 2.5K
Harrisburg, Pennsylvania Is a Broke-Ass Sinkhole of Despair by Hamilton Nolan
"In 2011, Harrisburg, Pennsylvania went bankrupt. Municipally bankrupt. The city is broke, tapped, in penury, scraping by on nada. Personal bankruptcy is tragic, and corporate bankruptcy is financially significant, but there is something especially pitiful about municipal bankruptcies. An entire city of thousands, whose leadership has failed them."
Date: 2/01/13
Pageviews: 50.6K
As I've said before, one reaps what they sow. Actions have consequences. And when it comes to Gawker, "goodbye and good riddance" is the only appropriate response.
Ryan Holiday is the best-selling author of Ego is the Enemy. Ryan is an editor-at-large for the Observer, and he lives in Austin, Texas.
He's also put together this list of 15 books that you've probably never heard of that will alter your worldview, help you excel at your career and teach you how to live a better life.