After hours of drinking on a recent Friday night, I stumbled into a hot and crowded cabin equipped with bunk beds to sleep 18. I was prepared to navigate the duffel bags lining the floor, but the toilet paper streamers filling every inch of available space as they hung from bunk to bunk were a surprise. My fellow 20 and 30-something coed bunkmates and I had been teepeed, and although we hadn't been up to any antics, someone scrawled "payback's a bitch" on the mirror in cherry red lipstick. Welcome to adult summer camp, where 9 p.m. curfews were replaced by continuously flowing booze.
Camp No Counselors, which launched last year, provides adults in need of a break from commutes and careers with an open bar, dozens of activities and a hefty dose of nostalgia delivered in the form of s'mores, kickball and classic throwback songs like "Semi-Charmed Life" by Third Eye Blind and "No Scrubs" by TLC. Like-aged "non-counselors" facilitate cabin color wars and a massive relay race, but they'll never tell you what to do. There are no rules (only a few "hard asks" about not dancing on tables and smoking only in the designated area). This specific extended weekend retreat at Paradox Lake in the New York Adirondacks was the first CNC sponsored by Shock Top, a summery beer that I'm too tired of to ever drink again after spending the better part of the three days (including the five-hour bus ride from NYC) downing the brew.
"It's for people looking for that no BS, unplugged getaway," Jake Kirsch, Shock Top vice president, told me on the phone. (A 60-person flip cup game broke out when we were supposed to talk at camp, so we had to catch up later).
Each morning began with a mimosa and Bloody Mary-fueled breakfast. Each night there was happy hour, a campfire, a dance party and a theme—90s grunge on Friday night and team USA on Saturday. The first day consisted mostly of free time you could fill with anything from kickball and ultimate frisbee to archery and arts and crafts. The lakefront was the most popular destination by far, with campers crowding there for kayaking, water skiing, tubing, beach volleyball and child-like fun on the water slides and floating trampoline.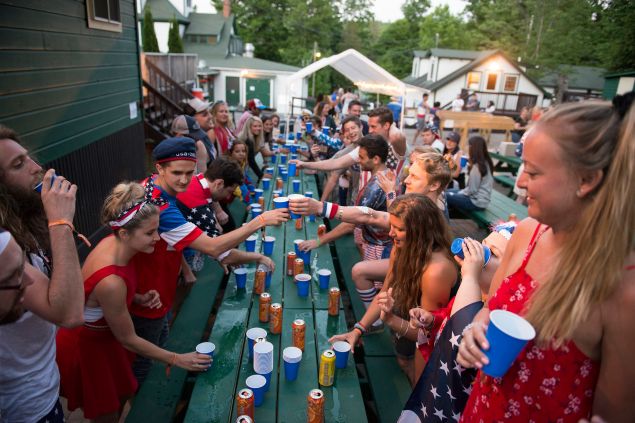 On day two, the Blue, White, Gold and Maroon teams battled it out for cabin color wars, competing in tug-of-war, capture the flag and a lip sync battle, among others. While my team (Gold) lost every dodgeball match in record time, we nicknamed ourselves "The Golden Showers" and triumphed in the flag decorating competition with the slogan "Pissing on the competition since June 4, 2016." Victories in these games led to a better head start in the 25-leg relay race that spanned the entirety of the grounds. Relay events included classics like the three-legged race and a kayak sprint, but other campers had to eat a bowl of cereal and make a beer pong shot to tag their teammates. Stationed at the second to last leg, I had to climb to the top of the human pyramid and then immediately ready myself for the finale—an enormous slip n' slide with a flip cup game at the bottom.
But even with all the team spirit in the air, making new friends was definitely the most camp-like part of it all. There was Max (a music encyclopedia), Jeff (who drives the tubing boat and will ask if you "want to get tossed"), Tim (the fearless leader of my not-so athletic color war team) and Rob* (who made sure to turn off the lights to mask his face before delving into the specifics of "the story he's never told anyone"—how he became one of the six people on record to officially break his penis). That incredibly detailed monologue was for the talent show, by the way.
*Name has been changed