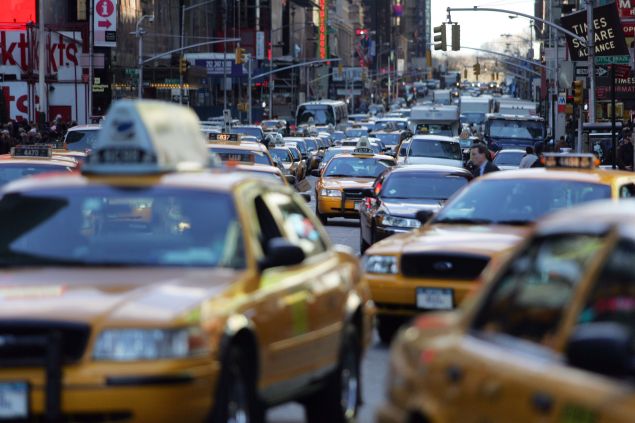 Almost three years have passed since the Bridgegate scandal that arguably cost Gov. Chris Christie his presidential bid. In the scandal, an aide to the governor ordered 2 lane closures on the road going to the George Washington Bridge, causing a four day traffic nightmare, purportedly as political retaliation against the Ft. Lee, NJ mayor, a Democrat who declined to endorse Christie.
In Illinois something similar has also taken place few weeks ago but without the political drama or behind the scenes maneuvering. It affected one of the state's major highways, Route 41, which along with Interstate I-94 ( tollway in Illinois) is the major North-South route connecting Chicago with Wisconsin.
On May 2nd, one lane of the two-lane highway was blocked due to the private construction project in the city of Highland Park, an affluent Chicago suburb. "We were informed after the blockage of a lane started by Illinois Dept of Transportation (the IDOT) website stating that the construction on the project has begun," said Ghida Neukirch, the city manager of Highland Park. "It was very hard to deal with this type of situation and it would have been nice by the IDOT to give us a longer notice," Neukirch concluded.
The fact of the wealthy suburb being a site of the Porsche dealership expansion serving its 1% clients while affecting thousands of people going about their daily lives without much regard to their safety and convenience brings out issues of public policy and whom it really serves.
The result: parking lot like congestion for period between 8 am-1pm affecting tens of thousands daily.
"Your concern as reporter for the community and traveling public is commendable and it is perfect common sense. However, this is not how the things work in Illinois," said Richard Daniels, partner of the law firm Daniels, Long and Pinsel and a resident of the tony nearby suburb Lake Forest. "I am quite sure that any company charged with a construction project on this scale has undergone a proper permitting process and it is doing things properly and by the book.The problem of congestion affecting you and thousands of others is completely irrelevant here. It is a matter of public policy," Daniels concluded.
In the classic play of the 1% against the 99% , the business that decided to expand is the Porsche Exchange auto dealership owned by Ernie Semersky, a heavy political player in clout and donations doled out to both Republicans and Democrats.
Semersky has supported Nancy Rotering, a Democrat and the mayor of Highland Park in her failed campaign for the Illinois senate. In addition, $5400 political contributions from an auto dealer that received a tax break from the city of Highland Park just a few years earlier has raised eyebrows reinforcing an image of pay to play in Illinois politics.
The expansion of a Porsche dealership in a wealthy suburb without regard to the safety and convenience of thousands of people going about their daily lives raises issues of public policy.
Highland Park issued a construction permit on August 25, 2015, and according to the zoning regulations, no construction activity would have been able to take place at night (lowest traffic count) regardless of its zoning. The fact that Route 41 has only businesses and no residents didn't matter. On its end the IDOT decided to let the project proceed without any basic risk assessment management or impact studies. This allowed the Porsche Exchange work to continue within its normal 9am-3pm opening hours thus saving the dealership money on construction costs and overall completion projections.
Many EU countries and Japan have regulations stemming from public policy that mandates the permitting process on the outcome of a thorough risk management and traffic flow analysis. It is done to minimize the risk to workers and travelling public that undoubtedly is an added expense and burden on any business conducting it. "It is probably a good solution however this is not done here in Illinois as we have a completely different culture here," said Richard Daniels. "The public policy must be blamed for this as the costs of this type of situation are externalized to the unwitting public."
My request to speak with the IDOT's traffic engineer responsible for the area was ignored, though the IDOT responded through its spokewoman Gianna Urgo:
"IDOT did not require a traffic impact study at this site but did require a mitigating right turn lane along the site frontage. Typically, IDOT does not require a traffic impact study for most new car dealerships as they generally have minimal traffic impacts. The permit covers work on the state right of way, it does not pertain to any work conducted on private property."
The statement here is in conflict of the IDOT's own data that lists the volume of traffic before the dealership at 45,100 cars per 24hr period going to 48,000/24 hr just a few blocks south, hardly a minimal amount of traffic. There is also an issue of public safety as this type of travel disruption tends to result in increasing traffic accidents. As the state of Illinois has the highest amount of governmental bodies anywhere in the country at almost 7000, one can ask what are they for. I brought the issue of the construction and the resulting traffic situation to the office of local representative, Scott Drury (D-Highwood) who also happened to be in session in Springfield. I was told under requirement of anonymity that the office of Scott Drury has "absolutely no position on any private construction project taking place in Lake County or for that matter in Chicagoland as whole." Before being hung up on, I was instructed not to call again.
Highland Park Mayor Nancy Rotering, IDOT official Randal S. Blankenhorn, and auto dealer Ernie Semersky did not return messages asking for interview.
With an ongoing budget crisis between Republican Gov. Bruce Rauner and the mostly Democratic legislature one thing Illinoisans can ponder is the plan for the evacuation for the nation's third largest metropolis in case of emergency. According to a recent production by Chicago Public Radio's Curious City Program, the IDOT is certain that it can evacuate the city of 2.7 million people in 2-3 hours. This figure is considered pure nonsense by all experts, including those advising cities in times of major national disasters such as New Orleans or New Jersey in the aftermath of Hurricane Katrina and Superstorm Sandy.
With public policy in Illinois high on hopium and fed by political process based on money , it is not going to bite hands that feed it. That's why we got the outcomes preordained by nihilistic inertia on Route 41. As a result, Illinois residents are stuck with ever higher taxes and a system that could not care less about many leaving the state. As far as emergency evacuation plans and construction on its highways is concerned, odds are that if one can afford a Porsche one might also afford a helicopter so plans made by our government won't affect them. After all, Chicagoland is "The City that Works." The question remains: for whom?