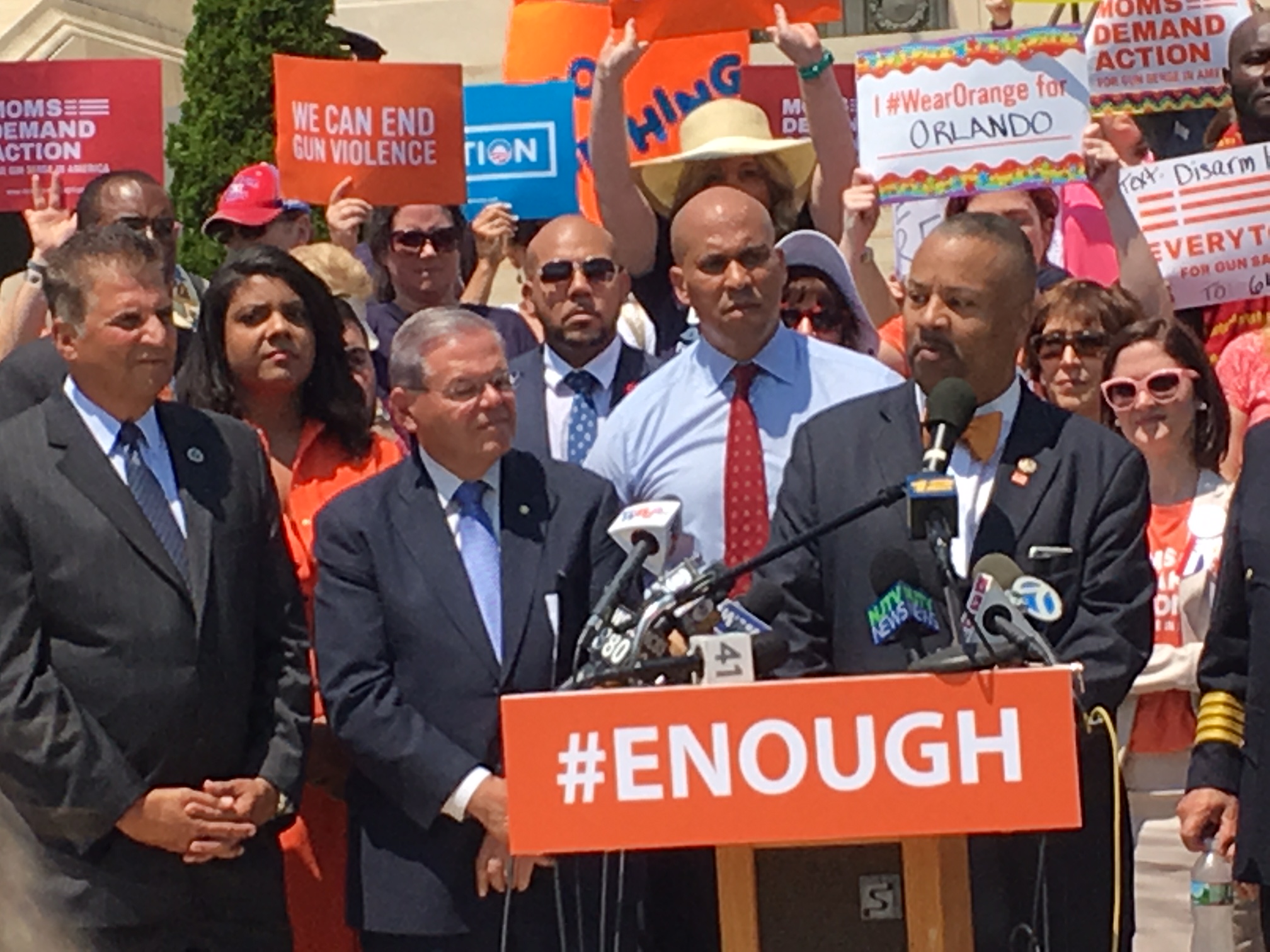 The steps of the Essex County Courthouse were crowded on Monday as legislators, anti-gun-violence advocates, LGBT activist and community leaders gathered to show support for the push senate Democrats are making to help curb gun violence in the U.S. The rally—as well as the four gun proposals the senate will vote on today—came as a reaction to the Orlando massacre on June 12. After that shooting, Connecticut Senator Chris Murphy held a 15-hour filibuster that forced the vote on gun control.
Senator Bob Menendez, Senator Cory Booker, Congressman Donald Payne Jr., and Congressman Albio Sires led the Newark rally in support of increased regulations on gun control.
"The overwhelming majority of Republicans support this… this is not a partisan issue," Booker said from the courthouse steps. "It is a handful of people in congress. We must say enough is enough."
According to Booker, the Orlando shooting—and previous shootings like the ones in Sandy Hook or Aurora, Colorado—are a wake up call about not allowing the nation's "enemies to have guns."
Booker and the other legislators at the Newark rally support a proposal by California Senator Diane Feinstein (D) to block those who have been on a terror watch list in the past five years from making a firearm purchase if there is a "reasonable belief" the individual would use a gun for terrorism. According to Booker, implementing that provision would end a "terror loophole" that currently exists in the U.S.
Both Booker and Menendez say that they are optimistic about the Senate vote despite past opposition. However, according to Payne, even if gun proposals pass the senate, there will be an uphill battle in the house to get anything enacted.
"They won't talk about it," Payne said of his Republican colleagues. Payne also said that he and a number of his congressional colleagues have stopped standing during moments of silence after shooting incidents despite a desire to pay respects to shooting victims.
"If that is the only thing the United States Congress can do… we don't want a part of it," Payne said. "We are tired of [Republican opponents in congress] being comfortable with what happens in this country."
Menendez agrees that emotional responses are not enough if no law is enacted to prevent death.
"It shouldn't take devastating carnage in shooting after shooting, city after city, to make common sense changes to our gun safety laws. We need more than a vigil and a bouquet—we need to find common ground to end gun violence in America," Menendez said.
In addition to Feinstein's proposal, the senate will also vote on an amendment by Chris Murphy to close the "gun show loophole;" a proposal by John Cornyn (R-Texas) to alert law enforcement if an individual who has been on the terror watch list at any point in the last five years attempts to buy a gun and enact a waiting period to determine if there is "probable cause" to prevent ownership; and an an amendment by Chuck Grassley (R-Iowa) that would clarify what it means to be found mentally deficient for gun ownership.