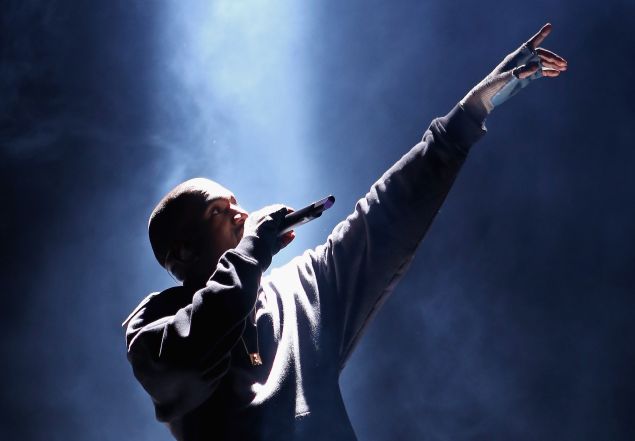 Kanye West is dominating world headlines once again. And the Earth orbits the Sun—it is known. What has Yeezy done now? Oh, he's only set the internet ablaze after releasing a very NSFW music video for his single "Famous," featuring an oddball mix of nude celebrities sleeping in bed alongside the entertainer and his wife, Kim Kardashian. Of course, unless you got tickets to the live screening in Los Angeles, or caught the streaming preview, if you want to see it now you'll have to shell out for Jay Z's subscription music service Tidal—bummer.
In the video, a topless Taylor Swift snuggles up with George W. Bush, Donald Trump, Caitlyn Jenner and Bill Cosby, some of whom have been painstakingly crafted in the buff out of wax. The rapper has so far remained tightlipped on which, if any, of the celebs appeared in person.
It's all "a comment on fame" West told Vanity Fair in an interview about the video. He also went on to say that performance artist and sculptor Matthew Barney "is my Jesus." Barney's most famous work, a nine-hour film called The Cremaster Cycle, is named for a muscle in the male reproductive system, for the record.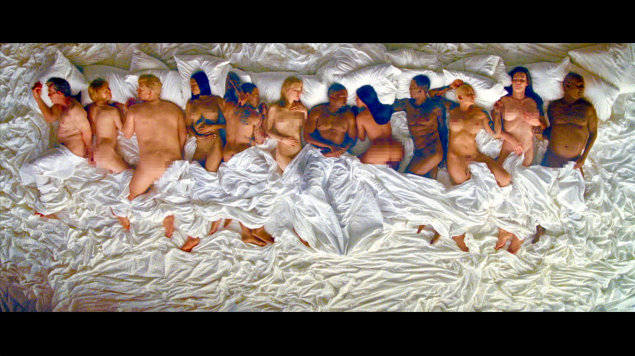 But, for his latest stunt the rapper had some help creating the look and feel of his night vision celebrity slumber party. West was inspired by a painting created by New York artist and critic Vincent Desiderio which, in a side-by-side comparison, could be mistaken for an identical composition of unconscious, unclothed people save the fact that West's version includes former lovers, politicians, fashion moguls and an alleged rapist. Desiderio's work, on the other hand, was painted as a meditation on time the artist spent bedridden while undergoing treatment for cancer.
According to an essay-style statement released by Desiderio, the video was a collaboration of sorts, though he didn't know he was participating in the making of a music video with West until after the fact—the day of the premiere, actually. But, the artist doesn't seem to have too much of a problem with the appropriation, and called the film "a feat of magic."
"Kanye West's video demonstrates how art speaks the language of art, how visual codes people the artistic imagination, enlivening the matrix of possibilities that are always and everywhere about us but barely perceptible to those who focus only on the surface," said Desiderio in his statement.

When the Observer reached out to the New York Academy of Art (where Desiderio is a faculty member) for an interview request with the artist, we were told they were still awaiting an official statement following approval from West's team. An artist needing permission to discuss their own art from another artist is pretty bizarre, but apparently the norm when that other artist is Kanye West, and he's decided to appropriate your art.
Desiderio met West prior to the video premiere event at L.A.'s Forum. "We spoke about his new album, 'The Life of Pablo' and about a particular quote by Degas about how a painting should be constructed 'like the perfect crime,'" he said. "I ventured that the Pablo referred to in the title was a dual reference to Pablo Picasso and Pablo Escobar. He smiled and said 'St Paul, too.' His eyes glistened. Without a doubt, we were on the same page."
While it remains to be seen whether any of the celebrities features in West's video will respond with legal action to the use of their nude likenesses—Swift isn't too happy about her appearance—it doesn't sound like Desiderio will be taking legal action anytime soon.
"I felt as if I had been presented with the most extraordinary gift. Kanye and his crew had spent the past months producing a video of tremendous power and beauty and at its core was a painting. My painting," he said.
Desiderio's full statement on West's video was published by W magazine.