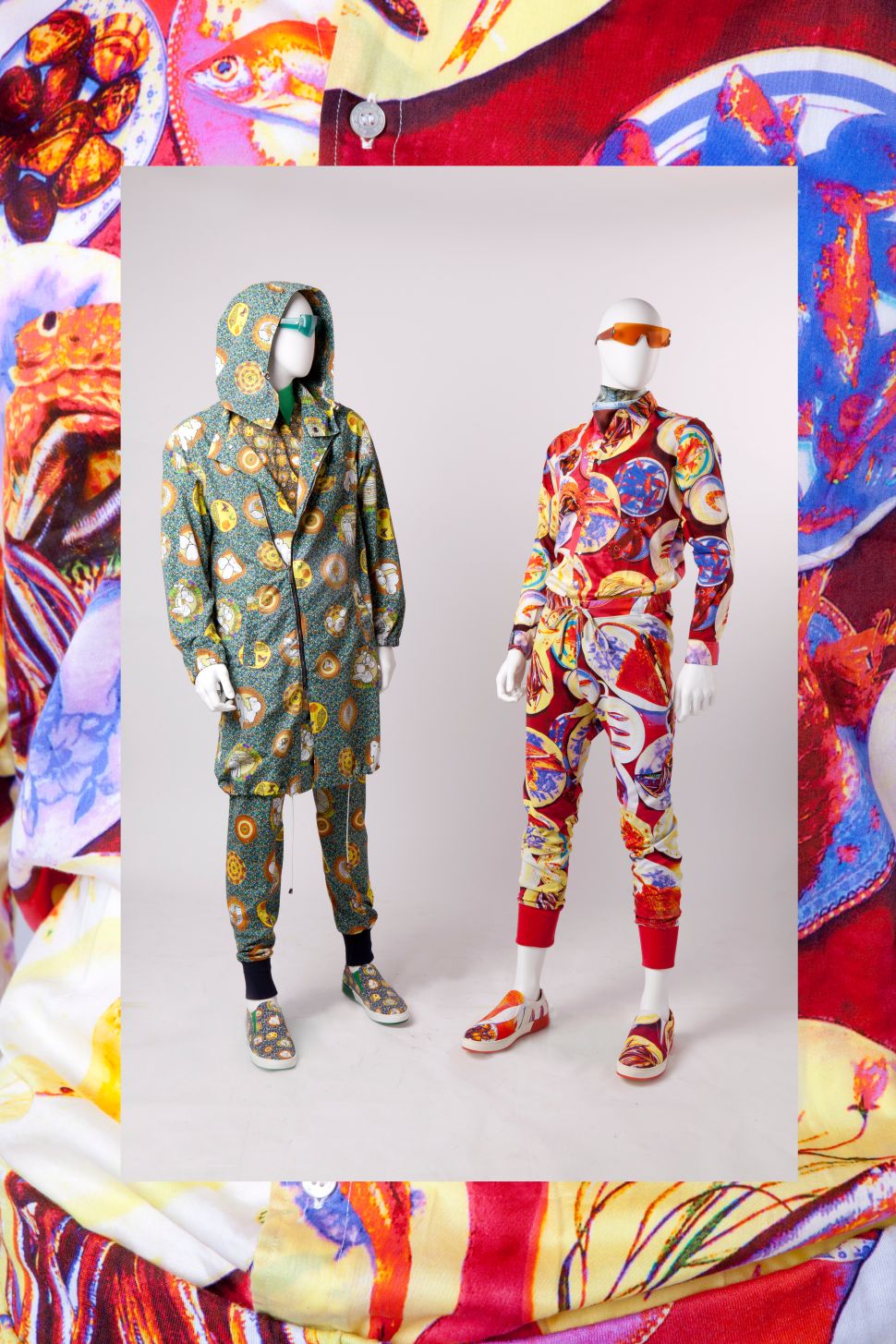 Chelsea Market may seem like a strange place to hold a fashion exhibition. But to Stefano Dominella—co-curator of L'Eleganza del Cibo, an exhibition exploring the relationship between fashion and food—it is the strangeness that makes it the perfect place. "It's transgressive, it's cutting-edge," he said.
Open for a mere 11 days—starting from today through July 4—L'Eleganza del Cibo is an exhibition as ephemeral as its topic: food and fashion. Co-curated by Mr. Dominella, CEO of Italian fashion house Gattinoni, and Bonizza Giordani Aragno, a fashion history professor at the Instituto Europeo di Design, and organized by the Italian Trade Commission, this exhibition consists of 58 dresses and accessories, some of which were commissioned by the curators specifically for the exhibition.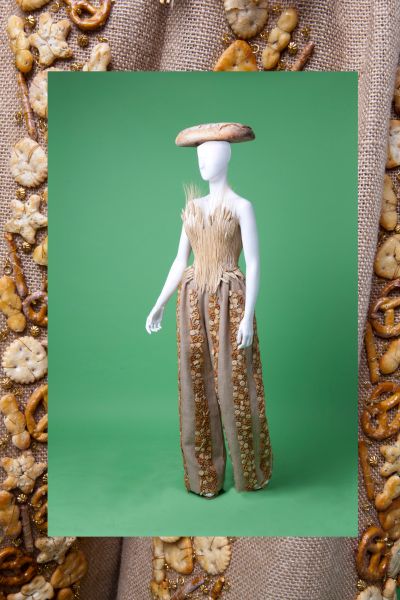 The relationship between food and fashion is fraught with tension. Models are not known for their hearty appetites, and since the birth of modern fashion women have dieted their body to tiny measurements in order to fit that decade's aesthetic beauty. And while food is required to nourish the body so that we may live, fashion often seems superfluous and unnecessary. One can argue that such a relationship is nonexistent, that fashion and food are so different, so diametrically opposed to one another, that an exhibition on its relationship is pointless.
But Stefano believes that there is in fact many similarities—ranging from the superficial to the profound. On its most basic level, both food and fashion are derived from nature. Just as food relies on plants and animals, fashion does as well—the cotton plant, the silkworm. Food also nourishes, and that nourishment is essential to the creative process. According to Stefano, all designers have a slice of cake at their desk as they brainstorm their collections, "because each piece is special and delicious [so] it helps with creativity."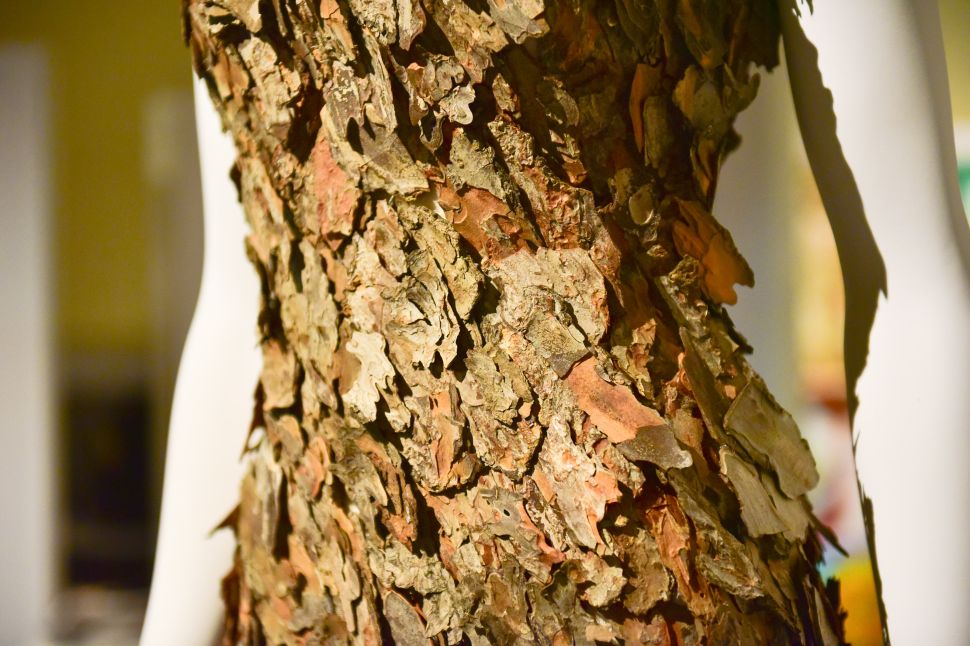 Fashion also loves to co-opt and subvert the world around us. Food is just another means through which to find inspiration. And by looking at the abstract and the concrete, by manipulating food into fabric, it expands what's possible in the realm of fashion.
This exhibition was originally exhibited last year in Rome's Trajan Market—the ruins of an ancient shopping center—during Milan's 2015 Expo, whose theme centered around nutrition. Stefano was tasked with creating an exhibit on food's relationship with fashion. But he soon found a dearth of Italian clothes that used food as their inspiration, the notable exception being Etro's colorful food printed pieces. So, in addition to combing through the archives of iconic fashion houses like Armani and Moschino, the curators asked young designers to create pieces specifically for this exhibition.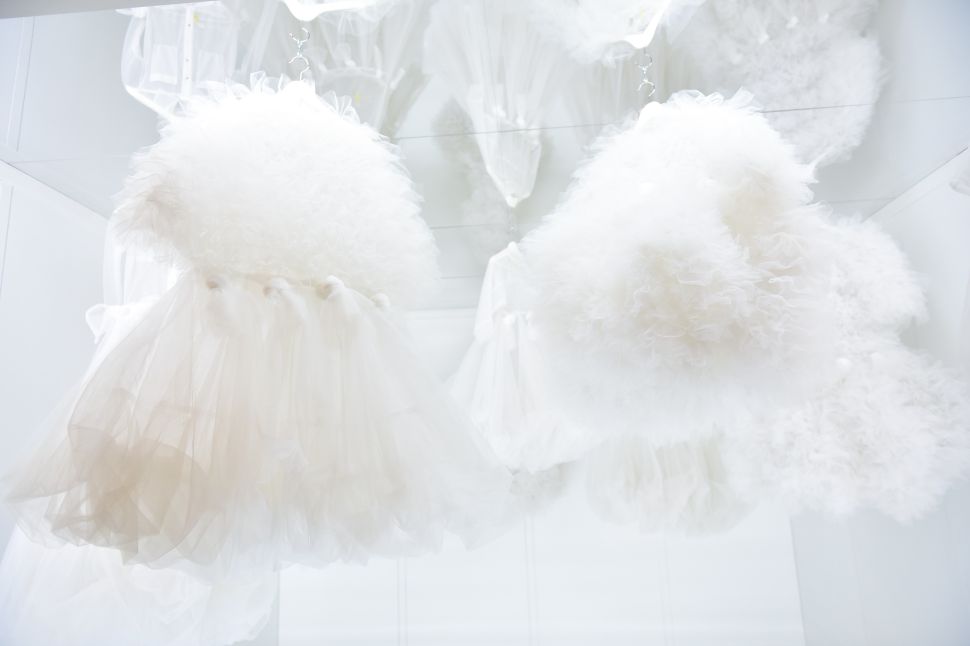 This approach not only allowed the curators to flesh out its show, it gives viewers exposure to young, emerging designers. And so, by bringing this here, to Chelsea Market—a highly trafficked landmark frequented by both tourists and New York natives alike – Stefano is giving these talented designers exposure on a mass scale. New York may not necessarily be the fashion capital of the world, but it's a densely populated city with a robust media whose websites get disseminated all over the world.
The exhibition begins with nature—the root of both fashion and food—in the form of a gown made of pine bark by young designer Tiziano Guardini. Then the boundaries of design are pushed further with a dress Gattinoni's "Bread" dress, which consists of a corseted top made of wheat sheaths and jute palazzo pants embroidered in food that use wheat, like pretzels and biscuits. A vitrine lines the wall, filled with shoes from Salvatore Ferragamo and quirky jewelry like a spaghetti and fork necklace by up-and-coming designer Gianni de Benedittis.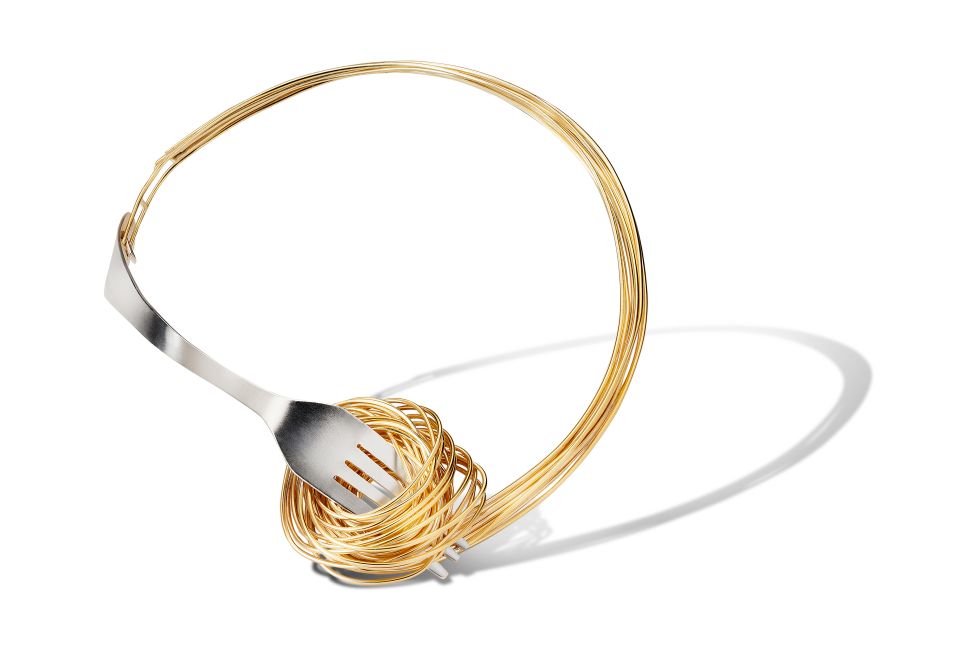 Compared to the wide, expansive Trajan's Market, the space used to house the exhibition is decidedly small. But while the size of the space forced the curators to whittle down the pieces to display, it also creates a sense of intimacy. The room's built-in stairs impel the viewer forward, cascading down, each step bringing the viewer closer to the abstract ideas behind the exhibition's premise.
This is an exhibition that takes you on a journey through fabric, with food as a source of inspiration. It's a journey from the physical to the abstract, from the corporeal to the transcendent. Literally: the final installation is a series of dresses by up-and-coming designer Italo Marseglia – frothy tulle dresses hang from the ceiling like white, puffy clouds. Clouds which bring the rain, which is essential to making vegetation that we wear and eat grow and flourish.