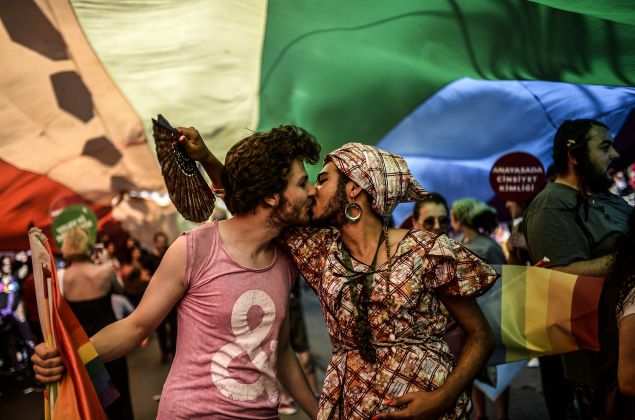 When he designated New York City's Stonewall Inn—site of the 1969 police raid that sparked American's modern LGBT rights movement—as a National Monument on June 24, President Obama declared that protecting LGBT rights is a core American value and should be regarded as such by the rest of the world.
"Stonewall," said the President, "will be our first National Monument to tell the story of the struggle for LGBT rights." This was an important symbolic act, but there have been numerous substantive ones by the Administration, designed to serve notice that LGBT rights constitute fundamental American ones.
In December 2011, for example, Obama issued a Presidential Memorandum directing the heads of executive departments and agencies "to ensure that U.S. diplomacy and foreign assistance promote and protect the human rights of LGBT persons." He outlined a series of measures that included requiring the State Department to "lead the Federal Government's swift and meaningful response to serious incidents that threaten the human rights of LGBT persons abroad."
Last week brought fresh evidence that Turkey, America's off-again-on-again ally and a democracy-at-least-in-its-own-government's-mind, has not received our message or, if received, does not much care. Turkish police fired rubber bullets and tear gas at gay rights activists who assembled to read a statement in support of a Trans Pride event, and then, not content to simply assault the activists for expressing their views, detained many of them.
Turkish authorities then blocked the LGBT community from holding a Gay Pride parade in Istanbul. This has become the norm for Turkey, a government that badly wants to be viewed as a modern European state: in 2015 Turkish riot police used water cannons and pellets to shut down the parade.
What Obama once described as his "special friendship" with Turkish President Recep Tayyip Erdogan has grown frigid, as the Administration's willingness to overlook the Turkish government's penchant for repression has morphed into a new disposition to see that government for what is it: a witches' brew of human rights violations and catering to a rabid Islamist street. The government's attacks on the LGBT community and its shutdowns of that community's celebrations reflected both.
A Turkish Islamist group called the Anatolia Muslim Youth posted on Facebook earlier this month a denunciation of the LGBT pride parade as a "perversion."  "We don't want them to walk naked on the sacred soil of our country in the blessed month of Ramadan," the group proclaimed.  One nationalist organization threatened: "Degenerates will not be allowed to carry out their fantasies on this land."
"The [LGBT] community in Turkey is scared," says Human Rights Campaign's Jordan Long. "And it doesn't help when the police are the ones perpetrating violence."
Levent Piskin, an Istanbul-based lawyer and gay activist, is in accord. "The government should be there to protect us from threats, but instead they have made targets out of us," he told The Washington Post. "Turkey is not a safe place for the LGBT community."
Turkish writer Elif Shafak is even more blunt. "There is no doubt that Turkey is a homophobic country," she wrote recently in The Guardian. The facts bear her out.  The Rainbow Index ranking of European countries on the basis of their respect for the rights of LGBT individuals ranked Turkey 46th out of 49. Only Armenia, Russia and Azerbaijan ranked lower.
The U.S. State Department issued a human rights report on Turkey just weeks ago, detailing the ways the Turkish government—while not making homosexuality illegal—attacsks the LGBT community. According to the State Department, judges routinely apply a law providing for reductions of punishment for crimes "under the influence of rage or strong, sudden passion caused by a wrongful act" to reduce the sentences of those who have murdered LGBT individuals, and the reductions in sentences are upheld on the basis of the "immoral nature" of the victims.
The State Department cited harassment of the LGBT community by police and other government authorities. "LGBT individuals continue to experience discrimination, intimidation and violent crimes," the State Department says, adding that Turkish politicians frequently engage in hate speech against LGBT communities.
Human Rights Campaign, America's largest lesbian, gay, bisexual and transgender civil rights organization, has spearheaded the effort to encourage American officials to confront the Turkish government.  "We would like pressure on the Turkish authorities to protect the LGBT community," says HRC's Long. "We urge U.S. officials to raise these issues with their counterparts whenever they meet with them."  Last year, some 60 members of Congress signed a bipartisan letter calling on the Turkish government "to respect the rights of the LGBT groups—and all Turkish citizens—to assemble peacefully."
But the U.S. government can do an awful lot better than that. It can publicly declare the harassment of the LGBT community—and the failure to vigorously protect LGBT individuals—as an abrogation of fundamental human rights that is unacceptable, calling out violators by name. It will have plenty of violators to choose from: apart from Israel, virtually every country in the Middle East ranges from very bad to appalling when it comes to safeguarding LGBT rights. Islamic bloc nations in particular will strenuously object, protesting that such declarations are offensive to their domestic sensibilities. Our response ought to be: That's too damn bad.
After the massacre of dozens of people at an Orlando night club, the least we can do is stop pulling punches. Confronting the Turkish government over its assault on the rights of the LGBT community seems as good a place to start as any.
Jeff Robbins served as Chief Counsel to the Democratic Senators on the United States Senate Permanent Subcommittee on Investigations. Twice appointed as a United States Delegate to the United Nations Human Rights Commission under President Clinton, he is an attorney in Boston. Follow him on twitter: @jeffreysrobbins