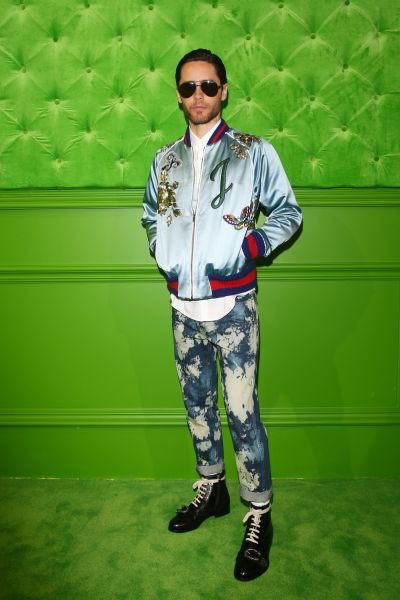 If it feels like Gucci is in the spotlight every week for something new and newsy, that's because they are. Over the past few weeks, designer Alessandro Michele scooped up an honor at the CFDA Fashion Awards, the brand threw a deliciously A-list party to celebrate its cruise runway show in London and they rolled out an exclusive Net-a-Porter collection.
Now the brand has even more news to share, to keep those tongues wagging. This weekend, Gucci unveiled plans to expand their DIY service. Originally launched in May, the customization service allowed customers to put their personal touch on only the Dionysus bag, customizing the leather, color and hardware of the brand's signature silhouette.
Now, that service has been expanded even further, allowing customers to put their personal touch on men's tailoring, as well as unisex jackets, in the form of tuxedos, blazers, biker jackets, Japanese denim jackets and coats. Shoes for both ladies and gents have been included in this DIY program as well.
From the jackets, customers can select the fabrics and buttons of their choice, including linings, and they have the option to add a monogram letter or three. A number of formal shirts for guys can be customized, in addition to merino wool and cashmere sweaters. The shoe selection for the DIY project includes a sneaker, a mule and men's dress shoes, including new lace-up, monk strap and loafer styles. Feel free to change up the hardware color or add your initials to the insole, or even add a tiger's head patch to your new kicks. The options are (almost) endless.
At the brand's spring/summer 2017 men's show, which was unveiled this morning in Milan (in a room that was carpeted, painted and upholstered in lime green) the custom creations made a few appearances. Jared Leto, a Gucci-endorsed celeb (who invited Michele to be his date to the Oscars this year) donned a blue silk bomber embossed with a 'J.' He paired that with a pair of "chlorine washed" jeans from the label. Despite their appearance, these pants were not DIY'd. On the runway, a bespectacled model paired his personalized jacket with a neckerchief and a little navy hat.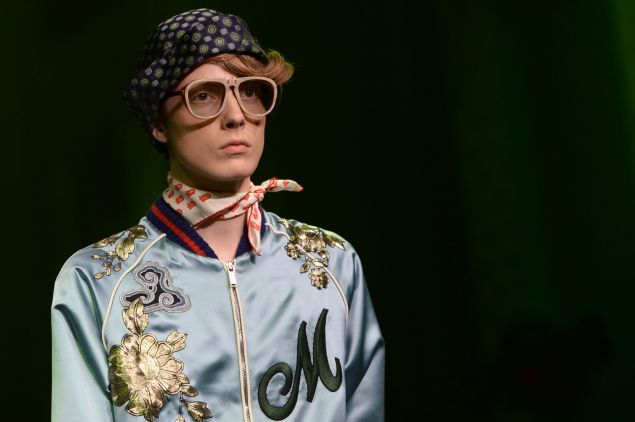 Michele sees this customization opportunity as a modernization of the punk mentality, allowing the clothing you wear to act as an extension of your personality. However, Gucci wants you to remember that these are still their designs. A press release from the brand points out: "Although the aim of the DIY service is to encourage customers to interpret the Gucci aesthetic in a highly idiosyncratic way, the combination of materials, detailing and decoration on offer ensures that the end result will always evoke the spirit of Alessandro Michele's vision."
Remember people, this is Alessandro Michele's world and we're just living in it.