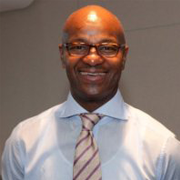 A Republican committeeman from Newark who failed this week in his effort to displace the sitting chairman, slammed Essex County GOP chair Al Barlas for failing to lead the Republican Party against the Republican Party's presumptive presidential nominee Donald Trump.
Kevin Jenkins – husband of Councilwoman Gayle Chaneyfield Jenkins, said he can't fathom how Barlas, a Muslim, could back Trump, who has called for a ban on Muslims to the United States.
"It's astounding to me that Barlas wouldn't use his platform to stand up against the hatred and bigotry that Donald Trump espouses," said Jenkins. "This is the time to put country ahead of the party.
"It may come as a surprise that there are African-American and Hispanic Republicans in Newark and urban Essex County," the renegade Republican added. "We may be outnumbered by Democrats, but we are here and we will not be silenced by our own party."
Jenkins said Barlas's support for Trump pits him against urban Republican leaders and even some from suburban Essex.
"How can we as a minority community support a presidential candidate who is a racist, exclusionist and xenophobic," Jenkins said. "We cannot blindly support a candidate who is so contrary to everything we believe. I joined the party of Abraham Lincoln and Jackie Robinson. Donald Trump does not represent those values."
Labeling Barlas a "suburbanite," Jenkins said other urban Republicans feel as he does, including Hadren Simmons, chair of the Central Ward GOP, Anthony DeVino, chair of the East Ward Republican Party,and  Ali Al Swab, chair of the South Ward Republicans.
Barlas won unanimous support in his reelection bid to the chairmanship on Tuesday night.
The urban chairs, along with about 25 other Republican committee members, said they vacated a reorganization meeting on Tuesday when they said it became clear Barlas would win re-election as chair of the committee.
Barlas said he has already gone on the record on PolitickerNJ to express his disagreement with Trump's statement regarding a ban on Muslims.
"It's wrong," said the chairman. "I have said, where I disagree with DOnald Trump, I've said so and will say so.
Barlas rattled off the names of those attacking him, Jenkins and his wife among them.
"I'm sorry they all disagree with me, but I believe there are a lot of growth opportunities for this party," he said. "I am the chairman of all. I am not going to be bought off, shook down or bullied by anybody. Kevin Jenkins, only recently a county committee member, never showed up Tuesday. What he told me when we met was that the Republican Party is dead come July. I disagree. I do not believe the Republican Party is dead. If they think it's dead perhaps they never really were Republicans.
"In the end, this is not about anything except desperate people seeking relevancy," the Essex GOP chair added.