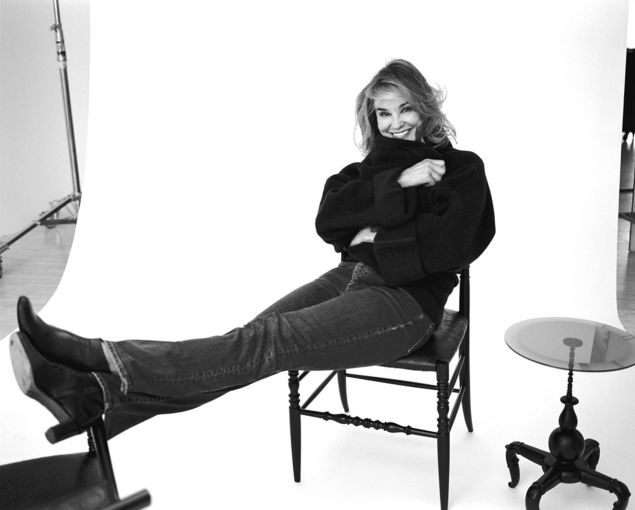 Jessica Lange was discovered in 1976 in the oversized mitt of King Kong, pretty damn distressed but pretty, and—surprise! surprise!—has spent the next 40 years harvesting film-acting hardware. The loot to date includes two Oscars, three Emmys, five Golden Globes and a Screen Actors Guild Award. Her stage prizes are skimpier—she holds out for masterpieces and has only done three on Broadway—but currently she's sweeping through this season's contests like Amanda Wingfield at the cotillion.
She was Amanda her last time on Broadway and Blanche DuBois before that. Now, she has shifted hard drives from Tennessee Williams to Eugene O'Neill to play the softest, saddest, most overshadowed Tyrone of the four who inhabit and haunt his anguished, autobiographical Long Day's Journey Into Night. Lange's skill as much as her star wattage bring Mary Tyrone front and center, ahead of her actor-husband and two sons who thunder around their coastal summer home with flashier tirades. There have been six Broadway Journeys, and this is the first time that has happened.
While the men of the house drink and rage, Mary sticks to the spare room and her morphine. When she guiltily emerges, she's all too aware of their harsh glares and starts fussing with her loose strands of hair, as if that poignant charade would throw them off the scent. It's a performance that tears at the heart—and lodges in memory.
This is not her first time at the Tyrone rodeo, Lange notes, settling into a restaurant booth at her Village hotel. There was a London version, opposite Charles Dance, in 2000, and it stayed with her, she insists. "After I did it in London, I always wanted to do it again. It's just one of those parts, always worth revisiting. With Mary Tyrone, you can play a little bit loose with age. When I first played her, I was 50, which is a bit too young. Now I'm probably a bit too old. Either way, it doesn't really matter.
"But I must say in the 16 years that have passed between that production and this, you bring a lot more to it—a lot more loss. I know it sounds odd, but I don't have a clear memory of what I did in that production. I don't know if it's because so much time has passed or, when I started working on this, it just overwhelmed everything."
Blanche DuBois is the part she has played the most: first on Broadway in 1992, then as a TV movie three years later and, lastly, in London in 1997. "From the first time I became interested in acting, Blanche was the role. The other great stage role, Mary Tyrone, I came to later in life. Those were the only ones I've been passionate about."
And, yes, that's counting Amanda Wingfield. "I never had that feeling about The Glass Menagerie that I had about Streetcar and Long Day's Journey, but when this producer asked me to do Amanda, I figured, 'How could I not do this seminal role?' so I did it."
It didn't help matters any that British director David Leveaux had her do Amanda's classic telephone scene—pathetically peddling magazine subscriptions—off-stage while, on stage, Laura lamely sets the table. His logic: "It hasn't been done before!"
Lange was not pleased. "The truth is, if we are credibly blunt with one another, that production was not well conceived or directed, and I think that was a big problem. There were a lot of things that were disappointing for me about that production."
The common denominator that draws Lange to both Blanche and Mary Tyrone "is, more than anything else, loneliness, which I'm beginning to believe is the human condition. From that, everything else comes. With Blanche, it's the desire, the promiscuity, the need for affection and connection, all that. With Mary, it's that thing about her being a young girl and taken out of her world and living in his world, which is for him full and vibrant—James Tyrone has the stage!—but it doesn't really include her. She's waiting in some dirty hotel room for him to come home—usually drunk—night after night. What terrible loneliness that must have been for her."
Lange owes this second shot at Long Day's Journey to television kingpin Ryan Murphy, for whom she did four seasons of American Horror Story. "We were at dinner one night, and I said, just in passing, that I would really love to play Mary Tyrone again," she recalls, "and, bless his heart—what a dear friend!—he went out and got the rights and just said, 'Well, here. Here are the rights. You can go do it.'
"I didn't want to do a long commercial run—it's just too exhausting—so we went the nonprofit route, and Roundabout agreed to do it. The whole thing was kind of a perfect storm. Everything came together. The name Jonathan Kent came up. Funny story: He was on a train and started thinking about O'Neill—what a great play this was and how much he'd love to direct it one day—and right then he got a phone call from Todd Haimes, saying, 'Would you want to direct Long Day's Journey?' Then the cast—Gabriel Byrne, Michael Shannon and John Gallagher Jr.—kinda fell into place."
Tony or no Tony, an award-riddled career is the last thing you would have predicted for Kong's love object. But then, talent-spotting wasn't producer Dino De Laurentiis' strong suit. When his son paraded Meryl Streep in front of him as a possible Kong sacrifice, De Laurentiis groused (in Italian), "Why do you bring me this ugly thing?" Streep shot back instantly (also in Italian), "I'm sorry I'm not beautiful enough to be in King Kong." De Laurentiis' reaction: stunned silence, as if struck by a two-by-four.
Lange came close to suffering the same fate. "They almost didn't give me a screen test because they didn't like the way I looked either," she recalls. "I'd just come back from Paris, was all skin and bones and wearing this Dietrich Blonde Venus Afro. I remember when I walked in for the audition, I could see all the girls—a sea of classic blonde California beauties—and I wasn't one of them. They were just going to send me back on the next plane, but the casting director said, 'Oh, c'mon, she's here. Give her a screen test.' So they did. Not even the AD was there, not even the director and certainly not Dino. I did one scene for the camera, and the second AD called the first AD and said, 'You should come see this girl.' He came, and they called the director, and then they called Dino. By the time I had left there, they had given me the part."
Despite the sexpot-starlet camouflaging that reached the screen, one critic could see the actress within. "The movie is sparked by Jessica Lange's fast yet dreamy comic style," Pauline Kael wrote. "[She] has the high, wide forehead and clear-eyed transparency of Carole Lombard in My Man Godfrey [and] one-liners so dumb that the audience laughs and moans at the same time, yet they're in character. And when Lange says them, she holds the eye, and you like her, the way people liked Lombard."
That's still a lovely memory for Lange. "I remember it well. I kept that review for years. I'm like James Tyrone in that respect. She really was the first one to see something—to believe in me—and it was great. I was always grateful to her for that."
It didn't take other critics long to catch on. Seven years after Kong, Lange found herself up for two Oscars—one starring as Frances (Farmer), the other supporting as the girlfriend of Tootsie (Dustin Hoffman). They were filmed back-to-back—heavy-duty drama followed by ditzy comedy—and the comedy won for her. The rest of the '80s was all Best Actress Oscar bids and dramatic: Country, Sweet Dreams and Music Box.
In 1990, she gave her second Oscar-winning performance—playing a freewheeling, bipolar Army wife in Blue Sky—but she didn't collect that award till 1995, four years after the death of its director, Tony Richardson. One of the last films produced by Orion Pictures before it went bust, Blue Sky spent the interim marinating in a bank vault, only stumbling into release just to clear the ledger. "What was surprising," says Lange, "was that anyone had a chance to see it—it had such a limited, haphazard release—but there was a critic at the LA Times, Peter Rainer, who caught it and really championed it. He wrote articles about it and made people pay attention to it. I'm thankful he did because, otherwise, it would have disappeared without a trace."
Periodically, whenever she needs "an acting tune-up," Lange gives The Goddess another look. It stars Kim Stanley, who was Oscar-nominated playing her mother in Frances. "I just want to remind myself what great acting is, what to aspire to," she explains. "Sorry to say, I never saw Kim on the stage. By the time I knew her, she was no longer doing theater. I was thinking the other day how much I would have loved to see her in her 30s do Blanche or see her in her 50s or 60s do Mary Tyrone."
When her own Long Day's Journey ends June 26 at the American Airlines Theatre, the actress will hightail it to home turf—the far north woods of Minnesota—and do nothing for two months. Come September, she returns to Hollywood to begin filming Feud. She'll play Joan Crawford to Susan Sarandon's Bette Davis in this eight-episode anthology series about the cat-fighting and head-butting that went on during the chaotic filming of their What Ever Happened to Baby Jane? in 1962. (I'm there!)
The writer, producer and sometimes director of Feud is Ryan Murphy. Payback time!