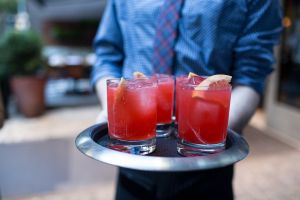 Summer may have just begun, but Talia Baiocchi and Leslie Pariseau have the perfetto way to prevent its end: Spritz. That's a bubbly-bitter aperitivo cocktail from Italy, a new book by Baiocchi and Pariseau and a command. Or at least a goal.
"It's how I want to live every day of my life," Pariseau told the Observer. "Leave whatever is happening in your life, go sit somewhere and have a conversation, on an island." Cin cin.
We're on the outside patio at Sessanta at the Sixty SoHo hotel. It's the launch of Sessanta's Spritz Cart (think tableside guacamole, with Aperol, Campari, Cocchi Americano) and a party for the book, Spritz: Italy's Most Iconic Aperitivo Cocktail, with Recipes (Ten Speed Press). Everyone here paid for a copy with their $30 ticket, which included two hours of the tangy, effervescent drinks and salty, mini eats.    
'In America, the cocktail is divorced from sitting down and eating food. In Italy, in Southern Europe, really, food and drink are always intertwined.'
Hands are full of Campari-red Negroni Sbagliatos (prosecco replaces gin in this popular "mistake" created at Milan's Bar Basso in 1968), Aperol-red Venetian Spritzes (see island, above) and Campari-grapefruit-pink Perche Aspettares (winner, winner, this is all meant for pre-dinner). There's lots of black, lots of chambray, lots of exposed shoulders—and lots of snacks: arancini, crostini, shrimp, salumi, olives.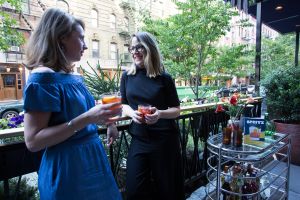 Note: Aperitivo hour is not a replacement for dinner. It's the sweet spot between work and dinner, meant to engage your appetite for a real meal. "In America, the cocktail is divorced from sitting down and eating food. In Italy, in Southern Europe, really, food and drink are always intertwined," said Pariseau. She and Baiocchi, well-versed in drinking, eating, sitting down and traveling, crammed into a Fiat with some friends to explore Northern Italy for two weeks of research. Popularized in the U.S. in recent years by the classic Aperol Spritz, the aperitivo cocktail (polibibita) has been an Italian social tradition since the early 1900s.
"It's a state of mind, a mantra, an attitude," said Baiocchi. "Give no fucks. Don't work very much, or at all. Let that follow you."
Salute.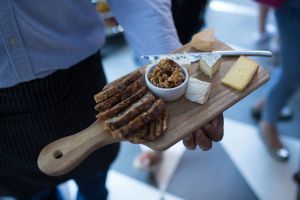 Len Dest, a retired rocket scientist (literally) and wine enthusiast, has followed Baiocchi since she began blogging about wine. He and Martina Gams, who live on West 57th Street, already have plans to use the recipes and ideas in the book. "In Germany we have the spritz," said Gams, with the accent of her homeland ("schpritz"). In fact, according to the book, "spritz" is a derivative of "spritzen," German for "to spray." As in, adding a splash. Diluting, slightly. These beverages are light, and low in alcohol.
And the book itself is smart, fun to read and look at and unquestionably approachable. Its recipes were mostly created by professional bartenders, but the authors themselves created a few to demonstrate, as Baiocchi puts it, that you can do this. "This is a forgivable drink. You don't need to jigger. If you make a mistake, pour some prosecco on it."
That's a mantra we can wholeheartedly endorse.