Even though it has been less than three months since the almost offensively attractive humans known as Adam Levine and Behati Prinsloo put their equally stylish Soho loft on the market, someone has already scooped it up.
It's not that surprising that an interested party jumped at the thought of owning the 2,800-square-foot co-op at 112 Greene Street, which the Maroon 5 frontman and his supermodel wife purchased in 2014—not only does it have a surplus of restored exposed brick walls, six original columns, and a 60-foot living room, but it has also been blessed by the presence of these two really, really pretty people.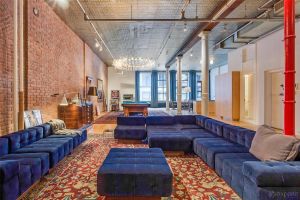 The couple listed the apartment for $5.5 million in April, shortly after announcing that they're expecting their first child. We suppose it makes sense they would have to part ways with the loft, as even though 13-foot ceilings and a master suite with a walk-in closet and a bath with a deep soaking Jacuzzi tub sounds beyond lovely, the one-bedroom, two-bathroom pad is probably not the most baby-friendly…it's not quite clear where one would put a nursery here.
There is, however, a kitchen with stainless steel appliances and black granite countertops, per the listing shared by Oxford Property Group brokers Adam Mahfouda and Jules Borbely, which also notes that the apartment can be offered completely furnished. Perhaps that helped generate some extra interest from buyers–the couple decked out the place with leather furniture, some rather oversized light fixtures, and velvet couches. They also added a jukebox and a pool table, so perhaps it's more of a bachelor pad-loving buyer who snapped up the space.
Of course, even though the apartment did go into contract at its full listing price, it's pretty much chump change compared to the haul Levine might be expecting from his Beverly Hills estate, which he just put on the market for $17.5 million. That 7,100-square-foot spread, which Levine bought for $4.83 million back in October 2012, has five bedrooms, seven bathrooms, and sits on 3.66 acres, complete with a tennis court and a pool.
Perhaps Levine and Prinsloo are just looking to start entirely fresh with the impending arrival of their baby girl, so maybe something is in the works that's just a tad more feminine, or kid-friendly. You know, without that "speak easy style card room" in the Beverly Hills abode. Either way, we have no doubt that their next home will be just as gorgeous as the ones they're ridding themselves of…