Karl Lagerfeld is definitely not retiring. Despite rumors to the contrary, Lagerfeld is actually doing quite the opposite–he's adding on yet another project to his already rather extensive workload.
Along with his roles at Chanel, Fendi, and of course, his own label, the fashion icon has announced his first residential real estate design project in the United States.
In an exclusive partnership with Trump Group's Eddie and Jules Trump (nope, no relation to Donald Trump), Lagerfeld will be designing the two residential lobby spaces of the Estates at Acqualina, a new Miami Beach development.
The Estates at Acqualina will be completed in 2020, and will feature 265 residences, ranging from three- to seven-bedroom condos in two 50-story boutique towers, Via Acqualina 777 and Via Acqualina 888.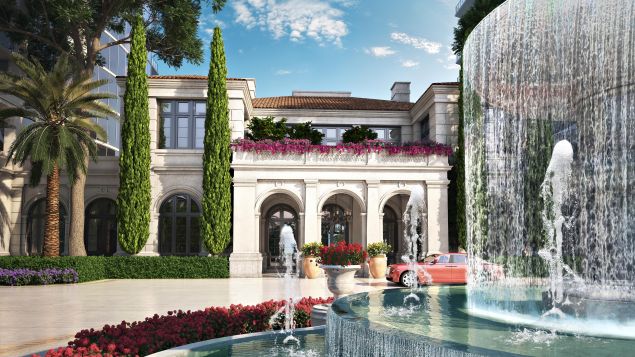 "I am excited by the opportunity to design the lobbies of The Estates at Acqualina and take great pride in knowing that the spaces I create will be such important spaces in the building," Lagerfeld said in a press release. "Not only are they significant because they offer the first impression of the building, they are also the spaces where people come to socialize daily; they are like a common living room."
"Karl is the world's most acclaimed designer–a master of modern creativity," Jules Trump told the Observer. "Our residents value high-end design and we believe that Mr. Lagerfeld's aesthetic, in particular, will be appreciated and valued by our guests, who desire an incomparable level of opulence, luxury, design and style."
Though not designed by Lagerfeld, the actual residences are quite lovely, too. The luxe units, which are currently priced at $3.9 million to $9 million, with the penthouses going up to $40 million, will be delivered "furniture ready," and will have smart-home technology and 10'6″ ceilings. The master suites have his and her bathroom with onyx countertops and walls, marble floors, a steam mist shower with an ocean view, and his and her dressing rooms.
"We are already seeing high demand for the residences at the Estates," Trump said. "In fact, of the $1.5 billion in inventory, we currently have $500 million under reservation."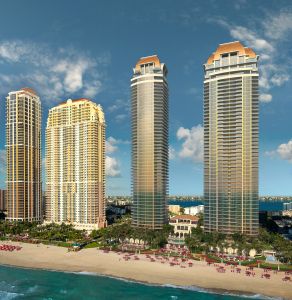 There will also be the Villa Acqualina, which will have over 45,000 square feet of amenities, including a spa, fitness center, and a restaurant that overlooks the Atlantic Ocean, not to mention an ice skating rink, bowling lanes, and a movie theater.
The 5.6 acres of grounds include multiple infinity pools, basketball and bocce courts, a soccer field, and of course, over 500 feet of Atlantic oceanfront, with Five Star beach and pool services. For whenever one might want to leave the luxurious development (though we're not entirely sure why anyone would ever need, or want, to), just call the full service concierge, which can perhaps arrange for the house Rolls Royce to chauffeur you around. It all sounds very Lagerfeld-approved.
"My designs are inspired by the look of each lobby, the building and the destination of Florida especially," Lagerfeld said. "The climate is very warm there and I wanted something fresh."
Perhaps Lagerfeld will also take inspiration from his muse, also known as his beloved cat, Choupette. After all, Lagerfeld's Choupette at the Beach collection is dedicated to the chic feline–maybe he should consider adding a boutique in the lobby, with Choupette and Miami-approved beachwear. Here's hoping…