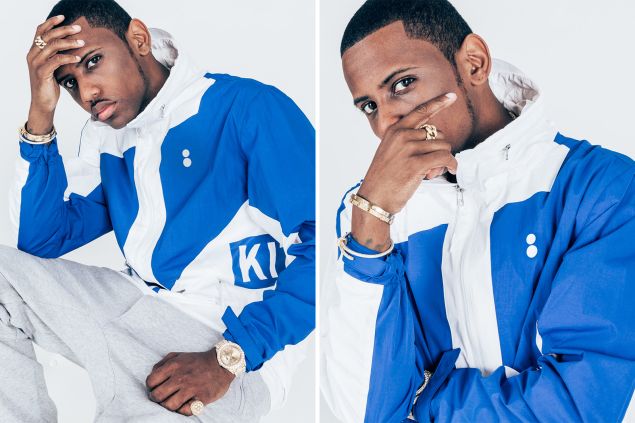 What is iconically blue, highly sought after and a true marriage between New York and Paris? That would be the latest offering from Kith, which comes in a rather recognizable color: Colette blue. Created in collaboration with the iconic Parisian concept shop, this range has a drop date of June 12, but (unsurprisingly) has been the center of a lot of media attention. It helps that rapper Fabolous was chosen to model in the lookbook of the collection, diamonds, Cartier bracelets and all.
In the images, the rapper ponders in a branded windbreaker, which features the logos of both Colette and Kith, but also shows off the Puma and Beats by Dre designs, all of which are exclusive to this range. "Colette has always stood as a pioneer when it comes to conceptual retail spaces and being a cultural institution, which served as inspiration for me when starting Kith," admitted Ronnie Fieg. While he is busy running his New York Kith empires, which are a go-to for sneakerheads–and those who simply want a cool pair of sneakers–Sarah Andelman is masterminding Colette, a Parisian staple which offers designer threads, kitschy gifts, and yes, sneakers.
The products in this Kith and Colette collab have a staggered drop date, as follows:
June 13 – Beats by Dre Pill+ and Powerbeats 2 in-store at Colette
June 14 – Beats by Dre Pill+ and Powerbeats 2 in-store at Kith and online at KithNYC.com
June 15 – Ronnie Fieg x Colette x Puma RF-Blaze of Glory and Disc Blaze in-store at Colette
June 16 – Ronnie Fieg x Colette x Puma RF-Blaze of Glory and Disc Blaze in-store at Kith and online at KithNYC.com
June 17 – Kith x Colette apparel and accessories in-store at Colette
June 18 – Kith x Colette apparel and accessories in-store at Kith and online at KithNYC.com
So as you plot your purchase plan, read more about the collab, where Fieg talks about family values and his all-time favorite Colette purchase in an interview with Observer.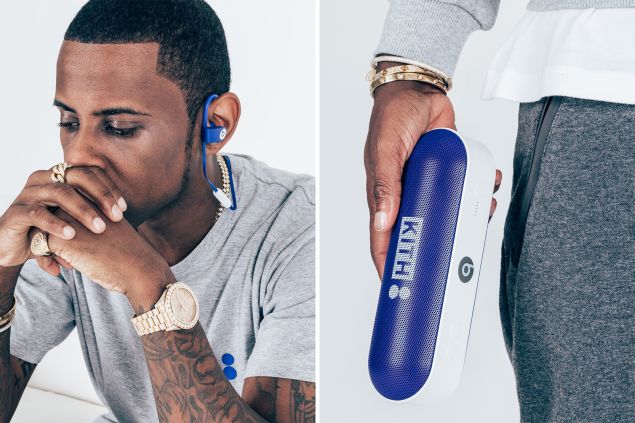 How did this collaboration come to fruition? Sarah [Andelman] and I began working together professionally last year, when Colette stocked Kith's Spring '15 collection, as one of only five retailers worldwide. This relationship continued when they stocked a few of my collaborations, such as my Diamond Supply Co. project. These initial offerings proved that the Parisian consumer wanted Kith, and I already knew that the New York consumer wanted Colette, so it made Sarah and I want to create something special together. It's [Kith's] five year anniversary this year. A year and two months ago I told Sarah that I wanted to work on something special with her, to help celebrate this anniversary.
What did you learn about the Colette founder though building this collab? I realized how much Sarah values family, which is very important to me. Not only is the store itself named after Sarah's mother, but her mother still actually works in the store, which I thought was incredible. Kith is built on the foundation of family, which is referenced in our brand name, as well as our "Just Us" motto. Once we learned this about each other, I believe it drew us closer.
Did you find it challenging to work with the iconic blue Colette color? It's an honor to be able to use this color in such an official capacity, due to how iconic it is. However, it was a challenge to make sure that the blue across all products were a perfect match, especially when it's being applied on such different materials, such as the Beats headphones and speakers, the fleece and tech-nylon for the apparel, the pigskin suede on the footwear, etc. In the end, we made sure everything was absolutely perfect, which is something people might not initially think is difficult, but is something I took great pride in.
What will the the Cereal Bar takeover of the Water Bar entail? I wanted to offer more than just product with this collaboration; I wanted to offer an experience. We designed an exclusive Colette Water Bar Tee, as well as two all-new cereal specials that will be served in custom Colette Blue-colored Kith Treats cereal boxes. Both cereal specials come with mini blue marshmallows, which I think is a fun addition for customers.
What is your most memorable Colette purchase? I went to Colette for the first time in 2010 before I opened Kith.  My favorite product I ever purchased there was a Hublot Special Edition Racing Watch 1/100.  I was amazed how hard it was to find that watch but Colette received it just as I was walking in.
Does Sarah often shop in your stores? Sarah is a very busy business owner, but whenever she is in New York she makes time to come over to the Kith office and visit the store, which I think is incredibly humbling.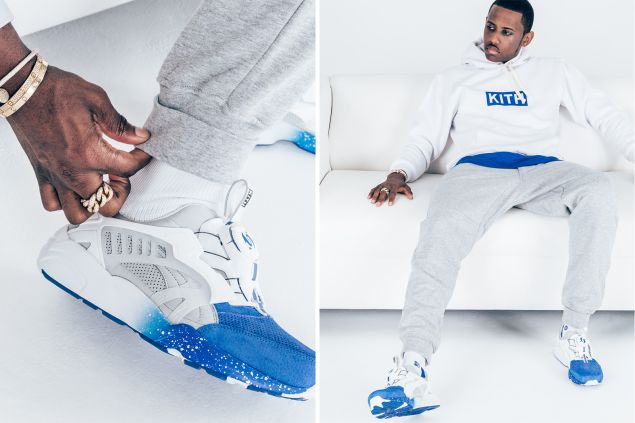 What pieces from the range do you think will sell out first? Honestly, that's never the goal for me. I want to offer strong timeless product, and Sarah supports that vision wholeheartedly. I don't know what will sell out first, but I hope people can see the value behind the collection as a whole, and how many facets of life it caters to.