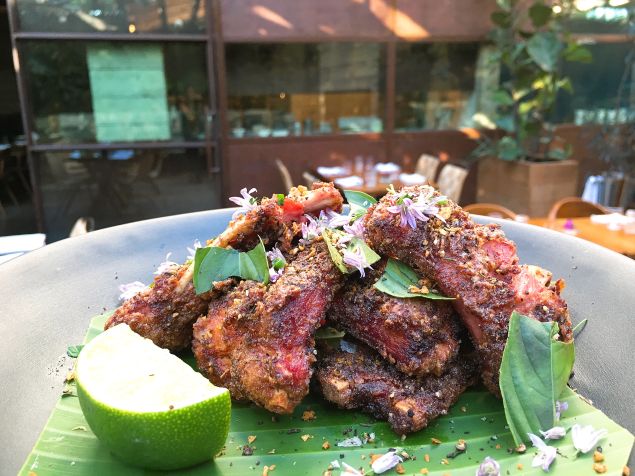 Hinoki & the Bird launched like a rocket a few years ago. Opened by famed chef David Myers and Top Chef alum Kuniko Yagi, the white-hot Century City restaurant quickly became the toast of L.A. and the national media, thanks to its brilliant, loosely Asian dishes like a lobster roll with green curry and Thai basil served on a black bun made with charcoal powder. When we visited for an April 2013 New York Post piece, we lingered on the crowded but serene patio, and a dining companion noted that this "might be the hippest restaurant" she had visited even before we found out that Robert Downey Jr. and Stacey Keibler were also there that night.
Myers and Yagi have since moved on, but it turns out Hinoki & the Bird can still soar with new chef Brandon Kida, who's kept that lobster roll on the menu but is also totally doing his own thing.
"I didn't realize you had invited me to the hippest restaurant in L.A.," we overhear a pinstripes-and-tie-wearing fella telling his friend when we walk into the packed restaurant on a recent Tuesday night.
We sit on that gorgeous patio again and see both an after-work crowd and stylish scenesters here for cocktails and conversation. New barman Gregory Westcott is keeping things fresh and playful with crisp, clean concoctions like the Just the Tip, which might sound like a frat-boy drink but is actually a refreshing gin, aloe vera, yuzu bitters and shiso cocktail. The Longfellow makes good use of Mexican spirit sotol (similar to tequila) by pairing it with lemon, vanilla bean, orange and fennel.
After a couple cocktails, it's time for Kida's food—among the best and most inventive in town. Raw hamachi with fava beans and an herb emulsion tastes like the sea and the summer. Crispy suckling pig is perfectly fleshy and fatty, and you'll want to use both the chili jam and the apple chutney on the side. Santa Barbara spot prawns are poached in a coconut broth that includes shrimp stock and fish sauce before being topped with herbs like cilantro, Thai basil, rau ram, dill and fennel flowers. It's a carefully calibrated combination that enhances the sweet and delicate prawns without overwhelming the palate.
But the dish we can't get out of our head is the wild boar ribs with Szechuan peppercorns. This isn't the typical mala I-can't-feel-my-face experience you expect from Szechuan food in L.A. The ribs are braised in IPA-style beer, dusted in rice flour, fried, tossed in a Vietnamese lime-and-fish sauce (nuoc cham) and then dusted again with fried garlic, kaffir lime, lemongrass, black pepper, Szechuan peppercorns and cumin. There's a lot going on, but there's also a lot of nuance. You're not going to remember your mouth being numb nearly as much as you remember the succulent ribs, which pop with the flavors of Asia and the joy of being able to cook whatever you want however you like.
As you might have figured out by now, Kida's food really deserves to be part of the conversation about the original-to-L.A., Asian-inspired but no-rules-and-no-limits cooking that's knocking out diners at restaurants like Bryant Ng's Cassia and Shawn Pham's Simbal. Kida, who cooked in New York at Clement at the Peninsula and Asiate, is a Japanese-American chef who was raised in L.A.'s Koreatown. The fact that he's also using Chinese, Thai, Vietnamese and farmers-market flavors at Hinoki & the Bird only makes the restaurant feel even more L.A.
One thing about food in L.A. is that it's always evolving. Cassia recently started serving lunch, which includes a variation of Ng's famed Spice Table burger. Simbal just celebrated its first anniversary and has added family-style tasting menus and a crispy smoked pork belly with spicy bean sprouts and Chinese chives that's tremendous in every sense of the word.
Meanwhile, Myers has opened a restaurant in Singapore; Yagi is working on a ramen shop and a diner in downtown L.A; and the West Hollywood space where Myers used to run Comme Ca is being taken over by high-profile Peruvian chef Ricardo Zarate, who is opening Rosaline there later this year. Zarate, of course, is known for taking Latin American flavors and merging them with Asian influences—so he's got something in common with chefs like Kida, Ng and Pham.
Zarate's got something else in common with Kida, too. Rosaline's drinks menu is being created by Feisser Stone, who previously ran the bar program at Hinoki & the Bird. But this isn't a case of mixologist poaching. Rosaline and Hinoki & the Bird have the same owners, who hope to have two high-flying restaurants that will take guests around the world come fall.