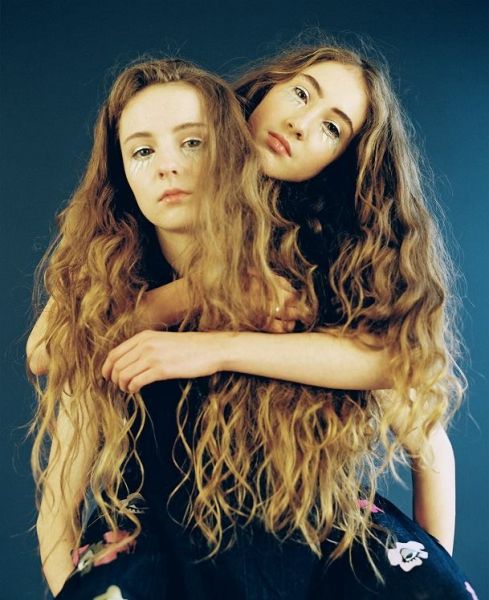 Let's start here: I, Gemini by Let's Eat Grandma is the most startling and enchanting debut album I've heard in decades.
I would have to go back to PiL's First Issue or R.E.M.'s Murmur to find something that sounded so immediately important yet also so fresh, inventive and inviting. It's potentially one of those records that announces, "This changes everything."
Let's Eat Grandma are Rosa Walton and Jenny Hollingworth, two angelic-looking 17-year-old identical non-twins with pale, alluring faces and masses of Botticellian hair. They come from Norwich, a relatively sleepy burg in England's East Anglia region, and they appear to have absorbed everything creepy, sugary, intense, simple and cotton-candy gothic in the last 40 years of alternative pop; not only that, they have also condensed it, seemingly effortlessly, into a vastly original core, inventing heretofore unknown colors out of a spectrum you had assumed could produce no more miracles.
There are a few different ways to go about trying to describe I, Gemini. You can try, in a fumbling, fluttering way, to explain that its vaguely reminiscent of Marble Index/Desertshore-era Nico, or Bjork, or Lorde, or Anna von Hausswolff, or Joy Division, or Supercute!. But that won't get you very far and it's a terribly one-dimensional way of looking at a very multi-dimensional band.
So next you might try more elaborate (and possibly more revealing) metaphors: Maybe I, Gemini sounds like Lorde if she was murdered in a forest by the Propaganda-era Cure and set off on an Icelandic ice floe; or perhaps Let's Eat Grandma sound like Hermione Granger if she was raised by someone who read her Der Struwwelpeter three times a day while constantly playing her Kate Bush's "Wuthering Heights" and "The Eternal" by Joy Division; or, (try this) imagine if Robert Smith and Diane Arbus had acid-damaged twin daughters and they used their toys to make SMiLE.
Those comparisons may give you some idea of what's going on here, but all of them fail to honor the mixture of simplicity, shock, majesty and melody of Let's Eat Grandma (the name, by the way, comes from an old joke about the perils of misusing punctuation; it somehow seems perfect, though, as it conjures up both childhood and bloodlust).
On their first album, released on June 17, Rosa Walton and Jenny Hollingworth create unpredictable but fascinating super-minimalist wide-screen pop, highlighting their indistinguishable glass harmonica vocals touched with ethereal frost, voices that sound childish and angelic and paganistic all at once.
[youtube https://www.youtube.com/watch?v=hZ3tmmkr3sg&w=560&h=315]
They accompany themselves with minimal skill and maximum imagination on whatever organ, piano, drum, harp, or ukulele seems appropriate, resulting in a kind of pure, effective, unaffected minimalism.
I, Gemini is the rarest of treats: exotic yet almost compulsively attractive, and so innovative as to defy easy comparison.
Here, I will again note that in its blend of folk, playful disregard for traditional song structure and extreme, almost hysterical invention, it reminds me a bit of SMiLE (if SMiLE had been re-recorded by a group of Viking children who have seen their own deaths in their dreams). And like Brian Wilson in the mid-1960s, Let's Eat Grandma are doing nothing less than re-inventing pop for their own amusement.
Imagine the artists whose spirit of invention you love the most, the ones whose music whispered secrets in your ears—say, the Raincoats or Tim Buckley, Elliot Smith or Stephin Merritt, the Velvets or the Sugarcubes—and then, imagine them at their most tumbling, intimate and graceful, responding only to their own very joyful muse.
Although Let's Eat Grandma may most consistently remind listeners of a post-goth take on Celtic Folk and/or an ultra-pure version of Kate Bush's staircase of wails, the underlying theme for Walton and Hollingworth seems to be an absolute devotion to making pop on their own terms, creating deeply moving and simple performances that hold great meaning to them.
[youtube https://www.youtube.com/watch?v=buN4ga33Og8&w=560&h=315]
"Rapunzel" (which, like half of I, Gemini's 10 tracks, clocks in at over five minutes) seems to epitomize the gothy, folky, magical and simple genius of Let's Eat Grandma.
Intentionally or not, it has echoes of "Wuthering Heights" and the sad, sloping Kudzu-folk choruses of early R.E.M, all in support of a harrowing tale of the nightmare inside a childhood nursery story. "Rapunzel" is as close to a drop-dead essential track as anything you will hear all year. Along with album opener "Deep Six Textbook" (the low-end throb of Joy Division at their darkest meets the cloud-high melodic sugar castles of the Cocteau Twins), it's the track you can best use to introduce this almost supernaturally distinctive act to your friends and stun them into devotion.
I will also note that I would be dearly surprised if the girls hadn't heard Marble Index/Desertshore–era Nico, because if the largely incomparable I, Gemini actually sounds like any one (or two) albums, it's those records: Wide-open instrumental accident and ingenuity fill a purple-lit planetarium space created to surround and support the extraordinary inventions of an absolutely unique female vocalist. But Walton and Hollingworth replace Nico's Germanic adamancy with a deeply delicate, crystal-like desperation shaded by soaring sad/happy clouds of traditional English folk song.
The result on I, Gemini is a sound that is almost violent in its minimalism while being ecstatic in its melodicism.
There is nothing wrong with I, Gemini, aside from an awareness that it's possible this kind of startling moment can never occur again (lord knows one well-intended DJ/mixer or r&b producer could ruin Let's Eat Grandma's whole rare balance of naiveté, genius and sonic ambition). But in the meantime, we have this staggering, shiver-inducing and beautiful album, perhaps the most essential exercise in melodic and instrumental minimalism since Young Marble Giants' Colossal Youth.
If I've confused you at all, try this: read the Wikipedia page for the 1973 version of The Wicker Man and visualize haunting, beautiful children singing dark but luminescent electric nursery rhymes, feeling something older than fear and younger than childhood.