Following the shocking success of the campaign to have the United Kingdom to leave the United Kingdom early Friday morning, the international rise in populist anti-immigrant sentiment has many speculating the Donald Trump's unexpected rise to the Republican nomination could proceed to a victory in the general election.
But in the South Jersey's Cherry Hill shopping district, enthusiastic Trump supporters were nowhere to be found as shoppers said they are leaning toward Hillary Clinton. Even among former Bernie Sanders supporters who would like to see Clinton move further left, the prospect of staying home on election day was a bridge too far.
Danielle, 24, history teacher at a private school in Philadelphia
Asked what would be driving her vote, she replied "Sanity." The Brexit vote, she believes, could be a sign of an unpredictable election at home.
"I think that it's showing a pretty dangerous trend of rising nationalism and how that actually is bringing people out to the polls."
"I hope not. But I think there is a chance, unfortunately," she said of Trump's chances. 
For Clinton's running mate, she said she favors New Jersey's Senator Cory Booker.
"I like Cory Booker. I think for the Democrats, that's probably the best  pick. But I don't even know on the other side."
"I think he's elevated a lot of issues for her to focus on," she said of Sanders' effect on Clinton.
Richard, 48, maintenance worker from Cherry Hill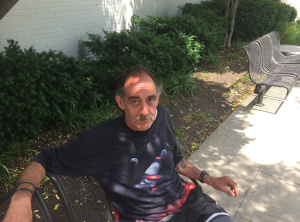 "They've got to give back to us," he said of what he wants to see from both Trump and Clinton's platforms. "That and more homeless people need to be off the streets. That's one thing — I don't hear anything about that. Plus healthcare, that's not really that great right now."
"Hillary, I would definitely have to say that," he said when asked his preferred candidate. "She seems to be more down-to-earth with the American people, and I think he's more 'business,' you know what I mean? She's more for us. I think she'll probably get more done."
"I'm a Democrat, but Christie I was pretty okay with. I wouldn't mind him. But I think he backed the wrong candidate," he added of the governor's endorsement of Trump.
Bob, 52, Macy's retail worker from Doylestown
"Healthcare is the number one," he said, adding that he would like to see a universal single-payer system.
"I just can't believe he got this far," he said of Trump, going on to say that he does see the Brexit vote as a sign that Trump could have more success in November than incumbents and the commentariat are predicting. "As for the country picking him, it's not good." 
Lauren, 40, freelance makeup artist from the Haddonfield area
"I I think that Bernie would be the best, that's my general feeling. I think something's got to change," she said, saying that she doesn't believe Clinton will do as much to change Washington as Sanders might have.
Asked what issue will be bringing her to the polls, she said Trump has her motivated to cast her vote this cycle. 
"Not voting for Donald Trump. Is that an issue?" she said. "I think that's scary. I believe that Hillary is probably equally scary, but maybe better."
JT, 76, retired meat packing plant supervisor from Maple Shade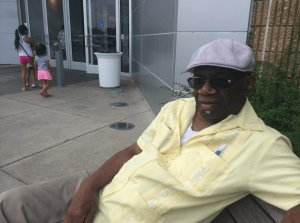 "I'm a hard, hard Democrat liberal," he said. "If it weren't for Hillary I'd vote for Bernie. He's pushing for good as hard as the Republicans are pushing for bad. But he's pushing too hard. He's trying to get it all in a day. Let's get in there first, then we'll do what we got to do."
He compared Trump to the the late segregationist governor of Alabama George Wallace, who famously stood in front of a school in an attempt to refuse entry to black schoolchildren.
"Trump is the second-biggest asshole I ever met in my life as far as running," he said, behind "the guy down south who sat by the door and wouldn't let the kids in. The one they shot, I forget his name. He preached that 'Segregation now, segregation forever.'"