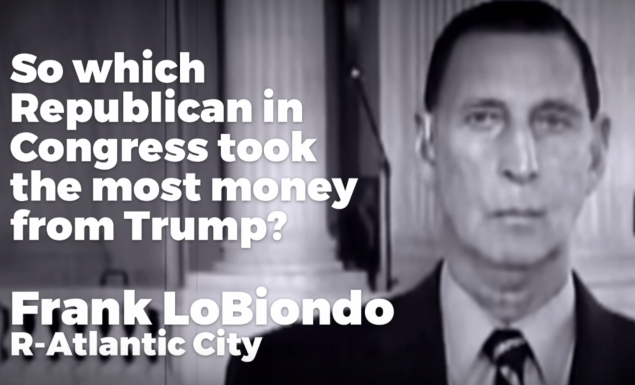 The campaign of U.S. Representative Frank LoBiondo's long-shot Democratic challenger David Cole continued to deride the congressman's financial ties to Donald Trump Tuesday after LoBiondo's camp criticized their new attack ad. That ad accused LoBiondo of callously accepting 12 contributions from Trump totalling roughly $8,000 during a time when Trump's casinos were declaring bankruptcy in the build-up to Atlantic City's recent fiscal havoc.
Following the release of the ad Monday, a representative with the LoBiondo campaign called Cole "so desperate for attention that he now is attacking Democrats like Vice President Joe Biden, Hillary and Bill Clinton who have all taken donations from Trump."
In response, Cole's camp accused LoBiondo of having accepted the most money from Trump of any House Republican.
"Congressman LoBiondo must be more out of touch than we realized," a representative with the campaign said by email. "While Sec. Clinton and Dave Cole have been sounding the alarm about Trump's selfish and bankrupt vision, LoBiondo acknowledged he accepted more money from Trump than any Republican in the House.
LoBiondo's camp had pointed to the congressman's "continued support from casino workers and local residents for his re-election."
"And he did it while Donald Trump was getting rich off the backs of South Jersey workers and small businesses. Instead of agreeing to return the money, he offered South Jersey voters more of the same empty promises. You can't put food on the table with LoBiondo's 'continued support.' Follow the money: a vote for LoBiondo is a vote for Trump."
Four Atlantic City casinos closed in 2014 as those remaining continued to file costly property tax appeals, cutting the city's tax base in half.
Last year, a federal ruled that Trump could not sue to have his name removed from the iconic Trump Taj Mahal casino, which sold to to billionaire investor Carl Icahn. The Taj Mahal is still teetering on the edge of closing, with its workers weighing a strike to undo Icahn's deep cuts to health and pension benefits.