When I first heard Lone, I was on a trauma rotation in Baltimore, at Maryland Shock. I routinely awoke at 5 a.m., sleepwalking from my bed to my patient's—a vigorous man whose ATV had rolled over—and then to Great Cookie, where I'd eat my feelings. We wore bright pink scrubs, resembling fatigued Jigglypuffs. During those hallucinatory times, Lone was my spirit animal.
Lone makes very precise cuckoo clocks. They revolve, they chirp and render the brain a bit soft. Occupying the curious DMZ between junglism, Boards of Canada haze and Sonic The Hedgehog squee, the Nottingham–based producer (né Matt Cutler) has always been a straddler, bridging lands apocalyptic and hypnagogic. A pinch of Neuromancer, a spritz of Bob Ross' Joy of Painting.
If reports are to be believed: his latest album, Levitate, is a literal fever dream. (Cutler reportedly imagined the album whilst suffering a temperature in New York.) What he saw: Chrono Trigger chimes ("Breeze out"), Bizarre Inc. rave ("Alpha Wheel"), Goldie breaks ("Sea of Tranquility"), and Enya log flume ("Hiraeth"). It is tinkling glass. It is a photograph of your Aura. It is what plays, all the time, in the Emerald Hill Zone.
What it isn't is Cloud Cuckoo Land. It's not DMT, Tron, or The Apple. Lone's songs are whip-smart, and suavely outgeneral their peers.
Lone's project is nostalgia: flight and abreaction. Though he borrows spiritually from acts like Aphex, The Orb, Bibio—and samples many directly, including Anita Baker, and Sesame Street—Lone has always transcended his influences, rewriting the life of his youth. ("Sleepwalkers" has a glockenspiel, for Christ's sake.)
Lone spoke recently to the Observer via email about Spyro the Dragon, Streets of Rage 2 and what he thinks of "IDM."
What do your parents think of the album?
They're starting to properly get it, I think. No one in my family is at all musical, weirdly, so I think the idea that I was spending all my time making tunes on a computer was probably quite confusing. Like I say, though, they're really getting their heads around it now, and are totally happy for me. My mum loved Reality Testing. I think that's probably my most "mum" album.
Who came up with the idea to release "Backtail Was Heavy" via hotline?
Andy at R&S had the idea to do a phone line that gave you directions to a rave that didn't exist, which I was totally into—but after a lot of talking we kinda realized that might confuse people, and the idea of a pirate radio station made more sense. Big up, Andy.
[youtube https://www.youtube.com/watch?v=fV-a4Np33L8&w=560&h=315]
A lot of your music samples video gaming, and Sonic. Do you still play? What were some video games that were important to you?
I didn't sample Sonic—though on "Approaching Rainbow" I kinda recreated a riff from one of the levels in Sonic 3. The soundtrack to Streets of Rage 2 is some of my favorite music of all time.
Levitate is quite jungle. Four songs use the "Amen" break. Who are junglists that are important to you?
Remarc, Aphex Twin, Mike Paradinas, Luke Vibert, Acen, Manix, Liam Howlett, Mark Archer, Squarepusher, Photek, Krome & Time, dgoHn…the list is endless, to be honest.
How do you feel about Levitate's direction, compared with Reality Testing, and your earlier work?
It's a quick slap in the face, with some lush little breather moments in between—definitely the most immediate thing I've ever put out.
[youtube https://www.youtube.com/watch?v=UCSe52i0XYM&w=560&h=315]
I love your remix work, particularly Radiohead's "Feral" and Disclosure. Do you see a lot of remixing in your future? Are there any tracks you've been hoping to do?
Thank you! There's many remixes to come—it's often something I really get a buzz out of. I would love to get to do another one for Radiohead. I can't believe I got to that one in the first place, they're by far my favorite band…I think that's my proudest achievement, in all honesty.
I love your cover art, especially for this one, which reminds me a bit of Saul Leiter. Was it Konx–om–Pax? Can you talk a bit about your collaboration with him? I love that Boiler Room Moscow video of you two playing in front of rainbow jellyfish.
The cover for Levitate was taken by a Facebook friend of mine, Andrew George—I loved the image, so I hit him up and asked if we could use it, and it turned out the image was actually kinda inspired by my tunes, which was lovely. I'm still working with Tom, though—he does live visuals with me. We've always collaborated super-easily, as we have a very similar view on what's cool.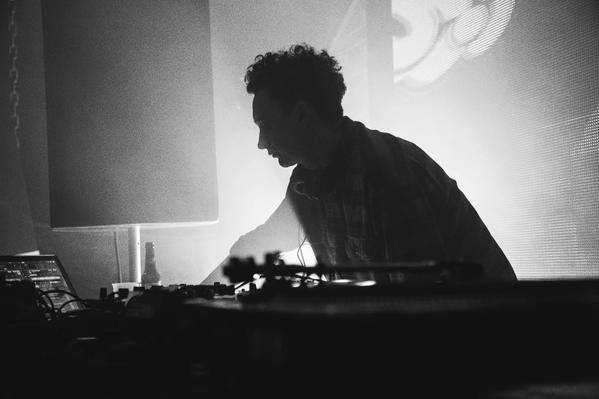 Where do you get your vocal samples? Who told the story on "Breeze Out"? Have you considered speaking, singing, using your own voice?
I've used my voice quite a lot on my tracks, which I don't think anyone has actually ever picked up on. There's a Japanese bonus track on Reality Testing called "Cocoon," which is made up almost completely of my voice. It's definitely something I'm going to explore further in the future. The voice on "Breeze Out" is from one of my favorite skaters, Shawn Powers. I sampled him on "Stuck" from the last album as well—you could say "Breeze Out" is a kind of spiritual sequel.
Did you have anything to do with the Crystal Caverns 1991 video set to Spyro the Dragon?
No, no involvement at all. I haven't even seen that, to be honest. Is it good?
Yes. Who are you listening to right now?
An Adam Buxton podcast. New Radiohead album for the millionth time.
'Lone is my life. It's all I know. I don't see it as an alter ego or anything like that—it's just a completely honest extension of who I am. Without it I probably wouldn't exist. That sounds pretty dramatic, but I genuinely can't imagine a life where I didn't do this shit.'
How has Lone changed your life? What would you do, if not music?
I really don't want to sound cheesy at all, but Lone is my life. It's all I know. I don't see it as an alter ego or anything like that—it's just a completely honest extension of who I am. Without it I probably wouldn't exist. That sounds pretty dramatic, but I genuinely can't imagine a life where I didn't do this shit.
Feelings on the term IDM?
Pompous as fuck, though I don't actually mind it, really. Far better than EDM, at least.
I saw a few U.K. dates, but will you be returning to the States to play?
Yes! I want to be playing in America as much as possible this year—keep an eye out, as it'll be coming together very soon.
What's next? 
Straight-up house tunes under a different name (Smoke Signals)—and I want to get straight into the next Lone album, as I've got some really exciting ideas at the moment.