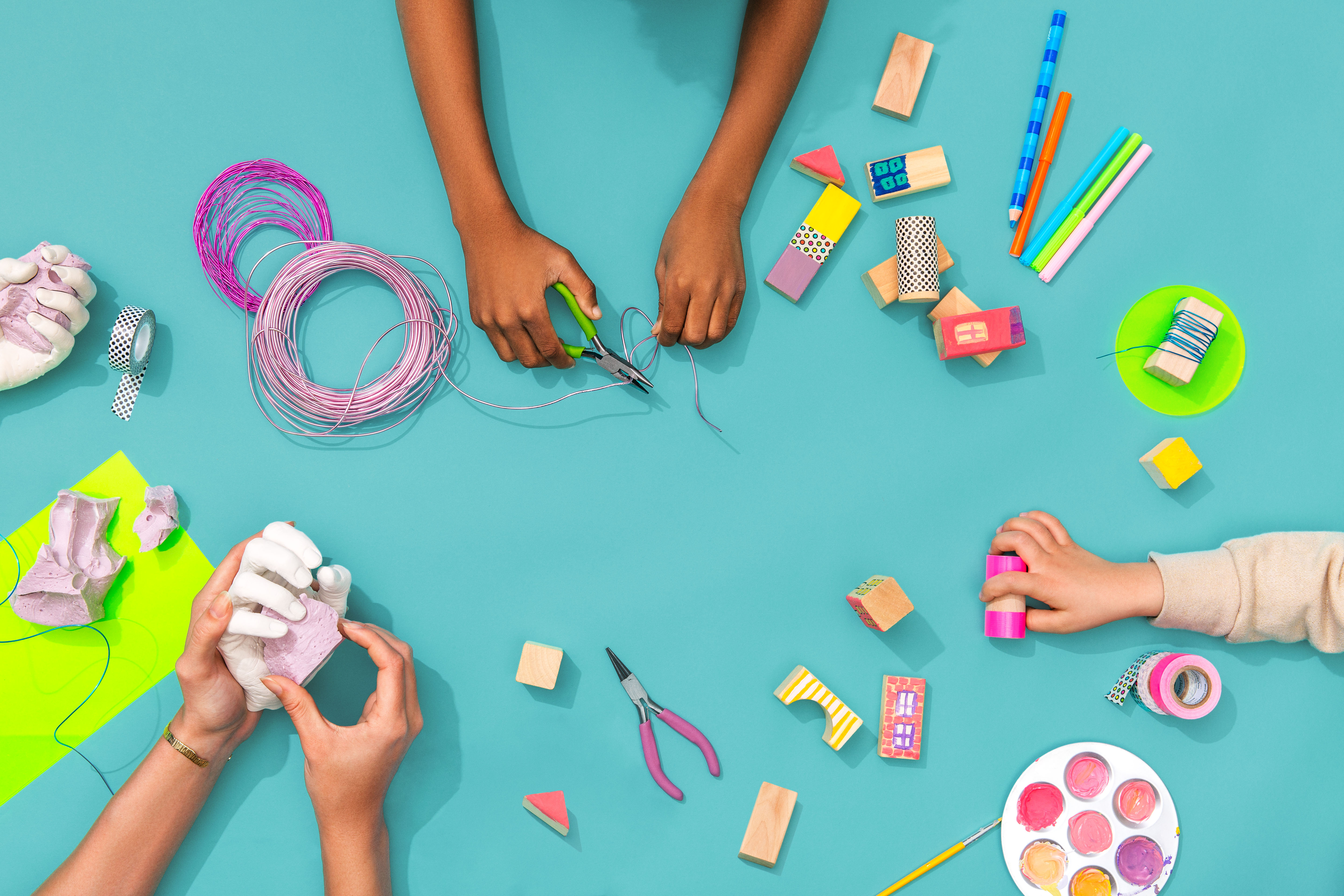 Remember how, as a kid, you'd turn an empty cardboard box into an afternoon of fun? Turns out that experience was important for your development. And nowadays, lots of kids are just swiping around on an iPad instead of exploring their environments and making things IRL.
Enter Markybox, a recent collaboration among conceptual artist Glenn Kaino, Brooke Kanter of the Hammer Museum in L.A. and AirBnb's head of brand strategy, Cameron Ferrin. The motley group has a mission: making sure we make time for analog hang outs with our kids (if applicable). Not just because you should do that, but because it's what that generation needs. Hear them out.
Markybox is somewhere between Blue Apron and Birchbox, but for art projects for kids. Each month, all the materials to make a novel art project arrive on your doorstep, complete with easy to parse instructions for your pursuit. Two of each set of materials come in each orange box—one for the parent and one for the child. It's $29.99 per month via a monthly subscription.
The projects have been crafted by Kaino and other artists to foster creative problem solving and imaginative thinking. This may sound very Baby Einstein and HELLiparent-y, but when you think about it, their reasoning is sound.
"Without imagination you cannot have empathy," Kaino said. "Imagination is a perishable skill." Indeed.
Kaino also finds that contemporary art can be intimidating, and hopes that by getting more kids making cool stuff, Markybox can spur engagement with the arts generally, for the younger generation. Given the sorry state of arts eduction in this country (a recent Unbreakable Kimmy Schmidt episode included the line "shut it down like a public art school"), Kaino and his Marky pals thought they had to do something.
"Creativity belongs to everyone," Ferrin said in a statement provided to the Observer. "Unfortunately, a lot of kids are educated out of their creativity as curriculum places increasing emphasis on math and science and de-funds the arts. Our goal is to make sure every young person knows how important it is to be creative."
Kanter is spearheading the Markybox; she also founded the Hammer's renowned art program for kids, so it's not her first rodeo.
"The hope is to make it so a generation of kids feel connected to art in a new way," she told the Observer. As a mother of two, she had found it hard to get her kids into what she's into. And getting a mysterious package with a new project in it in the mail sounds like a foolproof way to foster enthusiasm.
Experts in child psychology and veterans of museum education all pitched in too, to make sure the projects would be educational while being fun.
Actor Will Ferrell is even throwing his brand behind the Marky crew, collaborating with Kaino (the two met at a gala, according to Kaino) on a limited edition sculpture. Proceeds from the sale of which will finance free community arts programming at the Hammer. (For later editions of Markybox, a portion of the proceeds will go to fund art classes in schools around the country.)
Last but not least, stay tuned for next week, when this reporter and two PhDs in psychology drink five beers before making the first two Markybox projects. We'll let you know how that goes.