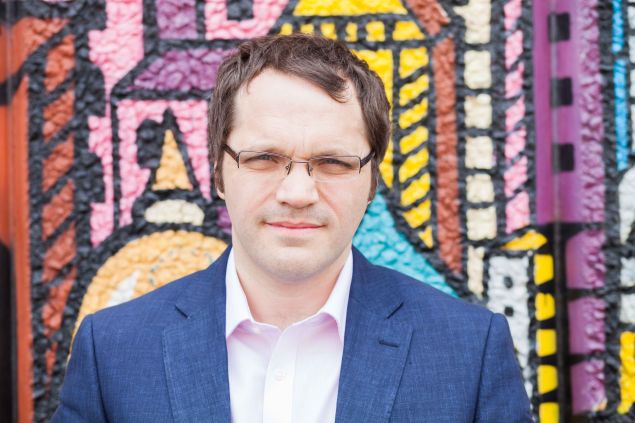 The name Matthew Holness might not mean much to you or even sound familiar but to comedy fans his face is instantly recognizable. If you've seen the UK version of The Office then you'll remember his series-stealing scene as Simon, the sarcastic IT guy who drives go-carts at the level of a professional and has his Bruce Lee movies correctly memorized. Or there's his more subdued but equally powerful role in another Ricky Gervais show, Life's Too Short.
For many Holness is best known as the titular 80s throwback of one series wonder Garth Marenghi's Darkplace – a science-fiction, horror, hospital drama, with some laughs and romance thrown in for good measure. All within the framing device of the show actually being real, with commentary and introduction from its "writer" and "stars."
Though not a massive hit, Darkplace lives on in syndication, home video and of course, the internet – something that isn't lost on Matthew, the show's co-creator and lead.
"What did do well for us was YouTube – in that, people quickly pirated it and whacked scenes up an YouTube and that, actually, got us our audience – the cult fan audience."
Laughter is very much part of Matthew's real life character. He's far removed from the cynicism, sarcasm and brooding self-importance that he's become known for.
Laughing, the comedian added, "We were quite lucky, in our situation, piracy helped!"
Laughter is very much part of Matthew's real-life character. He's far removed from the cynicism, sarcasm and brooding self-importance that define his characters. Holness couldn't be more affable, friendly and self-effacing; there's not a dash of pessimism or insincerity.
We're sitting in a bar on London's Southbank on a glorious day in May when I ask him how Garth Marenghi's Darkplace, first broadcast in the UK in 2004, has been received in the U.S.:
"I don't know!" he laughs. "I have no idea if my stuff has been shown in the States. I know Darkplace was on Adult Swim and things like that apparently."
With an engaging giggle he adds, "I don't know what these things are, I just get told every so often, 'It's on,' and I go, 'Right, that's good. What is it?'
It's odd because a lot of people I started out with have gone on to the U.S. and done stuff over there but, to be perfectly honest, just some nice holidays to New York so I wouldn't know if it goes well there or not."
And these people you probably do know a lot better. One of them is Ricky Gervais, who was already a fan by the time The Office came along.
"I remember it being a lot of fun. The good thing about Ricky and Steve is they let you warm up. TV is usually 'in, do it, quick as possible,' but they throw away the first five or six takes; they say they're just 'warming up' takes. You never feel rushed, you have a lot of time to get it right. They're very good directors in that sense."
Gervais and Holness had come into contact with one another on the BBC sketch show Bruiser, which has now become infamous for the amount of amazing talent it spurted forth. The Telegraph included it on their 10 Great Forgotten Comedy Shows. Running for just one series (well, what do you expect – it is British!), it starred: Sherlock's Martin Freeman, who would go to star in The Office the following year); Olivia Colman, who would find comedic fame in Peep Show and then dramatic success with the likes of Broadchurch; and the duo David Mitchell and Robert Webb, stars of the aforementioned Peep Show but also the main writers behind the series. Additional writers included Richard Ayoade (more on him later) and Ricky Gervais.
"Ricky was writing for that, so I met him briefly then. When we did a run of the Garth Marenghi show in London, he very kindly sent us a message telling us how much he liked the show."
Their relationship continued with Matt's performing skills for the 2010 movie, Cemetery Junction (frontman for a tedious dance band) and then again for Life's Too Short (a television co-production between the BBC and HBO) where he played a smug, spouse usurping lawyer. Holness was specifically asked to play these roles (Matt tells me, "I've never, ever got anything from an audition. That's very true. I'm very bad at auditions!").
Back to Garth Marenghi. The stage show was roundly lauded and earned its creators, Holness and Richard Ayoade, the honourable Perrier Award in 2001. I wondered how their creation made the transition from stage to screen.
"Channel Four were interested in us doing something after the Perrier win in 2001. I think we did a pilot which was a sketch show with Avalon [UK comedy production company]. But it didn't get picked up. On the strength of that, we got a commission for our own pilot, Richard and I. We made a half hour programme called Garth Marenghi's The Told which, when we watched it back, was totally wrong. We'd tried to make it overtly serious and somber and it just ended up being incredibly dull.
We scrapped that and realised we had to make it sillier. So we demo'd a couple of scenes which were set in the 80s [and can be found as Extras on the DVD, if you can track it down from the UK] and that was how we pitched it, as a different version,  and then they commissioned the series off that.
It happened in nice stages but it took a while to find its final version"
Though viewing figures weren't sensational, Darkplace was definitely a hit with comedy fans, Matt comments:
"I remembered being very surprised as to how many people came along to signings, that was the first time I realised there were proper fans.
It did very well by today's standards, amazing figures compared to now. I think it did ok. We pitched a second series and they said,'No one gets the format. No one really understands it easily. We pitched some ideas for a second series but they were rejected. In fact, they asked us for a sketch show."
The show's fictional lead, Garth Marenghi, is your basic 80s American male hero wannabe, with hair, suits and mirrored glassed to match. I was curious how this very British show had such a huge US influence.
"When I was growing up, they just showed lots of American TV. I grew up in British TV as well, but there was just so much of that stuff around. Garth always had aspirations towards America.
When I was watching stuff as a boy, which was early 80s, it was all still the 70s stuff that was being shown. So we did watch The Professionals, The Sweeney, and god knows how many US shows – The A-Team, all of those sorts of things. That was the background to it all really.
We didn't consciously decide on specific shows, we just wanted to throw in all of those elements. I think the moment you specifically satirise something then you're kind of limiting the scope of it a little, limiting the appeal slightly so we always wanted to make it a general parody. And also make it so that the stories and the actual show itself could stand alone as their own narratives anyway. There's something more than just the parody element.
That's the difficulty with parody. If you just parody something, without adding proper story and characters, then it becomes a sketch. And to repeat and repeat that, is just dull."
I proffer that the problem with parody, on occasions, is that it often become the very thing it parodies – for example, there's around five or ten minutes of Simon Pegg and Edgar Wright's film Shaun Of The Dead which is just an absolute zombie movie, and similarly with their follow-up Hot Fuzz, towards the denouement it becomes just another cop movie for a good few scenes. For me, they've lost the battle there – I'm not interested in zombie or cop films, I'm here for the comedy.
"That's interesting. What I would say is that my instinct is to do the opposite – in that I would actually like to be making and writing The Sweeney or something like that. I think that with Darkplace, in a sense, Richard would pull me back 'cos I would start writing something and then realise I was just writing a horror story that I wanted to write. So there was that kind of push and pull."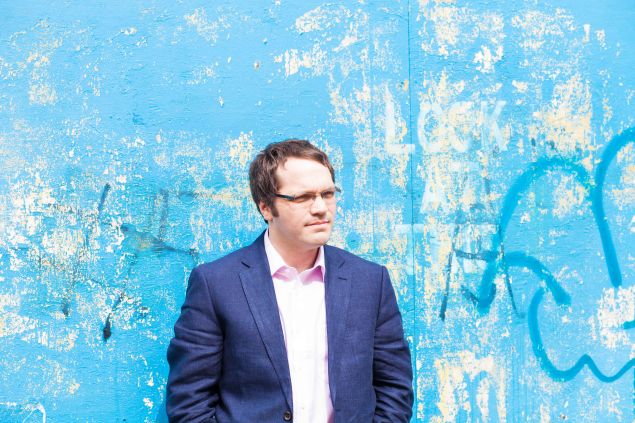 With no second series appearing, Matt reveals a feature-film version was mooted:
"We were doing a movie at one point but it didn't happen. We kind of went our separate ways; Rich [Richard Ayoade] wanted to direct films and I wanted to go into writing other stuff. Who knows, at some point maybe, we might get round to thinking about it. Not at the moment though." Ayoade, who might be best known as Maurice Moss from The IT Crowd, did indeed go into directing, having helmed the critically acclaimed Submarine and The Double.
Holness continued, "We wrote a script actually. To be perfectly honest, I don't think it was that good. It wasn't quite right.
It was basically a Fifties insect invasion sort of thing, it was a feature film based in that sort of area. It was quite right, maybe because the format for TV worked quite nicely and maybe we didn't hit the right format for a feature film structure."
With a smirk Holness imagined that, given how much time has passed since the series, a Garth Marenghi movie would be akin to 1979's Star Trek: The Motion Picture – "We'll all be overweight – more overweight – and too old."
One of the most amusing facets of Darkplace is the fascination with guns, not an episode goes by without a revolver or shotgun thrusted out (not commonplace for a UK hospital, in case you're wondering).
"It's complete boy fantasy and that's where the joke is – you know his gun usage is so wrong. It's the blaze attitude towards firearms in a domestic environment which makes it, in a sense, ludicrous."
Holness also brings the weapon to the fore in his own short films, Gun For George and The Snipist (featuring the voice of Sir John Hurt) – both essential viewing.
"With Gun For George, I'm playing with the idea of that fantasy of boys with guns but at the end it's very serious. I felt the need to address it as a reality as much as a fantasy."
The fantasy in Gun For George concerns a pulp paperback author trying to get his books both published and out there in shops and even libraries. When society confronts him, George goes into a Walter Mitty-esque dreamworld where eviscerates his oppressors with a gun. These fantasies take the form of The Reprisalizer, vignettes in the style of 70s gritty UK cop shows, like the aforementioned, The Sweeney.
Is this masculinity in crisis? Can middle-aged white men's impotent rage only be solved with gun – is this what we are?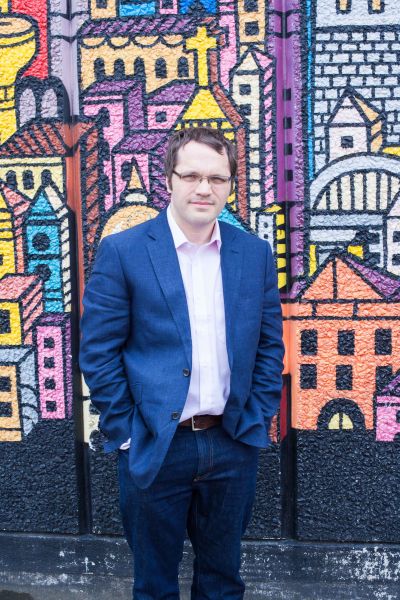 "Who can say? Who can say?" Matt hoots with laughter.
"The lonely and embittered middle-aged male is definitely a type."
The hallmark of many American 80s shows and movies is that of guys of a certain age, who've been through a lot and still trying to deal with it (usually Vietnam). Of course, it mirrored how the US was trying to get out of that 70s slump with Reaganomics. Matt muses:
"So many of their male heroes are grizzled, middle-aged, passed-it Private Eyes or ex-cops, so it's very much in their culture. Whereas, in the UK, you don't really have the equivalent, though Jack Regan [from The Sweeney] is kind of like that. But it's more like the kind of men you see in things like Boys From The Black Stuff [a seminal BBC show from the 80s examining the unemployment culture of the day]. It's where men who reach a point and, if they haven't made it right, there's real pressure on them, or they perceive a pressure that they haven't achieved something. I guess you find that kind of male loneliness in the UK, I think."
Like Ricky Gervais in The Office – desperate to be liked by his workers but with no family or real friends?
"It's almost as if we're allowed to be negative and downbeat here. Whereas in the US, its seems as if everyone is just naturally more optimistic and upbeat. The British sensibility and attitude to things is 'glass half empty.'"
Fans of The Reprisallizer may also see a feature film in the future, currently being worked on by Holness. But the main issue in the digital age is recreating the feel and look of celluloid, and the expenses therein.
"The trouble with aging film for new projects is the cost of getting it right. We were fortunate enough with that film to be able to shoot in Super 16, which is what all the things like The Sweeney were shot on.
I still feel you just can't replicate the look of film digitally because I can't suspend my disbelief with digital. Instantly, if it's film, I'm in the story and I'm in that world but there's something about digital where you just see everything.
To replicate film of that era, you have to use the cameras and film they used to get it right. I've not seen anything yet that convince me that it can be done digitally.
For both of them [Darkplace and Gun For George] we used the technology that would have been available at that time. That's how we did it. Everything from Darkplace was shot on tape, unspooled, kicked around the studio, squashed up and then rewound and then we used that! And that's how you get all that natural imperfection."
We get deep into a discussion about television and film is marred by the perfection of digital, rendering everything "perfect" and too real.
The great thing about shooting on film is that you know you are limited – with Darkplace we knew we only had two takes on every shot, we couldn't do more.
"The problem is with digital, you're told, 'Always get as much coverage as you can,' and the problem with getting too much coverage is that people become very lazy, they think, 'It's fine, we'll just piece it together.' The great thing about shooting on film is that you know you are limited – with Darkplace we knew we only had two takes on every shot, we couldn't do more. So you get it as well as you can and any natural mistakes get left in, you just have to be imaginative about it.
Whereas, if everyone is shooting tonnes and tonnes of coverage, it's just sloppy and they don't think through their shots and they don't think through what the scene is about. And you end up with messy scenes with too much camera work and you think, 'What's the point of this scene?' and the visual language goes. You're no longer shooting to tell a story in a certain way, you end up with 'That's a nice angle, let's do it from here.' The camera is disengaged from the story.
When you can see everything, you lose letting your brain filling in the gaps. A film in high definition, you don't necessarily want to see everything as clearly. I actually prefer watching my old beat-up VHS versions of films because your brain is imagining more. It's a problem for horror films on the digital format are much harder, I think, because, personally, I just don't believe what I'm seeing. My brain isn't allowed to fill in any of the gaps. It takes the mystery out of it."
Perfection, or the strive to be perfect, is something mirrored in today's Instagram world full of young (and not so young) boys and girls looking to be unblemished and symmetrical in every way, not unlike the Fifties star system as Matt notes.
As we finish up our chat, I remind Matt that we once met in the early Noughties (in Aberdeen, Scotland of all places!) when we were both performing stand-up. He confesses he hasn't gigged since 2008 but doesn't miss it, "I guess when you're happy with who you are, that sort of thing doesn't matter." The actor also enthused about his film currently in pre-production (and looking to shoot later this year), Possum. It's an adaptation of a short story he wrote for a horror anthology titled The New Uncanny. But don't expect any Garth Marenghi-style humour and retro-knowingness, Holness proudly beams, "It's not remotely funny!"