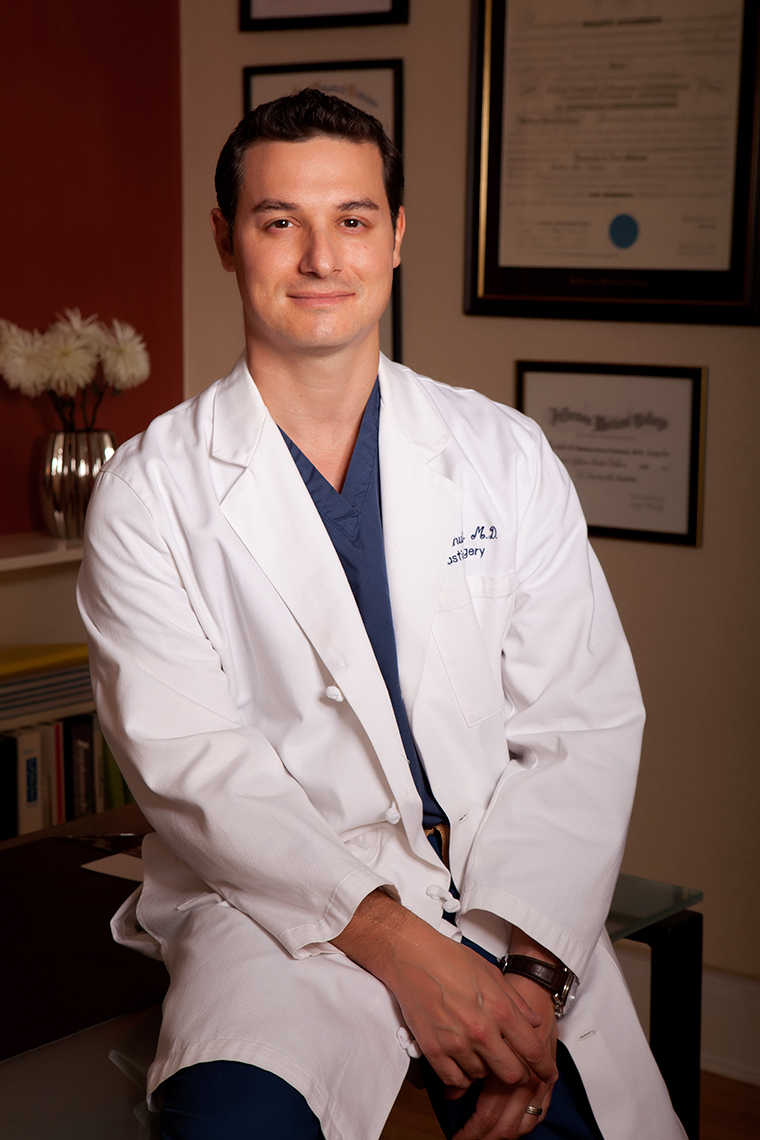 Dr. Matthew Schulman is a New York-based plastic surgeon who's using Snapchat to recruit clients. Millennial patients flock to his Upper East Side office for Brazilian Butt Lifts. Dr. Schulman isn't only famous for being the "most prolific augmenter in the Northeast"–he's best-known for Snapchatting his procedures.
The ephemeral picture messaging service is best-known as an app where cool teens like Kylie Jenner announce their liquid lipstick lines and former C-list DJs reignite their fame. Now, doctors are posting procedures on the app, highlighting everything from the surgery to their bedside manner. The Observer spoke to Dr. Schulman (on Snapchat, NYCPlasticSurg), who says he averages 1 million daily views with short videos of his surgeries, to find out why people are so obsessed.
"I honestly thought that Snapchat was only used by people to send naked pictures."
How did you decide to start using Snapchat? I knew there were many celebrities using Snapchat and had been getting some good response so I tried my luck about 16 months ago. At the time, there may have been one other surgeon experimenting with Snapchat so I was very early to the party and I honestly thought that Snapchat was only used by people to send naked pictures. I was unaware that there was the ability to broadcast stories, composed of 10 second video clips.
What was your first post? I had never used Snapchat before so I was still trying to figure out how to do the simple things…like take a video and post it. The initial response was very poor and I think the only ones watching were my staff! Unlike other social media platforms, it is extremely difficult to build followers. There are no shortcuts since people can only find you if they are specifically looking for you. 16 months ago, I had three followers (and those were my staff) and now my broadcast is seen over one million times per day.
Did you try other platforms before Snapchat? I did try Periscope for a few months but found that it did not fit my needs. My surgeries are long….sometimes four to five hours each….and the viewers don't have the time or attention span to watch for the entire time.
Why do you think Snapchat has been your most successful platform? Now I am able to film my entire 14 hour day, but broadcast it to my viewers in the form of small video clips. They can now watch my entire day in about 10 minutes.
What do you post on Snapchat? I now broadcast surgeries, my office hours and some behind-the-scenes footage. My viewers want to see how my staff interacts with the patients and between surgeries so it has become much more than simply a way to show live surgeries.
"I assure you that I can walk and chew gum at the same time."
Have you received any criticism about broadcasting the procedures? I should be very clear that all of my patients who appear on Snapchat have signed a consent form allowing me to tape them, so there are no privacy violations. Patients control how much, or how little, of their procedure is shown. Critics will also claim that using Snapchat during surgery is distracting to the surgeon and in some why places the patient at increased risk. To them I say nonsense. A separate individual is filming the surgery, not me. I am a Professor of Plastic Surgery at one of the top training programs in the nation, so I teach surgical residents and medical students all the time. This involves explaining the steps of the surgery to them while I am operating. If talking to a camera is distracting and places patients at risk, as some claim, then the same needs to be said about teaching surgical residents and we should get rid of all surgical training programs! It's nonsense. I assure you that I can walk and chew gum at the same time.
"About 50 percent of my practice consists of millennials."
How do you think social media has changed what types of plastic surgery procedures people ask for? About 50 percent of my practice consists of millennials. These younger people are asking for procedures like breast implants, liposuction, lip fillers, and buttock augmentation. The popularity of Kim Kardashian and other Instagram-famous women like Jen Selter has absolutely increased the demand for buttock augmentations. Also Kylie Jenner has helped increase the demand for lip fillers in younger women.
Do you think people are more focused on improving their looks since they're constantly taking selfies? I think that we are a visual society and the popularity of selfies and photo-centric social media like Instagram definitely has made people more aware of how they look. In the past, the only way to really see how you looked was by looking in a mirror or seeing a paper photo. Now, these photos live forever on the internet and we have the ability to alter selfies with filters. This further makes us aware of how we look and how we can change the way we look.
Do you think people are more open to procedures since they see celebrities getting them on social media and are curious? The stigma associated with plastic surgery is gone. Gone are the days when people had cosmetic surgery in secret. Now, people are having plastic surgery, telling their friends, and then posting pictures of the process online. And in my case, allowing me to live broadcast that surgery to over 1 million people!  This destigmatization is probably related to the celebrities who have been open to showing their procedures on reality television and on the internet.
Are there certain social media stars, like Kylie Jenner, that are incredibly popular when people bring photos in to you before procedures? I encourage my patients to bring "wish pics" to their consultations with me. These are photos of what they wish to look like after the surgery. In the past, these have always been pictures of well-known celebrities such as Angelina Jolie for her lips, Jennifer Aniston for her breasts, Scarlett Johansson for her nose, J. Lo or Kim Kardashian for her butt.  Now, patients are bringing photos of women who are not as well known in the mainstream media but very popular on social media. These include Kylie Jenner and Abigail Ratchford.
Do clients ever object to you Snapchatting? Every patient is asked whether they would like to allow us to Snapchat them or their surgery. Most allow us, since they are likely avid snapchat fans themselves. About 80 percent of my patients allow us to Snapchat their surgery and they sign a very specific consent form allowing this. They determine the level of exposure, meaning they can ask that we keep all information private and cover all their tattoos. Others are so excited that they allow full exposure and will even speak on camera and show their face.
What kind of Snapchat posts do you get the best response to? I find the most popular procedures in terms of interest of the viewers are Brazilian butt lifts, breast augmentations, tummy tucks and non-surgical treatments like lasers and fillers. The beauty of Snapchat is that if you see something that you don't like, whether it is because it is too boring or too graphic, you can simply tap the screen and advance to the next 10 second video clip. The viewer is in control of what they are watching.