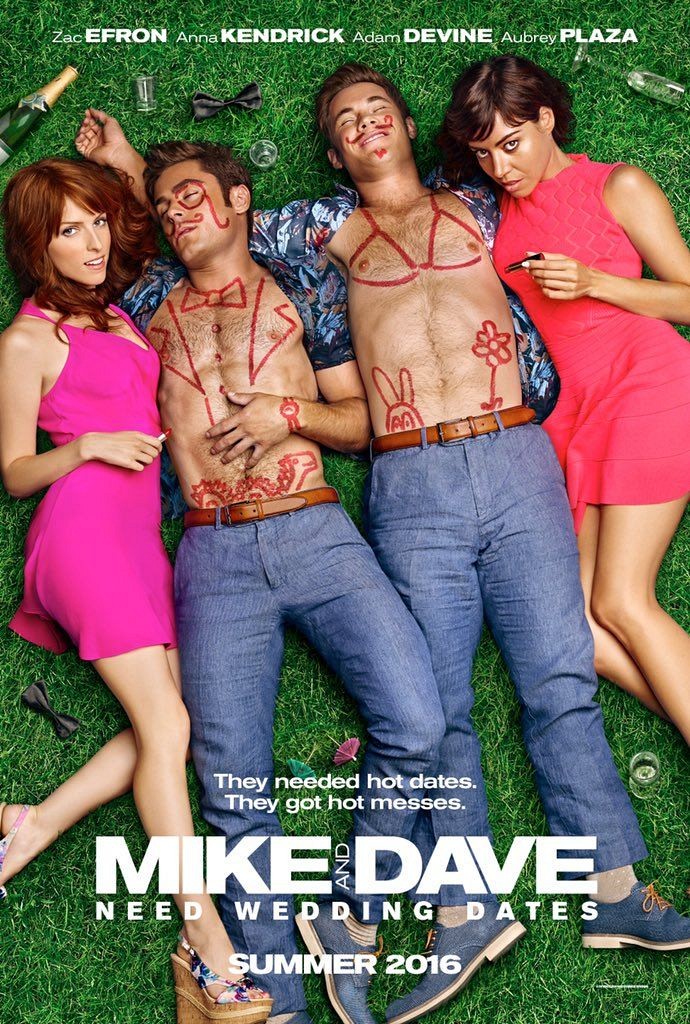 Mike and Dave Stangle are brothers living the millennial fantasy: They hit upon a small semblance of internet fame with a Craigslist ad they posted seeking dates for a family wedding, they went on TV, they parlayed it into a book deal, and then they sold their story into a loose adaptation coming to theaters this weekend.
I met the pair of them in the dark, dungeon-like basement of Whiskey Town in Williamsburg, where Mike works as a bartender. Dave met us, on his lunch break from BarkBox, a startup that sends you a subscription box of things for your dog.
When it became clear he was definitely a dog lover, I joked, "So you're allowed to talk about dogs, but girls can't talk about cats?" I was referencing a line, in their chapter on dating, in which they tell girls how annoying and stereotypical it is when they mention having a cat.
"Is that a thing?" Dave asked.
"You wrote it," I said. "Did you—Did you write this book?" My next question was going to be which ghostwriter would have been so unable to match singular and plural subjects and verbs.
"I was just thinking, whoever did write that was smart! That should be a rule—that's good!" Dave said.
"They wrote it," their publicist said, sitting on my other side, watching the interview unfold. "It was just a long time ago."
First things first: Mike and Dave Need Wedding Dates is a bad book on multiple levels. Do not buy it at the airport. Do not buy it as a birthday gift for that nephew you don't really know. As Truman Capote once apocryphally said of Kerouac's work, "It isn't writing at all—it's typing." I would be surprised to learn that anyone, including the authors in anything resembling an editing phase, has read this book.
As much as it pains me to say anything positive about Tucker Max, the poster-child for exploitive escapades that reduce women to the sum of their body parts, at least his writing is usually crafted with a narrative structure that suggests he's read a full book, start to finish.
To be honest, it feels unfair for me to be criticizing Mike and Dave from a literary perspective at all. They didn't write a book so much as complete the necessary homework in order to receive their paycheck for going viral on the internet. It's an essay written at four in the morning for a class that's pass/fail.
I asked what Mike and Dave like to read. There is a full eight-second pause before Dave manages to get out, "I do read a lot of magazines." Another full five-Mississippi seconds. "A lot more magazines than books."
I had also asked whether they had studied any English or literature in college.
"None whatsoever," Dave said.
I was conflicted writing this article, too, because Mike and Dave were so pleasant and likeable in person. They make fun of each other, and compare notes on biking, and play with the equalizer screen on my recorder for the interview with such childlike enthusiasm it's genuinely endearing. "In my experience, there's not one mean person in Hollywood," Dave said. "Everyone has just been so fabulous." They are the human equivalent of golden retrievers.
Just about every third sentence of this article, I've turned to my editor and asked, "Is this too mean?"
"Have you ever heard that saying, 'just enough rope to hang themselves?'" he answers.
Because here's the thing: forgive the crimes of poor writing and grammar. Forgive the crime of a dull non-story. But this book is sexist in its most dangerous and insidious form: the subtle sexism of nice guys who treat their moms and their sisters and their girlfriends well. And Mike and Dave are really, really nice guys. And in person, they're funny. But they're nice, funny guys that have never gotten anonymous strangers calling them sluts on the internet, or had to deal with men twice their size making lewd comments when they're just trying to walk through the city wearing shorts. They just can't understand why more girls don't just wear revealing clothing!—because they've never been groped, and then told they were asking for it.
And so, on the advice of my editor, here are some excerpts I caught upon skimming through this book. It seems like a lot of rope to me.
"More often there was a Beautiful Girl and her Okay Friend. I think Okay was out there looking for Mr. Right and having no luck, so Okay's mom emailed her our ad after watching the Today Show. Okay took it as a sign and put together a creative response, then convinced her hottest friend to let her slap some Facebook photos in the response. Dave loved calling dibs on the hot one [to their faces.]"

On young-looking girls: "We decided not to ID them—we're not cops, okay?"

"They were college hot. They were even too hot for us with the older-guy card in play. We did have something, though, and they were here for a reason: we had quickly fading Internet popularity and the good sense to exploit it."

"All you San Fran gals don't know what to think, because the fellas there are mostly into other fellas."

"If he's talking to you, that means he's already had sexual thoughts about you, and he liked them!" (Yup. Can't think of a single other reason a man might want to talk to a woman.)

"What are you wearing, anyway? Don't wear a shirt with ruffles or different color sleeves that other girls think is sexy because it's classy. It isn't."

"There are really only two things: boobs and butts. Four things, if you count them all separate, butt cheeks and all."

"What kind of fucked-up logic tells you to do the opposite of 'flaunt them'? Are you afraid other girls will judge you for this? The ones wearing tight shirts won't; they're too distracted by all the attention they're getting from guys."

"We'll probably sneak a few looks at those boobies. Don't be offended by this. Dogs aren't offended when another dog sniffs their butt. "

"Don't say shit that every girl says. When you meet a guy, don't tell him about your gluten allergy. If you have cats, maybe wait to reveal that. Don't talk about how close your family is. Everyone is close with their family, or at least wants to be. If not, and you have daddy issues, Dave requests that you give him a call."

"Don't ask what we do within three questions. We know that is a big one for you, but hide it like we're hiding our desire to grab your ass. We don't make one of our first three questions 'What would it be like to be inside you?'"

"In fact, next time a gal asks what one of us does within three questions, we're just going to start grabbing butts."

"Smile a lot!" (Yes, they literally tell you to smile more.)

"Want to know what a guy likes in the sack? You should probably check out some porn."

"And drop the degrading-to-women act Janeane Garofalo. Anyone see that movie Don Jon with Joseph Gordon-Levitt? JGL is the man. He breaks down porn as a man's guilty pleasure versus romantic comedies as a lady's guilty pleasure. It appeals to our nature, just like the sappy shit appeals to yours." (I'm guessing neither of them saw that movie. That's sort of the opposite of the point. Maybe they just saw the trailer.)

"Sure, some porn is degrading to women… that weird porn freaks me out. [Here is a graphic description of abusive porn that Mike and Dave laughed at because 'the sounds were just so ridiculous!'] Most porn isn't like that, though. Most porn consists of a movie in which a man is directing one or more women to do things based on what turns the viewers on. The viewers are all men!"

"1) Head is awesome. 2) Men love head. 3) Girls started giving it regularly. Don't you think in the seventies, when blowjobs were a new thing, there were a group of women who refused, because it seemed indecent? Of course there were. Don't be those girls! And luckily, we usually like going down on you!" (Quick note: blowjobs were not invented in the seventies.)

"Imagine if I were a gal, and the only thing I needed to do to get laid was be slutty? Dave as a gal equals game over. I'd be showing off my tits way too much."
I've been thinking a lot lately about what my type is," Dave said, when I asked what he was into (I meant hobbies). "I think people tend to look back historically, and if you did that, you'd be like, 'Dave likes blonde women who are tall.' But then I think, I'm single, so whatever I've been doing for the past 31 years isn't working, so I need to do the opposite of what my type is." I recommended maybe looking for characteristics beyond height and hair color.
"I think we're into women who don't take themselves too seriously," Mike said. "You gotta be able to laugh. The rest is on an individual basis." Maybe they should put that sort of open-minded thinking into their next book if they ever happen to go viral again.