Demi Moore is no longer the only member of the Brat Pack looking to offload a piece of real estate in the city.
Granted, the two-bedroom, 1.5-bath East Village co-op that 'The Breakfast Club' star Molly Ringwald just listed doesn't bear much of a resemblance to the jaw-dropper triplex penthouse Moore has been trying to find a $75 million buyer for, but it's quite lovely all on it's own (and also more in keeping with Ringwald's lesser celebrity).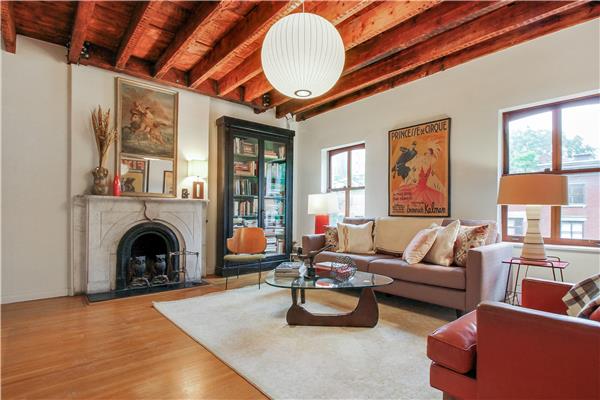 Ringwald has owned the duplex since at least 2004, but as of late, she and her husband, Panio Gianopoulos, have used the space more as a pied-a-terre, and have allegedly rented it out on occasion–for the most part, the couple reside in Santa Monica with their three children.
Since the apartment is just two bedrooms, it does seem it might get a tad cramped with a family of five. The duplex takes up the top two floors of 122 East 10th Street, a row house in the Renwick Triangle, and per the listing, held by Weichert Rockefeller Center broker Robert Lewis, has features like 10' exposed beam ceilings in the living room, antique wooden windows, and two wood-burning fireplaces.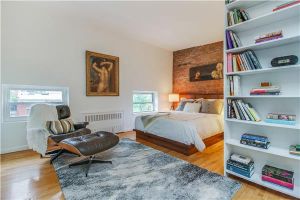 The $1.8 million listing also doesn't shy away from noting the status of its current owner—the listing adds that the apartment is "celebrity owned and lovingly restored," before going into other details like the chef's eat-in kitchen with custom stainless steel countertops and marble mosaic floors. A perfect Breakfast Club spot, if we do say so. There are also four south-facing windows in the kitchen that makes it an "ideal space to grow your herbs." Hear that, herb growers? We've got the apartment for you.
The master bedroom has a wood-burning fireplace and exposed brick accent wall, along with northern cityscape views, and there is a skylight on the second floor. The second bedroom has a southern exposure, along with a French pocket door.
Ringwald, known for her many appearances in the 1980s films by the late John Hughes, is apparently a longtime fan of the East Village—she lived in the American Felt building at 114 East 13th Street when she first moved to the city at 18.
Perhaps Ringwald is going to take a cue from fellow John Hughes alum Matthew Broderick and upsize—the Broadway star just picked up two side-by-side West Village townhouses to turn into a megamansion with his wife, Sarah Jessica Parker.