"I don't know [what to expect], I've never been to this evening before!" chirped an energetic Helen Mirren during the cocktail hour of MoMA's "Party in the Garden" last night. Indeed, the party, set in the museum's adored sculpture garden, was an entire evening. An evening of Rockefellers.
The honorees were in attendance, of course, as were many of their dear friends and family members. Wynn Kramarsky, a long time trustee of the museum and prominent art collector, known for his drawings—81 of which he donated to the museum in 2004—received acclaim, along with his wife Sally Kramarsky. Collectors Glenn and Amanda Fuhrman were also honored, as were artists Huma Bhabha, the Pakistani sculptor, L.A.-based painter Mark Bradford and minimalist Brice Marden.
Other distinguished guests—presumably admirers of art, MoMA or just avid Instagrammers—made their way across the red carpet to a flurry of flashbulbs.
Mirren's husband, film director Taylor Hackford, reminisced about a large floral painting he once admired, but never purchased. Marden shuffled by, cloaked in a dark-colored, tasteful outfit in keeping with his Minimalist aesthetic — a stark contrast to fellow artist and wife Helen Marden's canary colored overcoat.
Somewhere amid the commotion, the Swedish singer Robyn ascended to the carpet seemingly from a futuristic planet, striking stony-faced poses in a glittery, striped jumpsuit, alongside equally eccentric band members. Later, Arden Wohl, known for her fashionable—and vegan—shoe designs, posed for photos draped in a shimmering, golden cape with bag to match.
Still, the event sponsored by Agnes Gund, Jo Carole, Ronald S. Lauder, Catie and Donald Marron and Amy and John Phelan, was at its core a Rockefeller family affair. The evening paid tribute to David Rockefeller, an outstanding supporter of MoMA and the son of Abby Aldrich Rockefeller, after whom the garden is named. Rockefeller, the eldest living patriarch of the family, entered the room accompanied by his daughter-in-law Susan Rockefeller and granddaughter Ariana Rockefeller.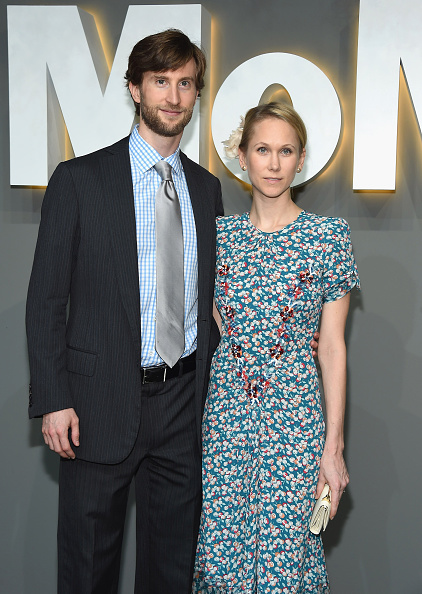 "It's a really important event for me and my family and I'm really excited to be here," a slightly nervous, yet enthused Ariana explained, adding that she was excited to be surrounded by many artists, particularly Marden, whose style she enjoys. Her purplish eyeshadow proved a pleasant contrast to a crisp white dress—a standout among others in the crowd. Ariana, 34, is an equestrian, businesswoman and now the designer of her own fashion line described on her website as "accessible luxury." In addition to enjoying quality time among family and friends, she was looking forward to an exciting evening. "I'm also really excited for Robyn," she told me, "I'm a big fan and I'm so excited to be dancing to "Dancing On My Own." She was indulging in a late evening before leaving to ride her horses over the weekend.
Venture capitalist Justin Rockefeller and his wife, the former ballerina Indre Rockefeller, were also in attendance. He was also taking photos of her on the carpet, which was "cute."
The atmosphere was generally light and positive; the garden, brightly lit and furnished with white flooring, felt more familiar as memorable songs played on overhead speakers. The weather could not have been more comfortable—a noticeable but unspoken shift from last year's rainy climate.
"At least it's not too hot!" Mark Bradford, remarked with a grin. He seemed particularly excited about the venue and about seeing his paintings at the event. He said he'd already enjoyed a sneak preview. "MoMA and New York City—they kind of go together," he said.
In addition to the inclement weather, this year also lacked chanting protesting MoMA employees lamenting the museum's health care coverage cuts. It was not, however void of other echoes of activism. "Celebrity, and institutions and corporations," are what artist Marilyn Minter calls upon as the most effective means of enacting social change—a question that clearly appeared to be at the forefront of her mind as she held a t-shirt she had made, with "pro-choice" stamped in white letters across the front—a shirt she planned on giving to her good friend Glenn Furman.
Minter attributed her attendance to honoring him, whom she explained had, along with his wife, "wired 95 blocks of Harlem," referring to the couple's sponsorship of a free wifi network in the area. "I love this guy," she said, "He's a total badass and he totally supports Planned Parenthood."
A young crowd filled the later after party, for which tickets were far more affordable ($225 as opposed to $2,500 for the full dinner). The next generation of art benefactors ate up a selfie booth where they could depict themselves in front of the white illuminated letters M-o-M-A, while a more subtle dining room draped in greenery hosted the older generation: Jeff Koons, Vera Wang and Cindy Sherman.
Additional reporting from Guelda Voien.