"Sex, SEX, SEX, SEX, SEX, Just thought I'd mention it." Those words come painted on Lisa Mayock's favorite sweatshirt, a vintage piece of frat memorabilia from the '30s. The top features a short sleeved body, is lived-in and doles out tongue-in-cheek humor in spades. It's that exact mix that Mayock hopes to capture with the new brand she's beginning with her husband: MONOGRAM.
"[Vintage graphic designs] have really been sort of a constant touch point with Jeff [Halmos] and I for a long time," Mayock told Observer over the phone, only days after she gave birth to the couple's second son. Those designs come represented in their home via old books, records and poster art. "It's something we connected over. I also have a collection of vintage t-shirts and sweatshirts that really started when I was a kid. My dad wore a lot of good graphic tees in the '80s and my brother and I spent a good deal of time fighting over them in the '90s. The've always been a conversation starter for me." Now, they will begin to mean more to the designer's bottom line than social interactions.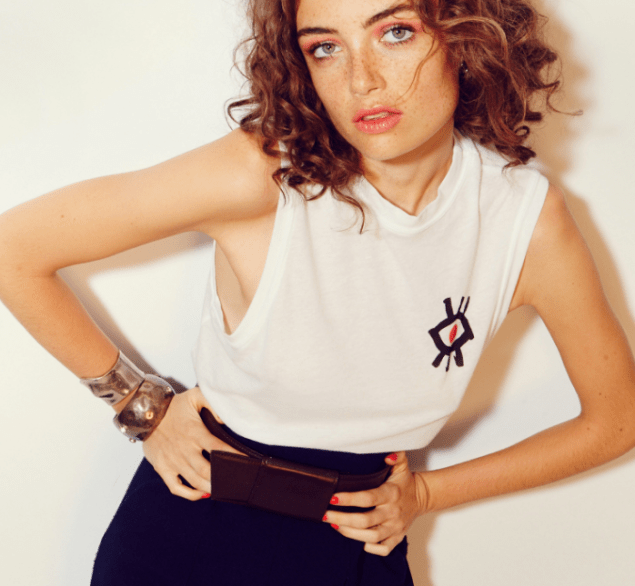 With MONOGRAM, the design couple hopes to bring back the charm and personality from those old shirts and re-introduce it to a market place that's become over run by pop-culture based options. Having launched today in a direct-to-consumer model centered around their webshop, the brand boasts 27 graphics spread over 4 t-shirt styles and three sweatshirt shapes. It's an edited start for a novelty basics brand but these industry vets prefer it as they start a new chapter.
"Ninety percent of what we did before was like woven or more tailored garments," Halmos said having cofounded Shipley & Halmos and logged time at Haspel while his wife co-founded Vena Cava. "What we are doing here is knit heavy but there's also wash processes and dye processes that we are putting on the fabrics to make them feel a certain way. That's been a huge learning curve." For the most part that learning has happened out in Los Angeles where the company currently makes and produces all of their garments. Producing domestically ensures a tighter control as Halmos had previously worked with the same production companies while at Shipley.
"The goal of MONOGRAM is to create t-shirts and sweatshirts that feel loved — like something you've had for a long time — without seeming excessively thrashed with tons of holes or anything like that," Mrs. Mayock explained. "It's elevated with a real art-based design sensibility rather than pop culture based." Names like Milton Glaser, Bob Gill and advertising from the '70s all served as touch points for the line's art. In practicality, that means loosely knit jersey shirts that are almost sheer or "french cut" styles featuring a tighter, 70s influenced body and a high neck, screen printed with words like "Casual Encounters" and "Wet is the place to be."
The line is all live now on the company's site where tees range from $60 to $68 and you might notice that none are styled with a basic pair of jeans. "We want to show people creative ways of styling the shirts," Mayock said. "I think there's a lot of really cool women with great style who wear t-shirts in more of a fashion-centric way. Like wearing a sweatshirt out at night in an evening way, like with a great trouser or leather pencil skirt and heels. That was something we kept seeing on the street and on real people but it wasn't something we saw a lot at retail." Sweatshirt prices hover around $78 to $90.
As for the future, the couple seem willing to leave it up to customers. "The vast bulk of my experience is selling wholesale which is like a game of Telephone, trying to get feedback," Mayock said. "The customer has to tell someone in the store who has to tell the buyer, who has to tell someone else who has to tell you the following season or maybe email you. There's no direct exchange so this is an amazing opportunity to get that feedback immediately and make changes." 
"If we style one of the pieces on the site with a suit and we get a lot of messages about that suit then that's definitely something we'll have to think about.