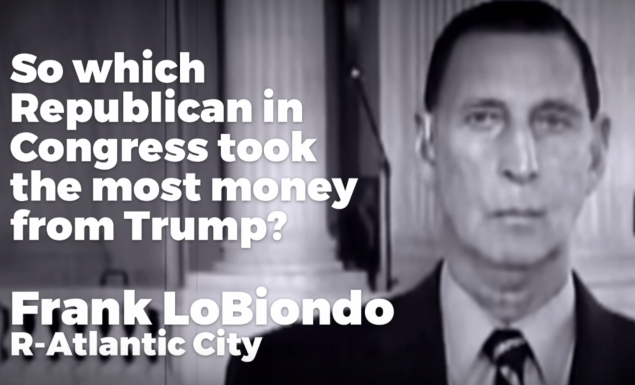 A new attack ad is going after longtime incumbent U.S. Representative Frank LoBiondo for his campaign's past financial ties to presumptive Republican presidential nominee Donald Trump.
[youtube https://www.youtube.com/watch?v=MJzycVkihJI&w=560&h=315]
LoBiondo, who represents New Jersey's second congressional district, received 12 donations from the one-time casino magnate between 1996 and 2007 according to Politifact.
Those donations amounted to $8,800 during a period that saw Atlantic City's casino economy peak before its steep decline due to new out-of-state competition in Pennsylvania, New York and Connecticut.
The ad goes after LoBiondo for accepting those contributions from Trump as four of his casinos in the resort town went bankrupt. Four Atlantic City casinos closed in 2014 as those remaining continued to file costly property tax appeals , cutting the city's tax base in half.
Trump unsuccessfully petitioned to have his name removed from the title of the iconic Trump Taj Mahal casino, which sold to to billionaire investor Carl Icahn. The Taj Mahal's financial outlook is still precarious, with Icahn cutting employee benefits and pensions to stave off bankruptcy.
The ad comes from the campaign of LoBiondo's young Democratic challenger David Cole, who is facing an uphill battle in the general election after winning his district's Democratic primary.
Reached for comment, a representative from the LoBiondo campaign swatted back at Cole by email.
"Dave Cole is so desperate for attention that he now is attacking Democrats like Vice President Joe Biden, Hillary and Bill Clinton who have all taken donations from Trump. Dave Cole's political games are exactly what South Jersey voters have long rejected.
"Congressman LoBiondo has always stood up for Atlantic City and is proud of the continued support from casino workers and local residents for his re-election."