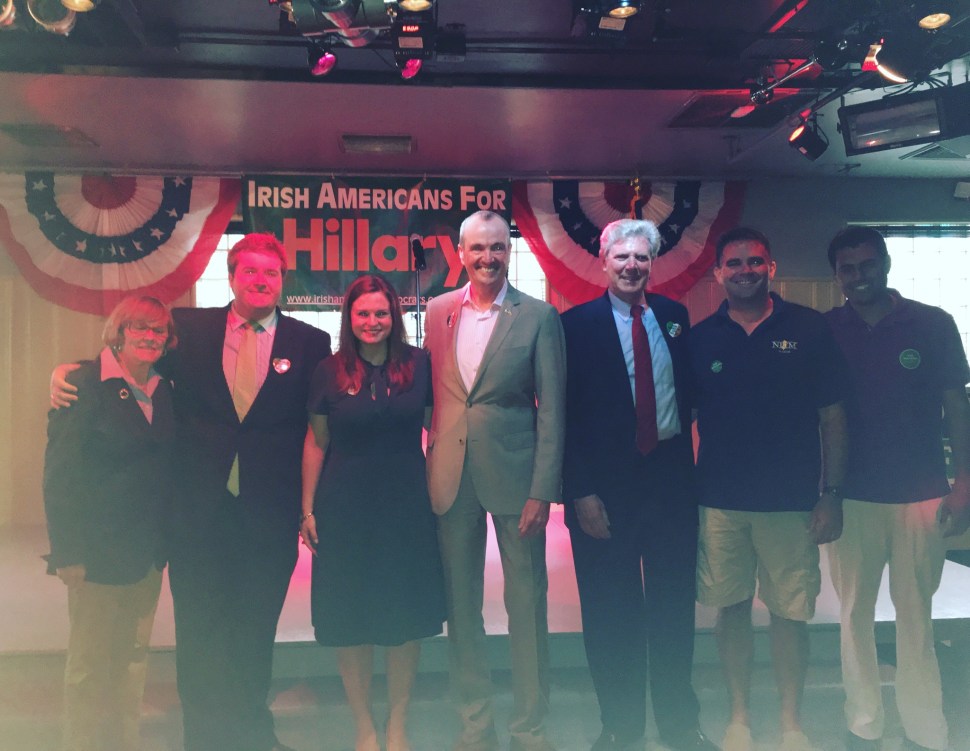 It's conceivable that more New Jersey residents voted in the Peruvian presidential election on Sunday than will vote in today's U.S. presidential elections.
Okay, that's an exaggeration.
But a variety of factors have contributed to a likely low voter turnout outcome this evening*, including a general resistance to the front-running candidates, a garbage time primary on the GOP side, little emphasis on New Jersey by the Bernie Sanders campaign, which is focusing almost exclusively on California, the Associated Press calling the primary last night for Clinton, a dearth of competitive contests (consider Elizabeth, one of our biggest cities, where no one is challenging the sitting mayor), and yes, voter fatigue with the responsibility of being a voter, citizen angst over being a citizen.
Long-shot candidates are putting forth an effort.
"Freaking great, best campaign yet," said Tino Rozzo, a Bernie Sanders backer running for the Democratic nomination in CD2. "News coverage, media, 200,000 emails sent, signs, bumper stickers, people actually helping. I may lose, but it was different running as a Democrat [he's run in the past as a socialist]. Lots of resources at a candidate's disposal."

But by and large a sleepiness prevails.
Faced for the forth time by a challenge from Tewksbury businessman David Larsen and what is a three-way CD7 Republican Primary this year (Craig Heard of Morris Couny is also running), U.S. Rep. Leonard Lance (R-7) is in Washington, D.C. for a voting session with no plans to return tonight. People's business, is the word coming out of Lance world. Heard dumped $200,000 into his debut effort, drowning out Larsen at times and giving Lance confidence that he can beat both challengers.
U.S. Senator Cory Booker's (D-NJ) Doppelganger now-you-see-him-on-the-west-coast/now-you-see-him-on-the-east-coast presence created a new dynamic on the presidential trail this time. In 2008, Booker was the face of the Barack Obama campaign in New Jersey, leading that ragtag band of brothers and sisters (which included Senate Majority Leader Loretta Weinberg) against Iraq War-authorizing Clinton.
This year, Booker transmits a high octane gleam for the vice presidency, his best case for the job apparently provided by an active twitter feed, aggressive selfie proclivities and other 21st Century self promotional political tools that Clinton – who grew up watching Hopalong Cassidy for a dime – will need to connect with millennials. Booker kept a packed schedule these last few days, his animated exclamations on behalf of Clinton providing that single statewide note of consistent praise in an otherwise bland chorus buttressed by inert "Fighting for Us" hand signs on stages.
Irish Americans tried to create some energy in Belmar last night, with an event for Clinton attended by former U.S. Ambassador to Germany Phil Murphy. Murphy was so excited about Clinton's 2016 presidential run that last month he kicked off his own 2017 gubernatorial bid. Held at D'Jais (yes, 21st Century Irish events are held at places called D'Jais, probably causing tavern keeper John Cryan to spin in his grave), the event boasted a solid crowd, including hosts John McCarthy and Jennifer Holdsworth, U.S. Rep. Frank Pallone (D-6), Belmar Mayor Matt Doherty (a Monmouth freeholder candidate), Monmouth County Democratic Chairman Vin Gopal, Union County Sheriff Joe Cryan, and Assemblyman Tom Giblin (D-34).
Allies of Jersey City Mayor Steven Fulop worried more about 2017 gubernatorial rival Senate President Steve Sweeney's (D-3) northern parade proximity to U.S. Senator Bob Menendez (D-NJ) than Sanders's poll proximity to Clinton, while Matt Drudge pointed to the indicted Menendez's proximity to Chelsea Clinton on the New Jersey campaign trail as the sign of a corroded Democratic Party establishment.
Still, though, there was a sheriff's contest in Morris, closely observed by Republicans in the big sprawling GOP base; and a local contest in Prospect Park with bigger ramifications.
*Editor's Note: Voter turnout actually proved on Tuesday to be the highest in a century in a New Jersey primary.