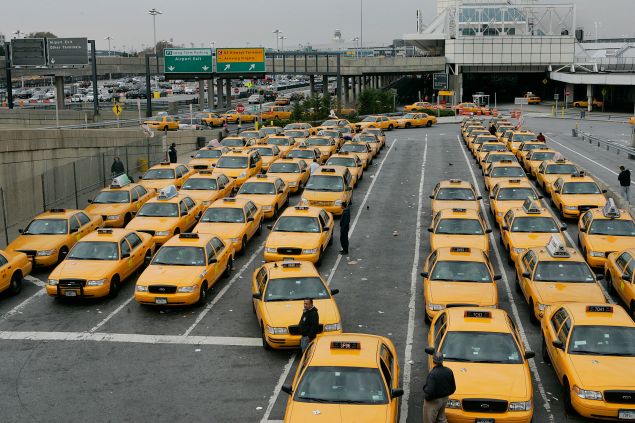 The Observer has reported many stories in recent months about the scandals surrounding Uber—drivers for the ride-sharing service have allegedly raped and strangled passengers, and the company itself been criticized for its low wages and lack of accountability.
But here in New York City, cab drivers also pose a danger to passengers. Due in part to a lack of regulation in the taxi industry, cab assaults outnumbered subway assaults 14 to 1 in 2015—Police Commissoner Bill Bratton controversially told women to "buddy up" in cabs to prevent late night driver assaults.
That advice isn't helpful, however, when the assault occurs in broad daylight. Just ask Melissa Jane Kronfeld.
Yesterday morning Kronfeld, a lifelong New Yorker and the 33-year-old founder and CEO of philanthropic event planning agency PFAP Consulting, hailed a cab at 44th Street and Second Avenue, near her apartment. She asked the driver to take her to the Roxy Hotel on 6th Avenue, where she was attending a conference.
The cabbie got on the FDR Drive and took the exit near Houston Street, but rather than going west toward the Roxy he drove around the Lower East Side toward Essex Street in Chinatown.
"I told him 'Hang on, stop, you're going the wrong way' and he said 'No I'm not, you don't know what you're talking about,'" Kronfeld told the Observer.
She then took out her phone to show the driver the location of the hotel, and he turned to look at it without stopping the car. Since he was distracted and not paying attention, Kronfeld asked him to turn the meter off and stop the cab.
In her words: "At that point he lost it, and went from 0 to 100 real quick."
The cabbie turned around and started screaming at her while still driving, and then locked the doors and told Kronfeld she couldn't leave.
When the cab slowed down at a yellow light, Kronfeld unlocked the door and ran out of the car while it was still moving. The driver then revved the engine and almost ran over her foot.
Kronfeld ran down the street and pulled out her phone to call 911—but the cabbie ran after her. He put his hands up as he got closer to her.
"I yelled 'Don't touch me' and then screamed at the top of my lungs," Kronfeld said.
Ignoring her cries, the cab driver grabbed her and shook her.
"I don't think he knew what to do with me," Kronfeld said.
She then broke free and turned to make a run for it, but the cabbie kicked her to the ground.
Kronfeld's continuing screams finally attracted attention—a homeless couple living in a park across the street ran over and grabbed the cab driver, while a couple of construction workers helped Kronfeld to her feet and called the police.
The cabbie stayed in the area, and when the NYPD arrived he asked to be paid for taking Kronfeld to Chinatown.
"He told the cops he was in the right," she said.
While Kronfeld did not require medical attention (she was "physically fine but just shaken up") one of the officers present told her he would file a complaint on her behalf and send it to the Taxi and Limousine Commission. He also called an Uber to bring her to the Roxy.
Kronfeld was "in shock" after her experience—she had a piece of paper with the cab driver's name and taxi number, and the name of the officer who helped her, but she lost it over the course of the day. She also said she couldn't fall asleep last night because her heart was pounding.
In spite of this trauma, Kronfeld said she would continue taking yellow cabs because her experiences in Ubers have actually been worse—she has gotten in several accidents while riding in Ubers, and drivers have propositioned her and taken pictures of her.
"A cab driver may not know where he's going and be a bit of a dick, but he's never talked about my tits and ass," Kronfeld said.