Before I  maneuvered my body into the (admittedly scary looking) reformer for the first time, I assumed Pilates was for the 40-plus set, appropriate only for glamorous divorcées and high-end soccer moms. I pigeonholed the pricey workout as something that was low-impact and boring, not worth it for a 20-something trying to fit into a crop top.
Then, I tried New York Pilates. Located next door to Reformation in Soho (look for the sign with the emoji peach on it) this workout studio just might be the coolest thing that has ever happened to Pilates. Started by former former, Heather Andersen, their second studio, located on Howard Street right next to Reformation, is a modern vision of blonde wood, whitewashed exposed brick and huge windows. As such, it's been awarded by various websites as one of New York's most stylish workout spots. New York Pilates was originally founded in 2013 with a Washington Square location.
"I've been teaching [Pilates] for almost 11 years," Andersen told the Observer. "For my own space, I wanted two things: I wanted to be able to curate the teaching staff to reach a quality that I felt satisfied by. [And] I wanted to create a space that was welcoming to a younger client."
Both of which Andersen has achieved. A majority of the teachers at New York Pilates have a background in dancing, just like the studio's founder. "I know that dancers are extremely dedicated, and I know that they take movement really seriously," she explained, pointing out that they are also very familiar with alignment, which is an important feature in Pilates. Each potential teacher has to audition in front of Andersen, and she's judging more than just their technique; their personalities are factored into the hiring process as well. Once a teacher passes the audition process, they receive a secondary training, where learn studio's principles, which includes doing most moves with a neutral pelvis.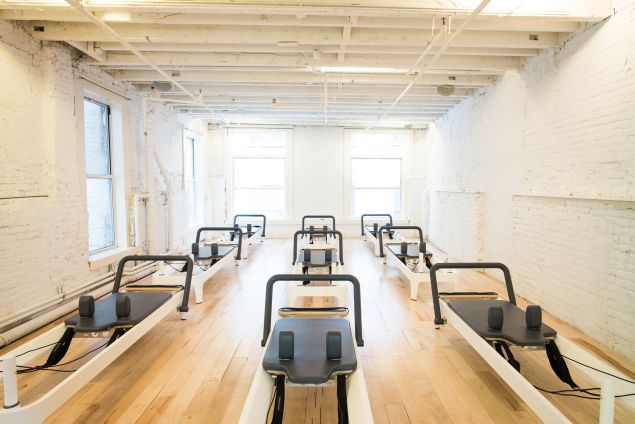 As for the space, the airy, downtown vibe is an obvious draw for the millennial set, but the music is great, too. Andersen's husband, Brion Isaac curated the selection. "We have a very specific tone of music that we play, and we have about five different DJs that make playlists for us," Andersen said. Those DJs include Brendan Fallis and DJ Elle Dee. As for genres, it can totally vary, but the focus is on tunes that "feel happy, but are mellow enough to fade into the background." Basically, you'll enjoy the experience, without being distracted by a bumping bass.
Also, the studios offer classes for all types of Pilates people. For those who are sticklers about technique, there is Reformer I, II, or III. For the individual who just wants a good burn, there's Core Cult or Abs, Arms, Ass. The latter is one of the most popular classes offered. "We wanted to accommodate a client that has less intellectual knowledge about Pilates and the technique, but who wants to really feel like they worked hard and did a toning class," Andersen explained. As for the name Abs, Arms, Ass, she asserts that it was just a joke, but one that clearly stuck. 
This summer, Andersen has expanded her empire to Montauk. Classes are offered seven days a week at her beachside studio, which is located within the Gurney's hotel. And yes, the New York Pilates aesthetic is still intact, with the added bonus of some surf boards as decor. So this summer, load up on Pilates classes that are actually cool, all while seriously toning your abs.