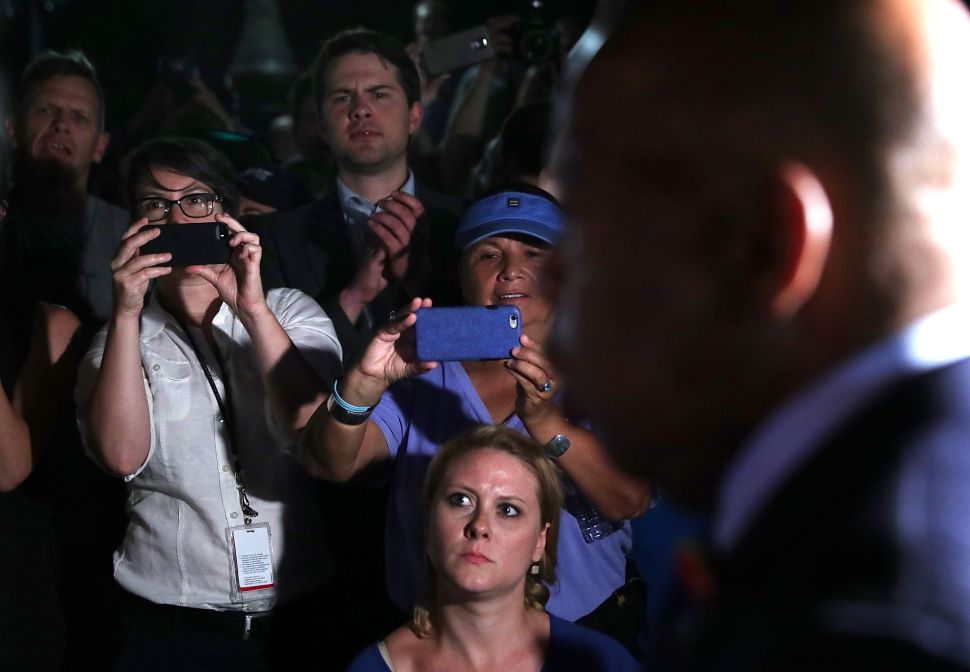 Among a certain breed of community organizers, there's an adage: the action is in the reaction. The idea is that a well planned tactic in a campaign for social change will provoke someone in power to do something. The insight of this adage is that it doesn't matter what the powerful person does, because if you can exercise enough clout to get he or she to respond, you are on the way to winning.
Online, there's a concept known to the internet savvy that's used as a shorthand for moments when powerful people try to silence speech: The Streisand Effect. It refers to an incident in 2003 when Barbara Streisand tried to get an image of one of her homes removed from the internet, and the very act of attempting to censor the photo got it seen by vastly more people than would have ever seen it had she let the issue alone.
As a former community organizer who now reports on technology and the internet, I've kept an eye on the protest action among House Democrats that ended yesterday in Washington. The House D's have timed this action following the tragedy in Orlando, using that incident as justification to break legislative decorum to make a point. While some commentators have suggested that it's a brave stand for a bad bill, I would argue that those critics have let optics blind them to a larger strategic opportunity (which is the left's favorite way to lose).
Rainbow Reinforcements: Gay Rights Advocates Take Aim at the NRA
First, as the president has said, gun tragedies in this country are now treated as routine. One piece of that routine: a pantomime in the U.S. Congress where gun control of some kind gets discussed without ever moving. Rep. Lewis and his colleagues therefore made a pragmatic decision: since the normal channels had repeatedly failed to deliver reform, he decided to try something else, something from the playbook he used back when he had to march for change because he didn't have the right to vote for it.
He and his colleagues initiated a sit-in.
In due course, Speaker Paul Ryan and the Republican majority recessed the House, thereby shutting off the C-SPAN cameras that broadcast the demonstration to cable viewers everywhere. How many cable viewers? According to a spokesperson for the network, C-SPAN doesn't have access to its ratings, though it reaches 100 million households, odds are there were much fewer people watching at the time.
What we do know, however, is that once the cameras went off the mobiles went on. Members took to Periscope to keep eyes on their protest. More than a million people have viewed tweets showing Periscope streams from the floor, according to a spokesperson for Twitter (which owns Periscope).
By trying to hide what the Demcrats were doing, the speaker drew more attention to it, and that is the Streisand effect.
Lest readers have any doubt about the Speaker's intent in recessing, check out this tweet:
Which brings us to the notion that the action is in the reaction. When a group of people demonstrate in a way that targets specific decision makers (in this case, House leadership), that group can win even when their targets deny their demands. The very act of saying "no" shows that the group has enough power to provoke an answer. That galvanizes supporters. If the way the target rejects demands seems mean spirited, it can even broaden support and bring fence-sitters around.
See, for example, the support demonstration that took place outside the Capitol last night. If the sit-in had continued, it wouldn't have been surprising to see sympathy demonstrations spring up nationwide.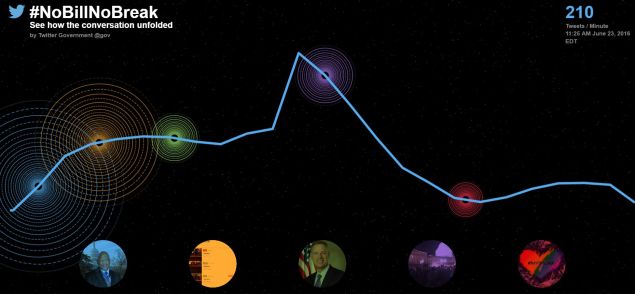 Twitter has released a compelling infographic showing how the #NoBillNoBreak hashtag took off in its first 24 hours.
The Democrats ended their action Thursday afternoon, declaring victory without any indication of a commitment from House Republicans to offer a vote. Which doesn't mean they don't have one.
I had a front row seat in Pennsylvania when the Senate Republican leadership relented and permitted a vote on raising the minimum wage in 2006. The votes were there, but the party leadership resisted until a local scandal forced their hand. Even then, top Senators went out of their way to make it look as though they were resisting.
When it was over, the minimum wage in the state was raised almost $2, to $7.15, which helped build political momentum for a national minimum wage increase to $7.25, which passed in 2007.
Similarly, here's how one scenario in which a secret promise from Speaker Ryan to permit a vote could play out: when the House reconvenes, someone could move from the floor to overrule the Speaker and permit a vote on the gun bill. Usually, this would be soundly voted down by Republicans, as rank-and-file lawmakers never ever vote against their caucus on a procedural vote. But, a limited number of House Republicans under the most heat from gun control advocates might be granted permission to vote this one time with the Democrats against the Speaker, without facing consequences in their caucus.
That way, the Speaker could claim the vote was out of his control. (though if they have something worked out, it's probably more subtle than that)
Which brings us to this question of whether or not the Democrats are taking a stand for the right bill. From a strategic standpoint: it doesn't matter.
The objections on their face make sense: Alex Pareene wrote in Gawker, "The no-fly list is a civil rights disaster by every conceivable standard." Which is true. It basically amounts to punishment for association, without judge or jury. The government has gotten creepy with its lists. Defense One reported last month that the Department of Defense has been building a list of people with security clearances who might be "insider threats." That is, it's a potential traitor list.
But that objection misses the larger strategic point that gun rights advocates have always understood: any win of almost any kind for gun control could lead to even more wins down the road. As soon as the gun rights advocates face that first big loss, more are likely to come. So, for gun control proponents, backing a bad bill that can win now could be the right path toward a good one.
No doubt, many rank and file GOP lawmakers would love to vote for reasonable reforms and get the heat off them back home, but if that were to happen, they would also be right to worry about whether or not the people who got them into office would help them return in 2018.