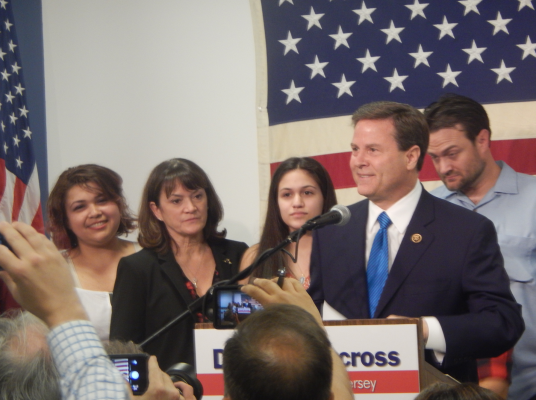 CHERRY HILL — After trouncing primary challenger Alex Law in Tuesday's Democratic primary, U.S. Representative Donald Norcross gave his victory speech that night at Camden County Democratic Committee Headquarters. Norcross came away with between 70 and 74 percent of the vote, clinching the nomination with ease. He now faces long-shot Republican hopeful Bob Patterson in the general election.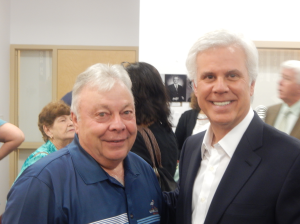 Law, a 25 year-old former IBM consultant with a substantial social media following, was unable to stretch his campaign's $70,000 fundraising totals into a stronger showing against the brother of New Jersey's most powerful unelected official.
Law's platform attempted to bring the momentum of Bernie Sanders' progressive campaign to bear on South Jersey, touting his support for the Vermont senator early and often as he made his case against Norcross and brother George Norcross III.
Norcross' campaign spent just over a million dollars on his reelection campaign, raising $1.5 million including nearly $250,000 of self-funding from the candidate himself.
Asked whether the campaigns of outsiders like Law and relative outsiders like Sanders has permanently pushed progressive causes closer to the forefront of Democrats' policy priorities, the congressman said he intends to pursue anti-inequality measures aggressively in his second term.
"It's about the economy," Norcross said after his remarks to the crowd. "The economy that is a level playing field so they can get good jobs for them to take care of their family. Talking about raising the minimum wage, that women get equal pay for equal work. Affordable education, that they're not going into debt a quarter million dollars."
George Norcross was in attendance Tuesday night, along with strategist Steve Ayscue and a clutch of Camden County and South Jersey fixtures including Senator James Beach (D-6), Camden Mayor Dana Redd, Assembly Majority Leader Lou Greenwald (D-6) and Assemblyman Arthur Barclay (D-5).