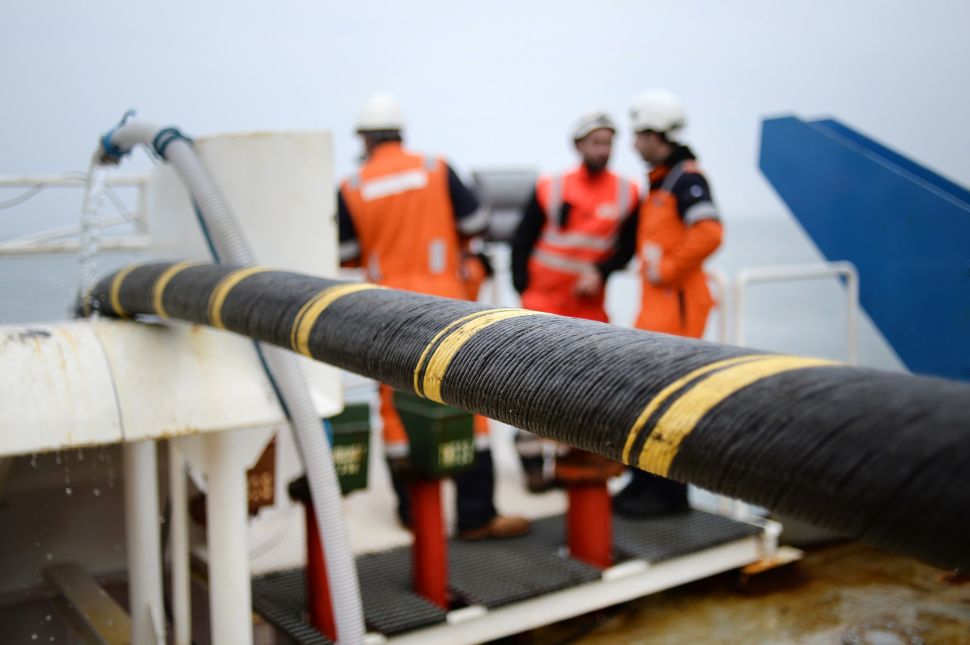 A bill reforming the Freedom of Information Act (FOIA) is on its way to the president right now. It makes clearer the presumption of disclosure and centralizes requests for information from the feds. The Obama White House has arguably the worst record of finding records following FOIA requests of any administration, according to the AP. One advantage to keeping records locked up is that it helps to remove any sense that lower echelon public servants close to a given issue have doubts about political leaders' chosen course of action.
Here's a case in point: Muckraking news site The Intercept has been gradually releasing National Security Agency (NSA) documents secured by Edward Snowden onto the internet. In May, it published all of the agency's internal newsletters from 2003, and the Observer offered a close read of a series therein that illuminated how the agency views other parts of the U.S. government.
One word in one document has been bugging us ever since: "corporate."
An NSA writer used the word in a newsletter story about its Legislative Affairs and Intelligence Security Issues office. That office watches budgets, answers questions from elected officials and vets all communication between NSA staff and Congress. As the newsletter article put it, if a staffer needs to communicate with a legislator, the office "will assist you in analyzing the request, providing background and context to the responsible action office, and reviewing the responses to ensure that they meet the five Cs (candid, complete, correct, consistent and corporate) for dealing with Congress."
The first four Cs make intuitive sense but the last one is creepy. What does it mean?
A story told (with slightly different spins) in James Risen's Pay Any Price, in The New Yorker and in the memoir of former NSA and CIA director, Michael V. Hayden, Playing to the Edge, sheds some light.
Each account describes an internal debate over how to gather next generation intelligence as more and more communication became transmitted over the internet. NSA leadership backed a project called Trailblazer. Some technologists inside the agency had built a system they liked better, call Thin Thread, which they believed to be better and cheaper.
Each story renders a different assessment of the competing systems, but each attests that the Thin Thread creators took their objections about Trailblazer to a congressional staffer charged with oversight of the agency. In Risen's account, that becomes a larger story about overreach by the agency. Either way, the Thin Thread inventors received a very public repudiation from NSA director Hayden for going around him. He chastised them in an email to the entire staff.
All three accounts cite that memo, which Hayden circulated in April 2000. Here's a compilation quote from the parts Risen and Hayden used (the italicized part is added from Hayden's book to the parts Risen quoted):
"Some individuals, in a session with our congressional overseers, took a position in direct opposition to one that we had corporately decided to follow," Hayden wrote. "This misleads the Congress regarding our Agency's direction and resolve. The corporate decision was made after much data gathering, analysis, debate and thought. Actions contrary to our decisions will have a serious adverse effect on our efforts to transform NSA, and I cannot tolerate them. I have dealt with the people involved. . . . This was a disregard of decisions we had made together and, as such, could not be tolerated."

"Once a corporate decision has been reached, I expect everyone to execute it to the best of their ability. I do not expect sheepish acquiescence," he added, "but I do expect that problems necessitating course corrections will be handled within these walls. I must insist on all of us having the personal discipline to adhere to our corporate decisions, including those with which we disagree."
"Corporate" is used like a drumbeat in this memo and the connotation comes clear: it is the sense of the agency as dictated by its executives.
It's not surprising that an espionage organization would take this approach toward Congress, but it does illustrate what happens when a culture of secrecy becomes normal. In the strictest sense, it's the role of legislators to make decisions in a republic. In that light, there's no particularly good reason why information, including informed opinions, from the executive branch it oversees should be withheld from congressional decision makers.
In 2006, Trailblazer was abandoned. The New Yorker story recounts a description of it as "an expensive fiasco."
This sense of strictly "corporate" external messaging also somewhat belies the sense one gets from reading the NSA's newsletter series on interacting with other parts of government, which we reported on in May. Those newsletter pieces make it sound as though the agency was eager to be of service to other branches in whatever way it could, in a disinterested fashion.
Yet the passage from Hayden's memo to staff illuminates the subtext of the newsletter article about the legislative affairs office from three years later. It turns out that the NSA maintains a somewhat adversarial relationship with its boss, the United States Congress, a point that isn't surprising, but it also isn't encouraging.
An organization might not keep secrets because it has something to hide, but it's the simplest explanation. The Obama administration has brought espionage charges against government whistleblowers more than any of his predecessors, yet the President is likely to sign the FOIA reforms into law. So maybe the next administration really will be the most transparent ever. It has nowhere to go but up.