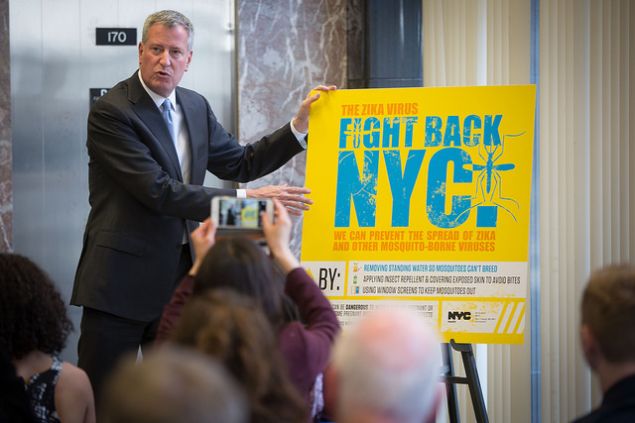 Fifteen doctors have written a short e-book on New York City's "Zika Virus Surveillance and Preparedness" as part of this week's "Morbidity and Mortality Weekly Report" from the Centers for Disease Control and Prevention. The pamphlet shows that the city is taking both medical and chemical measures to ensure that Zika will not become an epidemic in New York during the summer months.
First, the city's Department of Health and Mental Hygiene has designated 21 primary care clinics and emergency rooms throughout all five boroughs as "sentinel sites" from July to September. These medical facilities are located in neighborhoods with large populations of immigrants from Zika-afflicted countries, or where there have been travel-associated cases of other mosquito-borne illnesses like dengue fever.
The DOHMH is most worried about local transmission. If a person older than five years old who has not traveled to an affected area exhibits Zika symptoms (a rash covered with elevated bumps, fever, joint pain and/or pink eye) they will be tested immediately, and if the case is confirmed the clinician will ask the patient about the health of members of their household to ensure that a Zika cluster is not present.
SEE ALSO: Interview with New York's Top Zika Expert
On the environmental front, a case of locally acquired Zika virus would trigger increased mosquito surveillance to eliminate breeding sites—DOHMH officials have already doubled the number of trap sites to collect Aedes mosquitoes, which carry Zika.
Since Aedes is a bigger public health hazard than other mosquito breeds, the state is also using chemical means to decrease the population. Beginning in early May, DOHMH began aerially spraying larvicide and adulticide over unpopulated marshland and freshwater wetlands—the department will also apply these chemicals in catch basins.
If more than 25 Aedes mosquitoes are trapped in a specific area on a given day, DOHMH trucks will spray low volumes of biorational pesticides in residential areas—these chemicals are nontoxic and target only specific species. Homeowners can also do their part to eliminate Zika risk by eliminating pools of standing water in their neighborhoods, according to the pamphlet.
The CDC report also confirmed that 182 of the 3,605 people tested for Zika in NYC actually have the virus—20 of those people are pregnant women. Doctors will continue to observe those women until their child's first birthday.