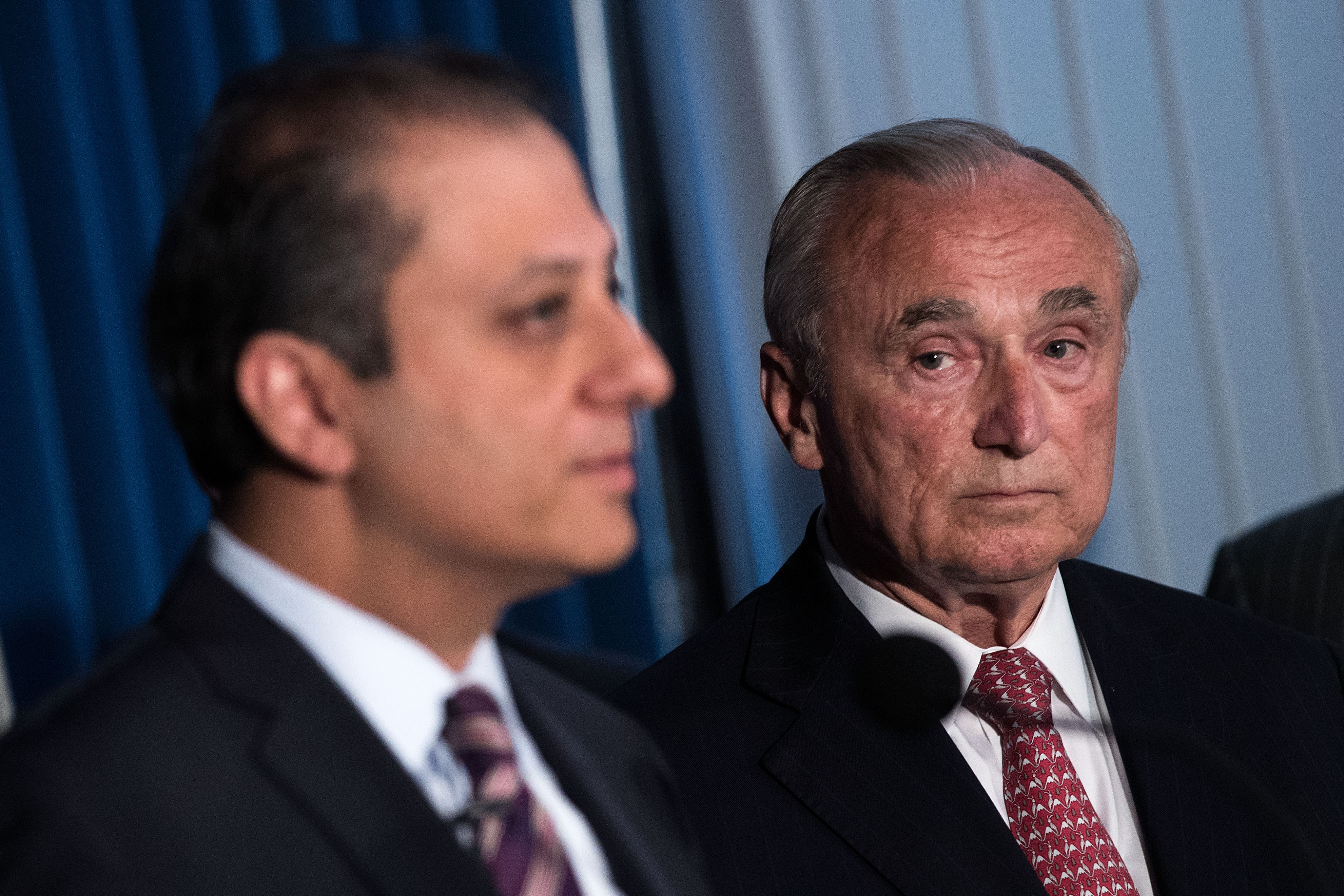 Two high-ranking police officials have been arrested for providing favors—including fast-tracking gun permits—in exchange for gifts from a de Blasio donor who has also been charged in a corruption scandal that has rocked the upper echelons of the NYPD and reverberated across the street to City Hall.
U.S. Attorney Preet Bharara today announced charges against Deputy Chief Michael Harrington and Deputy Inspector James Grant for accepting lavish and illegal gifts—including a cushy ride on a private jet, complete with a prostitute, to Las Vegas for Super Bowl weekend in 2013—from businessman Jeremy Reichberg and another man dubbed "cooperating witness-1." That witness has been widely reported to be businessman Jona Rechnitz.
"They got a private police force for themselves and their friends," Bharara said today at his offices, just a few hundred yards from One Police Plaza. "Effectively, they got cops on call."
Grant, Harrington and Reichberg have all been charged in Manhattan federal court with conspiring to commit honest services wire fraud. Reichberg was also charged with bribery.
Reichberg and the cooperating witness spent "well over $100,000" in gifts that served as bribes, Bharara said, so that they could hold sway with police—which they used to get friends and themselves out of traffic tickets, to arrange for police presence at religious sites and events, to get good seats at parades and other events, to get lights-and-sirens escorts to the airport, and even to close down a lane of the Lincoln Tunnel so a visiting businessman could breeze through without traffic.
But perhaps most troubling, Grant used his influence to speed up the delivery of gun permits, including one to Reichberg—after coaching Reichberg to lie about handling diamonds, according to the criminal complaint. That led prosecutors to discover a larger corruption scheme within the NYPD, in which two more police officials, Sgt. David Villanueva and officer Richard Ochethal were charged today. Villanueva and Ochethal, who is cooperating, are accused of speeding up gun permits in exchange for bribes from an expeditor, Alex Lichtenstein, who has already been charged in the case.
In exchange for bribes, Bharara said, gun permits were issued to people "who had no business having them," including one man with four domestic violence complaints on his record. The NYPD has taken steps to revoke those permits, Bharara said.
"When corruption subverts public safety, that is especially tough to take," Bharara said. "That is why cases like this are so important, and that is why we pursue and prosecute public corruption vigorously, wherever we find it."
Standing beside Bharara was NYPD Police Commissioner Bill Bratton. The NYPD began investigating the corruption allegations on its own after a call to the Internal Affairs Bureau and after two officers separately reported corruption, he said. Eventually, their investigation merged with the one conducted by the FBI.
"These are never good days. They are never easy days," Bratton said, but he looked for a silver lining. "What I see here is that the system works. The system where we pro-actively seek to go where the truth takes us no matter what the consequences… What we are not seeing here is a malaise where corruption is ignored."
The arrests are not only troubling for the NYPD. Both Rechnitz and Reichberg have ties to de Blasio: Rechnitz donated $50,000 to the mayor's recently closed Campaign for One New York, and Reichberg hosted a fundraiser for the group at his home in 2014.
The investigation into Rechnitz also led to the charges announced this month against Norman Seabrook, the former head of the Correction Officers Benevolent Association. Asked after Rechnitz after those charges, de Blasio said he didn't know Rechnitz well when he accepted the donations and that, now, he wishes he'd never met him.
"There's no allegation that has anything to do with the mayor in these complaints," Bharara said when asked about the donations. "So I'm not going to comment about that."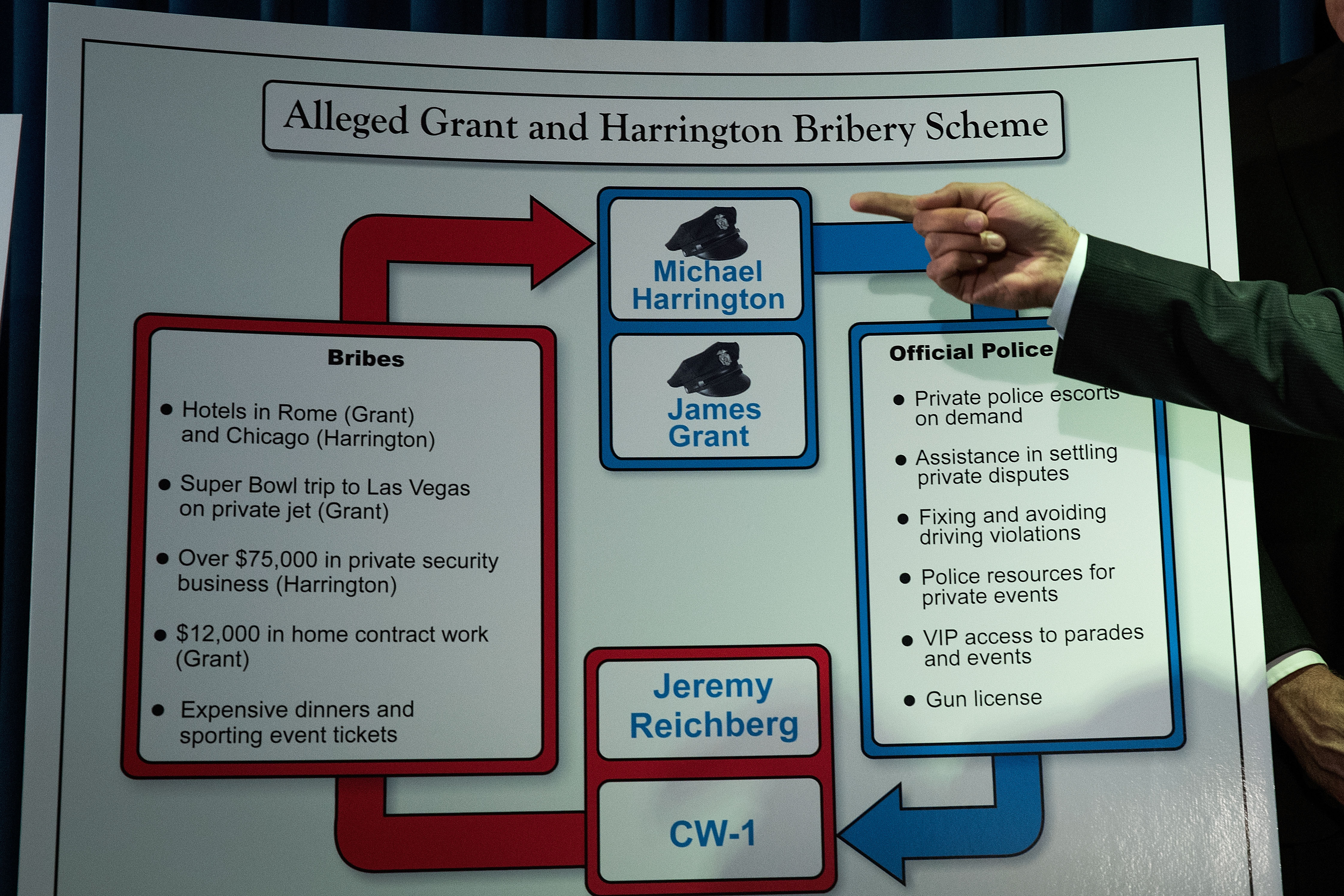 A spokeswoman for the mayor, Monica Klein, said he's "fully supportive of these investigations."
"The Mayor and Commissioner Bratton are both committed to ensuring that the NYPD maintains the integrity and trust that the public expects from its Police Department, and the NYPD is conducting a joint investigation with the FBI to discover all the facts," she said.
The indictment today outlines many pricey dinners, between $400 and $500, that Reichberg and the cooperating witness treated the top cops to over the span of several years. Often present at those dinners was "Chief-1," who is unnamed in the complaint but was Chief of Department at the time. That was Philip Banks, the department's highest ranking uniform officer who was considered by de Blasio for the commissioner job. He retired in 2014, after Bratton sought to transfer him to a second-in-command position where Banks reportedly felt he'd be sidelined from crime-fighting. Officers are not allowed to accept gifts like dinners.
"I can't speak to anything as it relates to former Chief of Department Philip Banks," Bratton said today.
As for Harrington and Grant, they've both put in their retirement papers—which means they'll be taking home fat pensions. But Bratton said both have been suspended and will retire in poor standing, meaning they will be unable to get the so-called "good guy letters" that make it easy for former law enforcement officers to get gun permits.
The complaint is peppered with embarrassing details of how Reichberg and the cooperating witness allegedly bribed the two cops—and how the officers demanded more.
In 2013, Grant took the pair up on an offer to go to Las Vegas for Super Bowl weekend—riding for free on a private jet that cost $59,000 round-trip. The trip also came with free hotel rooms, meals, and a prostitute.
"While in Las Vegas, the prostitute stayed in Grant's room," the complaint reads. "Grant and others took advantage of her services during the trip."
Later that year, the cooperating witness allegedly picked up the tab for two nights in a luxurious Rome hotel for Grant, who was there on a "family trip." Grant also allegedly accepting thousands of dollars in home repair work and a new watch.
But perhaps the most bizarre favor came on Christmas Day in 2013, when Reichberg and the witness reported to be Rechntiz—who are both Jewish—dressed up as Christmas elves and swung by Grant's Staten Island home to drop off a video game system for his kids and jewelery for his wife, according to the complaint. (They later dropped off another video game system at Harrington's house, prosecutors allege.)
But the favors seemed to dry up. In 2014, feds overheard Grant complain in a wiretapped phone call: "See you don't love me anymore, bro."
"You don't even invite me to the Super Bowl, what the fuck," Grant said in the tapes, according to the complaint. Later in the conversation, he added: "The two elves didn't come for fucking Christmas."