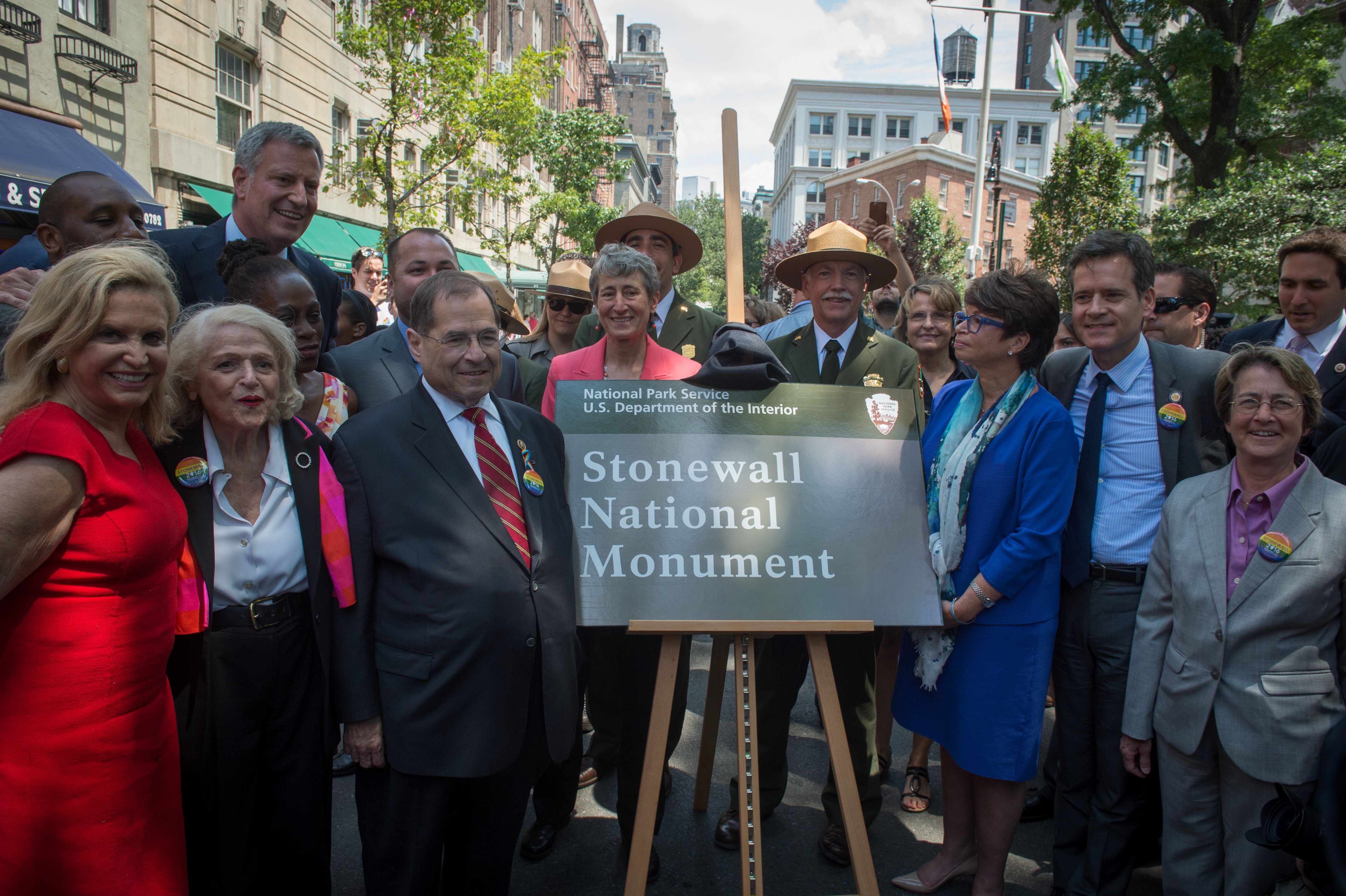 The Stonewall Inn that stands in the West Village today doesn't much resemble what was there in 1969, when it earned its place in history.
"To picture it, you have to picture these windows not with glass on them, but with plywood on them. Not with any little flags up there, but a very dingy, nondescript building," Tommy Lanigan-Schmidt, who was there in 1969, recalled today at a ceremony outside Stonewall.
But that history—the history of the club with the discerning doorman holding sign-in sheet, run by the mafia and raided repeatedly by the police until finally its patrons responded with a riot—will be preserved forever, federal officials said, thanks to the designation of Stonewall and nearby Christopher Park as a national park site.
"We want our history to be known, and to reflect who we are a nation that aspires to be as inclusive as it is diverse," Secretary of the Interior Sally Jewell said, one of several federal officials to touch on the theme of parks as places to tell stories—and on the need to tell the whole story.
In sharing his story, Lanigan-Schmidt recalled the Stonewall of yore, which existed in a time when gays were defined as sexual deviants, people whose identities were built around sex—"not love, not affection, not being human."
But inside, Lanigan-Schmidt recalled, the Stonewall Inn was a sanctuary for members of the LGBT who wanted to slow dance together.
"The affirmation of being human came full force to me," Lanigan-Schmidt said. "We didn't fight back because we loved the management of the Stonewall. We fought back because we were humanized in there. We fought back because in there, we were allowed to dance slowly."
What Lanigan-Schmidt and others fought back against that night in 1969 was a police raid of the bar in the early morning hours. Raids of gay bars, especially the Stonewall, had been routine, but that evening patrons resisted, leading to tension with police that eventually descended into violence and riots and the start of the modern gay rights movement. The June raid and riots are why Pride is celebrated this month around the world.
A bar that once more of a speakeasy with a peephole and sign-in sheet is routinely visited by tourists and LGBT people visiting as a rite of passage rather than something that must be kept secret. But while the Stonewall isn't quite the secret sanctuary it once was, it remains a gathering place for the community in times of collective joy and sorrow.  Just over a year ago, people flocked here to celebrate the Supreme Court's ruling that gay marriage was legal nationwide. Two weeks ago, people gathered here to mourn the 49 people murdered in another gay club, Pulse, in Orlando.
"We would've celebrated what is good about today, and we would have remembered the pain of the past, either way—but Orlando put things in a sharper perspective. It reminded us what it means to keep fighting," Mayor Bill de Blasio said. "This was not a place where change happened easily or calmly or gently. It came through a fight. It just came through a struggle and that struggle now must continue."
It might have been difficult to imagine in 1969 that 47 years later a president of the United States would see fit to make the spot a national park, as Barack Obama did—or that a leading presidential candidate would see fit to walk in a pride parade, as Hillary Clinton did yesterday. It might have been even harder to imagine that the NYPD would swarm around the Stonewall Inn to protect it, not raid it, and would roll out rainbow-decorated police vehicles. Or that an openly gay senator would speak from the podium, as Tammy Baldwin did, or that Edie Windsor, the lesbian activist who read the Pledge of Allegiance, could win a Supreme Court case about her marriage that brought down the Defense of Marriage Act.
"Our progress towards the goal of equality has been tremendous," Valerie Jarrett, a top advisor to Obama, said. "When the president was sworn in, marriage equality was only the law in two states. Now it's the law of the land nationwide, because—it is because our Supreme Court recognized what we have known all along: love is love."
(It's not quite clear Obama or many other politicians have known that "all along:" he did not support gay marriage publicly until 2012; Clinton didn't support it until 2013.)
And despite that progress, Octavia Lewis, a trans woman and activist, noted many people like her still faced challenges—including in visiting some of the grand national parks who officials rattled off as they noted what fine company the Stonewall would be in.
"As a woman of trans experience, I am also fearful—because in many of those states where these landmarks are held, we have no rights. We have no protection," she said. "So while we are joyous in this occasion, we cannot forget that many of us cannot enjoy all of these wonderful experiences."
But for the most part, the mood was celebratory, even in the wake of recent tragedies. Assemblywoman Deborah Glick, the first gay member of the Legislature, recalled that "Stonewall made my life different." Councilman Corey Johnson recalled being 18 and newly out and desperate to get to Christopher Street, which to him "meant gay: g-a-y, gay." State Senator Brad Hoylman dubbed Obama "our first gay president"—harkening back to Toni Morrison's designation of Bill Clinton as the first black president—and took in the National Park rangers who had gathered at the site.
"There wasn't a national park ranger in the Village People," he cracked, "but there should have been and now there will be."
Baldwin, the senator from Wisconsin, said what's always been an unofficial monument would get the stamp of federal approval.
"Our American story is now a little more whole," she said, "and a little more truthful by sharing our part of that narrative."