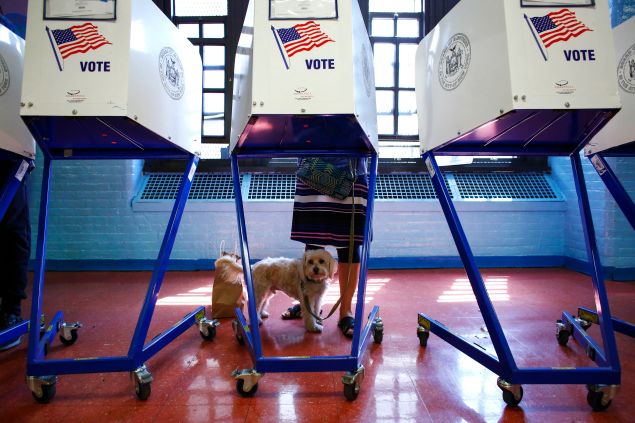 Is there such a thing as too much democracy? Well, 2016 in New York has already exposed even die-hard voters to serious fatigue, what with special elections and an unusually meaningful presidential primary that witnessed the disenfranchisement of hundreds of thousands of registered voters in what we hope will not be a preview of what's to come in November.
Tomorrow, New Yorkers will again go to the polls in oddly-timed congressional primaries, which—because our state apparently has nothing better to spend money on than staging elections—are not held on the same day as the presidential primaries. In this season of too much of a good thing, the Observer makes the following endorsements in several congressional races taking place in our vicinity.
In this season of too much of a good thing, the Observer makes the following endorsements in several congressional races taking place in our vicinity.
In the 10th Congressional District Democratic primary, the Observer endorses Oliver Rosenberg. This endorsement should rightly be seven words long. "Jerry Nadler voted for the Iran deal." Or maybe 11 words long: "Gutless turncoat Jerry Nadler cravenly voted for the disastrous Iran deal." That's really what this endorsement boils down to, even as Nadler, who has larded up his seat for 26 years, finally faces an able Democratic opponent in the interesting fresh face of openly gay orthodox Jew Oliver Rosenberg, who impressed the Observer over the course of in-person meetings during this campaign. Representing one of the most heavily Jewish CD's in the country, Nadler put party ahead of principle, voting for Obama's catastrophic capitulation, which represents an existential threat to Israel and to the stability of an already volatile region. Nadler's vote helped hand over $150 billion of frozen Iranian assets to a regime committed to acquiring nuclear arms, a fact made worse by Nadler's own admission, in a truly nauseating face-saving pandertorial in the New York Jewish Week, that "Iran will remain a major menace to the region and the world…[that would] represent an unacceptable threat to the United States, to Israel, and to global security." Representatives with impervious seats are corrosive to democracy. In this year of tumult, let's hope the voters of the 10th CD send the congressman a message.
In the 13th Congressional District Democratic primary, the Observer endorses Keith Wright. Charlie Rangel has been a lion of Washington, a legendary figure with 45 years of service in the People's House. Yes, he's had his brushes with the gray areas of congressional ethics, but he's never broken the law and the good he's done far outweighs the cynical impulse to dismiss the service of those we send to do our bidding in the capital. This is a man who earned a Purple Heart and a Bronze Star for leading a group of Army brothers to escape a Chinese pincer movement during the Battle of Kunu-ri in the Korean War. This is a man who helped found the Congressional Black Caucus and became the first black chairman of the House Ways and Means Committee. His service to his country is beyond reproach.
That's why it's somewhat disheartening that the field we've been offered to replace him seems so unimpressive. The frontrunners are Keith Wright and Adriano Espaillat. Both own unimpressive records in Albany, both have questionable donors, both are nakedly self-interested and stand to be little more than faceless freshmen members of the minority in Congress. If you're romantically inclined, you could imagine Wright symbolizing the old lost Harlem of Langston Hughes and Adam Clayton Powell Jr. Or you could argue Espaillat represents a rising new American community and embodies the inspirational immigrant narrative. But both are thus far unimpressive emblems of the people in this district, and neither will wind up in any history book worth reading. Another candidate, Clyde Williams, has experience in the federal government and policy smarts, but has spent the past several years as a pretty typical lobbyist—he has no real roots in a district defined by its roots and has accepted tons of cash from special interests. Suzan Johnson Cook, a former Clinton-era ambassador, is probably the smartest and most sincere candidate in the race, but she's raised zero money and has no shot of winning. Guillermo Linares and Adam Clayton Powell IV are washed-up retreads lacking the intellectual horsepower to replace a legend. Mike Gallagher is a white guy who decided to run for a majority-minority congressional seat as a stunt. Wright is our choice not out of confidence but out of hope. He is finishing strong and deserves a shot—a long shot—to fill the shoes of the exceptional man he'd replace.
In the 19th Congressional District Democratic primary, the Observer endorses Zephyr Teachout. Beginning with her surprisingly successful make-a-statement run against Andrew Cuomo in 2014's Democratic gubernatorial primary, Teachout has made her central issue the curse of money in politics. With the shocking convictions of the leaders of both the New York State Assembly (Sheldon Silver) and Senate (Dean Skelos), this has revealed itself to be an amazingly durable and bipartisan problem. And now, with a fresh batch of city officials suddenly involved in a series of new bribery and influence scandals, the need for a devoted reformer like Teachout is stronger than ever. Ironically, Teachout, a law school professor (and occasional Observer contributor), has attracted lots of money from a diversified cast of nationally known contributors. This has earned her some barbs from her Democratic opponent, Hudson Valley farmer and activist Will Yandik, who has run a spirited campaign accusing Teachout of carpet bagging, a charge that never seems to carry much weight, especially in a state that sent Hillary Clinton to the U.S. Senate with giant pluralities.
In the 19th Congressional District Republican primary, the Observer endorses Andrew Heaney. This race is the rare toss-up seat, which has resulted in competitive primaries on both sides as incumbent Republican Chris Gibson is honoring a three-term pledge and packing his bags. On the Republican side, a classic "old hand vs. outsider" dynamic has emerged. John Faso is well-known in the district, having represented the region as the former minority leader of the State Assembly. Moreover, he has run for many other offices, including state comptroller in 2002, losing to the now-disgraced Alan Hevesi, and then earned the GOP nomination for governor, where he was trounced by the now-disgraced Eliot Spitzer. Faso is an old pro but the party has demonstrated a huge appetite for change this year, which ought to favor the attractive newcomer Heaney, a businessman who made a pile selling heating oil. As a campaigner, Heaney's made some rookie mistakes, including taking his foot off the TV-money gas even as he was closing the gap, and investing in "ground game," which is the equivalent of "doing nothing" in the world of modern campaigns. Faso, the old pro, practically danced a jig as his team sent around a Politico article noting that Heaney must be throwing in the towel by deeply cutting his buy at the last minute. Nevertheless, our delegation could use more people with Heaney's energy and quick mind, which were revealed in a visit to the Observer, and win or lose, he's got a bright future in politics.