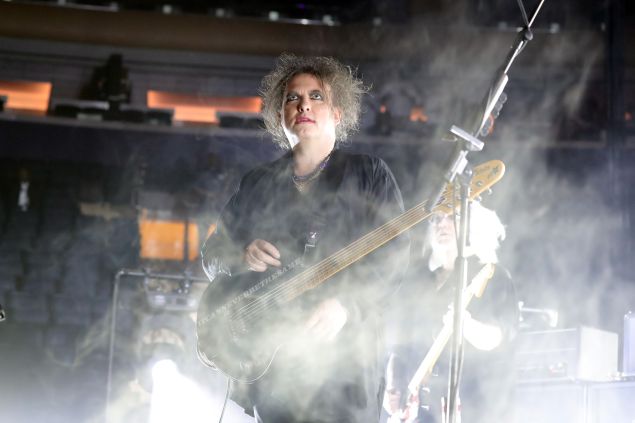 From the moment The Cure took the stage Monday night, a cascade of four decades' worth of groundbreaking, gorgeous guitar rock washed away anything outside Madison Square Garden. Their music's been called punk, goth, new wave, romantic and even "alternative" over the last 40 years, but that evening it was clear all those labels fall short of describing what can only truly be known as "The Cure."
The thrill of this current tour has been the deep, deep spelunking Smith and the boys have been doing in their massive back catalog for their set lists. Monday night, one of the primary focal points was 2000's Bloodflowers, the incredibly under-appreciated third installment of their famous trilogy that also includes 1982's Pornography and 1989's Disintegration, as well as the group's final LP for Elektra Records.
Smith, along with drummer Jason Cooper, former Psychedelic Furs/Thompson Twins/Berlin keyboardist Roger O'Donnell (who has been playing in The Cure on and off since 1987), perennial bassist Simon Gallup and the mighty Reeves Gabrels of David Bowie's Tin Machine on lead guitar, kicked off the first set with a beautiful reading of the opening song from Bloodflowers, "Out of This World," then proceeded to cherry pick the best of the best cuts throughout their two hours and forty minutes onstage, with electrifying renditions of "39", "The Last Day of Summer" and the title track punctuating the interpolation between Smith and his latest foil.
Whereas the group concentrated on Disintegration on the first night (with a whopping nine songs!) and Kiss Me Kiss Me Kiss Me the second night, tonight's emphasis belonged to the 1985 fan fave The Head On The Door, playing five cuts including "A Night Like This", "Kyoto Song", "Push", "In Between Days" and a version of "Close to Me" that saw Smith put down the guitar he'd been playing the whole night and dance around in his trademark black blouse like he did in the Thatcher days.
Kiss Me, meanwhile, was represented by only three songs, but when those selections are "Hot Hot Hot!!!", "Just Like Heaven" and "Why Can't I Be You" the level of excitement exuded by the capacity crowd was so electric you'd think they played the whole record in its entirety.
Disintegration, meanwhile, was represented by "Closedown", "Pictures of You", "Lovesong" and an animated run through "Lullaby".
Other albums highlighted included Seventeen Seconds ("A Forest", "At Night", "Play for Today"), The Top (massive, massive versions of "Bananafishbones", "Shake Dog Shake" and "The Caterpillar"), Wish ("High" and "Trust"), 4:13 Dream ("Sleep When I'm Dead"), Pornography ("A Strange Day") and, of course, that indelible version of "Boys Don't Cry" which has been closing out every night of the tour.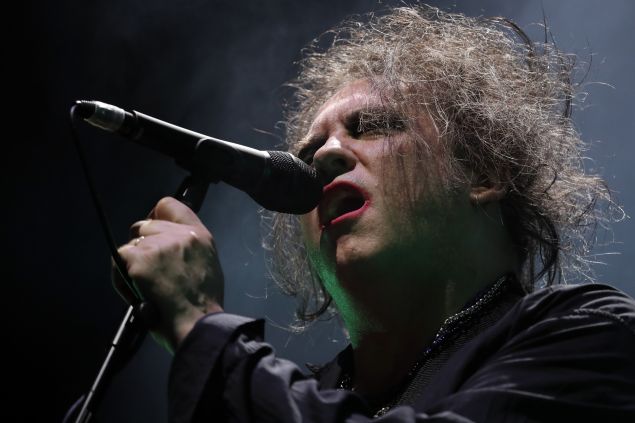 They even threw in "Burn" from The Crow soundtrack, not to mention a brand new song called "It Can Never Be The Same" that shows nothing but promise for the next Cure album whenever it may come down the pike. (Perhaps via a surprise release via Beyonce and Radiohead?)
This morning, a friend who was also in attendance told me we had the best of all three nights; despite the Sunday crowd getting a rare performance of "Never Enough" from the band's 1990 remix album Mixed Up, I am inclined to agree with her.
But to be perfectly honest, I was really expecting more of a sense of interplay between Smith and Gabrels throughout the show like the way Robert used to play off The Cure's once and future quintessential guitar hero Porl Thompson, especially considering just how dynamic Reeves' work was with Bowie. Unfortunately, that was not the case, as they seemed to barely acknowledge one another's existence; at least that's what it seemed from my vantage point.
And that is possibly my only complaint about the show, as one of the reasons I was so gung ho about getting into one of these concerts was to see Gabrels and Smith—who does not get enough recognition for his wizardly skills on the six-string—duel it out on their respective axes.
The true chemistry, on the other hand, existed between Bob and Gallup, whose distinctive bass playing has been the backbone of The Cure since 1980 (save for a brief departure in 1982 after he and Smith apparently got into a fistfight over a bar tab). The way these two old friends played off each other, with Gallup prowling the entirety of the MSG stage all night like a caged leopard looking more like a rockabilly rebel than a goth icon, was perhaps the most lasting impression of the evening.
That is, of course, until the show ended and the sole member on the stage was Smith, who seemed to be genuinely touched by the enormous outpouring of love and appreciation the crowd was throwing at them (save for the group of idiots in the "suite seats" in front of us taking selfies the entire fucking night without an ounce of acknowledgment to their surroundings. (These are the people who get free tickets to these shows, folks).
If you are an actual fan of these titans of English rock and have not seen them already on this current tour, I implore you to do so, even if you have to drop a couple of Benjamins on Stub Hub to get yourself in the door. You won't regret a second of it.