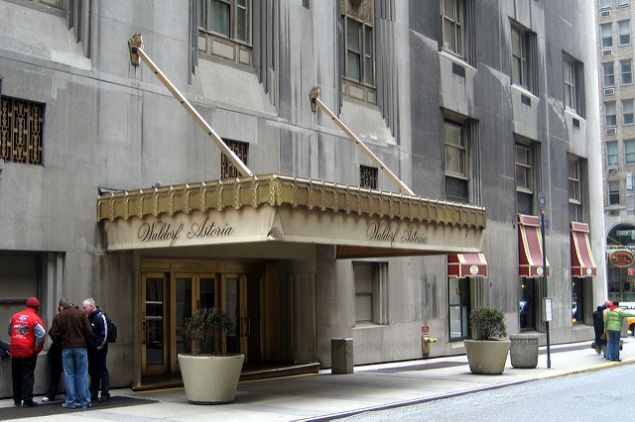 The Waldorf Astoria looks like it may want to follow in the footsteps of the plaza, and convert 1,000 of its nearly 1,400 rooms into luxury condos, according to Crain's. So much for one of the city's last grand old hotels.
Roman Abramovich may actually get his mega-mansion: despite being widely derided for trying to combine three townhouses on a landmarked stretch of E. 75th, the Russian billionaire managed to get his proposal by the Landmarks Preservation Commission yesterday, who heralded his architectural team's responsiveness to their earlier feedback, Yimby reports. The superstar team—"architect Stephen Wang of Midtown-based Stephen Wang + Associates, PLLC, as architect of record, with work by architect Jacques Herzog of Herzog & de Meuron and done in consultation with preservation consultant Ronda Wist of Wist Preservation Associates"—got the nod by keeping the front facades of the townhouses largely the same, while the back will be one glass-clad expanse. They even got a rooftop addition through.
Nationally, the lagging demand for luxury homes is giving buyers more bargaining power, The Wall Street Journal reports. So good luck to Abramovich if he ever decides to sell.
A bill to ban posts for Airbnb-style short-term sublets—i.e. those under 30 days where the owner or leaseholder is not present—is likely to pass in Albany by the end of the legislative session with support from both Democrats and Republicans, according to Crain's. While such sublets themselves have long been illegal, before it was only building owners, not tenants, who could face punishment for advertising them—penalties, they add, could range from up to $1,000 for a first offense to $7,500 for third and subsequent violations.
New York's first micro-units actually aren't a very good deal, The New York Post opines: "a 360-square-foot space would pay $35,040 a year for the privilege of living in a Kip's Bay prefabricated shoebox, where making your bed means shoving it in and out of a wall and over your apartment's only coffee table."
The number of requests for emotional support animals—and the ease of registering one's pet as one—has ballooned over recent years, according to DNAinfo.
In related news, Tiny, the cat who has lived at Park Slope's Community Bookstore for the past 7 years, is back after a brief disappearance, DNAinfo reports. He was found by a nearby resident shortly after he went missing.
Finally, Vegan pizza place Screamers, a joint concern of Champs and Philadelphia's Blackbird Pizzeria, is is now open in Greenpoint, Brokelyn reports.