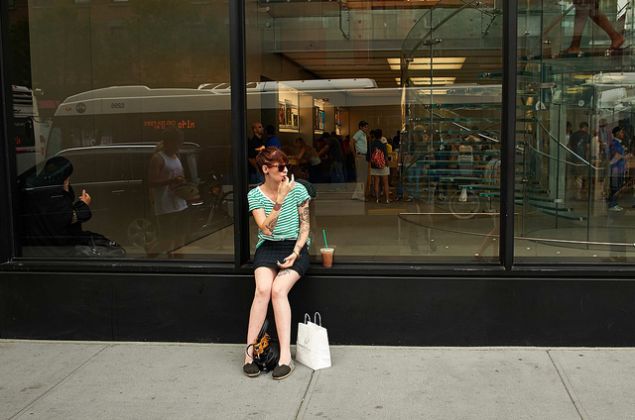 Memos reveal that even if Mayor Bill de Blasio didn't personally know about the deal to lift deed restrictions on Rivington House, top members of his staff did, according to The New York Times.  The city's Department of Administration Services informed first Deputy Mayor Anthony Shorris that it as working to remove the restriction in May of last year and delivered another update in July; "officials at City Hall have said that Mr. Shorris did not know until after the sale that the city had lifted all deed restrictions on the property. The first deputy mayor "learned of the transaction and the lifting of the full deed restriction in late February."
Passerby can check out the exoskeleton of Jean Nouvel-designed 53 W. 53rd Street, which unlike most rising skyscrapers, has not camouflaged its exterior in any kind of construction sheeting, Yimby reports. More opaque is whether there will be a market for another super-prime Midtown skyscraper by the time it's completed.
Speaking of which, the Baccarat duplex penthouse, last listed at $54 million, has sold for an as-yet undisclosed sum, according to Crain's. Developers Starwood Capital Group and Tribeca Associates discounted the penthouse's asking price from $60 million last month, a reflection of the ailing ultra-luxury market.
Alchemy Properties, the developer behind the Woolworth Tower, who has also allegedly grappled with slower than desired sales, has taken out a $220 million loan from Overseas Bank Limited to fund the rest of the conversion, according to The Real Deal.
Meanwhile, supertall 111 W. 57th is finally rising above the ground as well, according to Yimby.
And Kuafu properties, seemingly uncowed by market shifts, wants to put another supertall on the former site of beloved dive bar Subway Inn, at 151 E. 60th Street, 6 Sq.ft. reports. In renderings, the would-be skyscraper appears to be occupied by the same melancholy evening gown-clad woman who once resided at One57.
Beware brokers who "buy" your listing—i.e. agree to whatever price you want, no matter how unrealistic, assuming you'll wise up in time, rather than counseling you with good advice from the beginning—The Real Deal warns.
Zoning nerds can sign up for a citywide scavenger hunt of key zoning sites on July 9, according to DNAinfo.