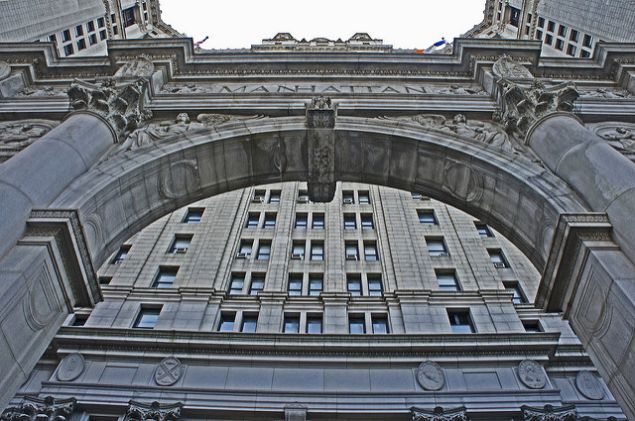 St. Sava, the historic Serbian Orthodox church in the Flatiron severely damaged by a fire this May, will be demolished, according to Gothamist. The Department of Buildings determined that the remaining walls were not stable during high winds on Sunday; the church may now be de-landmarked in order for demolition to proceed. St. Sava could, they note, decide to rebuild a new church, or any structure meeting its zoning designation, on the site.
If there are architectural remnants to be had, changes are Evan Blum will pick them up. The salvage maven runs a store in Harlem, but keeps the bulk of his collection in Ivoryton, Connecticut—what he believes is the largest private collection of architectural ornaments in the country, and growing swiftly, according to The New York Times. "They're taking down and gutting buildings faster than we can keep up with right now," he said. "I have 25 churches to do before the end of the year."
Not being torn down: the old Hershey factory in Chelsea, whose development team, Curbed reports, has recently launched a teaser site featuring lots of white fabric and boasting of white glove service. Now if there's one thing that doesn't mix it's Hershey chocolate and white gloves.
Meanwhile, the developers renovating Greenpoint's landmarked pencil factory as a industrial sleek office space are hoping to net rents of $50 per square foot—which is what Vice is paying for its new Williamsburg office, as well as being a North Brooklyn record, Yimby reports.
A generation ago working a food truck was a path for poor immigrants to establish a stable economic foothold in the country, but permitting requirements and restrictions have led to shady blackmarket dealings that obliterate profits for many, Crain's reports. One vendor they interview, who owns both his truck and his vendor license, must pay a cut to the man whose mobile food vending permit he uses. "That black market is worth an estimated $15 million to $20 million  a year, costing the city millions of dollars in potential fees while making it harder for immigrant entrepreneurs to build equity and take the first step up the economic ladder."
For those wanting to give their two cents on the Brooklyn-Queens streetcar that may be built along the waterfront, meetings are coming up on June 20 and 21, DNAinfo reports.
If you loved Father of the Bride and feel like moving to Los Angeles, the house where parts of that movie and its sequel were filmed is now on the market, asking $2 million, Curbed reports.