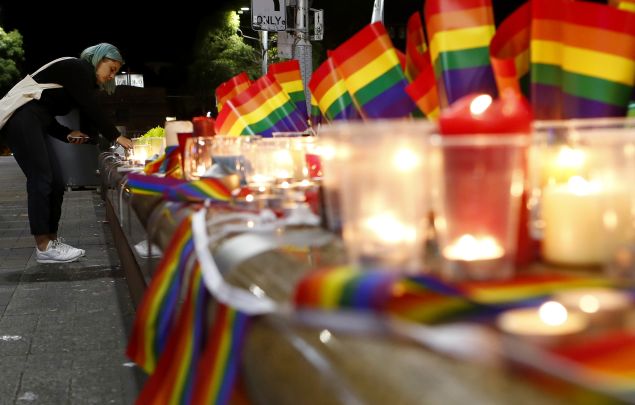 The world has long turned a blind eye to the slaughter of gay men and women in Islamic countries. The lifeless bodies of innocent gay men dangling from cranes in the town squares of Iran. The innocent Palestinian gay men and women murdered on false charges of collaboration with Israel by Hamas in Gaza. An infinite number of laws and draconian punishments against gays in Saudi Arabia, Qatar, United Arab Emirates, and Egypt.
But the Orlando massacre has brought necessary attention to the extremist Islamic assault against homosexuality.
In 2014 our organization The World Values Network took out a full page New York Times ad called "Rennick" that featured a gay man, Rennick Remley, listing the punishments of death he would receive from ISIS, Iran, and Hamas were he was unlucky enough to live under their tyrannical rule. He compared that treatment with the openness and tolerance of Israel which every year stages some of the largest gay pride parades in the world. The ad was powerful with a compelling message and was so well done that it won a Polly award for being one of the best ads of the year.
It's time that the world began to respect the lives of gay men and women the world over, defending them against persecution, and not just in the United States.
Within a few days the Israel-haters, always trolling for attacks against the Jewish state, had begun hurling their charges of "Pinkwashing" at both me and Rennick, who is not Jewish. They contended that Israel uses its tolerance of homosexuality to paper over its persecution of others. I found the attacks astonishing, especially as so many came from leftist LGBT activists. Really? Your hatred of Israel is so great you will silence your criticism of the slaughter of gay men and women in the Middle East in order to be more vocal about your disdain for Israel?
No doubt, the atrocity in Orlando has silenced them. What will they say now that an Islamic radical saw fit to murder 49 innocent gay men in the worst mass shooting in American history? What was it about these men, enjoying a night out at a nightclub that so offended this Islamic terrorist that he cut them down without mercy? And will Imams begin to address the extreme hatred of homosexuals that is tolerated in way too many Islamic circles?
When the Iran nuclear agreement was concluded by President Obama and John Kerry, I wondered about this. The President is pro-gay marriage and I do not deny that he is a friend of the LGBT community. Would it have been difficult for him, during these protracted negotiations where Iran was desperate for a deal and was going bankrupt without it, to condemn Iran's treatment of gays? Could he have not said even once that he deplores the site of gay men hanging from construction cranes in Tehran?
More mystifying is how the LGBT lobby never once demanded this of the President.
The Jewish lobby fought tooth and nail against the Iran deal because of Iran's promise to visit a second holocaust against the Jews. President Obama never once condemned this either. We Jews have unfortunately become accustomed to regular genocidal threats against us that have been tolerated by the Obama Administration, including those that come regularly from Iran and Hamas, which just shows the impotence of the American Jewish lobby amid a belief in their alleged omnipotence.
But the LGBT lobby is well-organized, disciplined, and determined in demanding that gay rights be respected and that gay lives matter. So why were they silent on Iran?
Was it because they felt they had no obligation to gay men and women outside the United States and that the issue of gay rights pertained specifically to marriage in the United States and other Western countries?
I hope that's not the case. It's certainly not true for the Jewish community, which lobbies for the rights and lives of Jews wherever they may be found, which is the way every community worthy of the name out to behave.
It's time that the world began to respect the lives of gay men and women the world over, defending them against persecution, and not just in the United States. The Middle East, with the notable exception of Israel, has become a cesspit of gay hatred and it has to cease.
What happened in Orlando is an abomination. It is senseless and I would never demean the lives of the innocent victims by trying to explain it away as leading to some higher aim. These victims should never have died and we mourn their loss along with their grieving families.
But the tragedy of their deaths must spur us to becoming more vocal than ever in condemning evil, brutal governments like Iran that murder gays in public. The United States should not release another dollar of Iranian  assets without a commitment from the Mullahs that their persecution and murder of gays will end.
Monstrous government should never be given checks for murder lest we become complicity in rewarding evil.
Rabbi Shmuley Boteach is the founder of The World Values Network and is the international best-selling author of 30 books, including The Israel Warriors Handbook. Follow him on Twitter @RabbiShmuley.