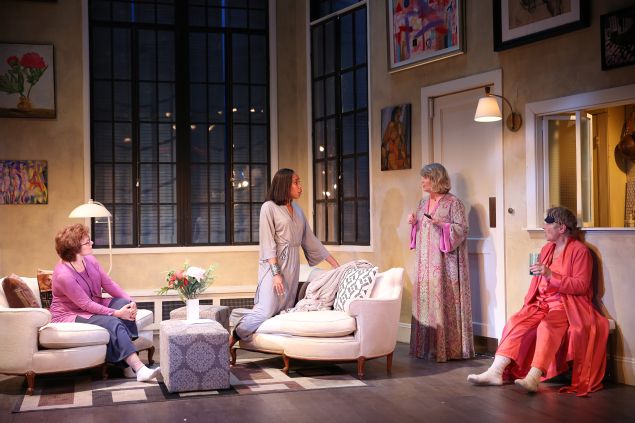 There are two hardy reasons to shuffle on down to the historic Cherry Lane Theatre in Greenwich Village to see Out of the Mouths of Babes, the new comedy by Israel Horovitz. One is the four accomplished actresses who comprise the entire cast, headed by Estelle Parsons and Judith Ivey. The other is the playwright himself, who still knows how to write a solid comic line that works without sounding like a punch line on a television sitcom. You won't go away depressed or troubled about the world we live in, but you will be sweetly and happily entertained.
The setting is a Paris loft with walls covered in paintings, overlooking a canal and occupied by four diverse, complicated women. They all lived there at one time or another, while they were married to the same intellectual American expatriate. He just died, and they have come to Paris for the funeral, unaware they would be sharing memories of love, pain, laughter and the whole damn thing with each other. Parsons is Evelyn, an 88-year-old cynic with a mouth like a sour lemon. Judith Ivey is Evvie, the only one of the dead man's former loves who never actually got around to marrying him—or anyone else. "I never found a man who made me happy," one says. "There's no such thing as men who make you happy," the other one counters. And we're off and running. They work together like condiments on a great burger, but their two "roommates" keep up the pace they set without a single lag in the conversation. Francesca Choy-Kee is Marie-Belle, the youngest and latest of the wives and Angelina Fiordellisi, who was memorable in both the Broadway revival of Zorba and the Cherry Lane production of Snow Orchid, is Janice, a hysterical neurotic with a recurring attraction to attempted suicide by jumping out of the same window. At the end of Act One, she finally succeeds, ending the first half with a heady mixture of laughter and suspense. Horovitz knows how to make the audience return from intermission wanting more.
As Act Two begins, she returns, soaking wet—seems she landed in the canal instead of on the Paris pavement. This is a good thing because it would be a terrible loss to say adieu to the terrific Fiordellisi so early. At the funeral that follows, she throws herself into the grave with the coffin, which gives the quantum quartet even more to talk about when they get home from the Père Lachaise cemetery, where they buried the dirty rat they all shared in close proximity to both Jim Morrison and Oscar Wilde. This scene, like everything else in the play, is about the four diverse women of four different ages and how they cope with each other through smart dialogue. They talk and you listen. Out of the mouths of these babes comes wit, wisdom and a few tenets to live by you never thought of. The actresses work as an ensemble, playing off each other with skill, and director Barnet Kellman moves them around like chess pieces.
Horovitz is a weaver of webs with a special interest of late in Americans in Paris. (His screenplay for My Old Lady, a charming film with Kevin Kline and Maggie Smith, is a recent example, and now this.) He writes incisively and humorously about human strengths and foibles, and I dare you to go away bored. Out of the Mouths of Babes might not be one of Horovitz's best plays or, for that matter, one of Parsons' either. But they're solid as Sears, and you're still in good hands. It's a delightful recipe for fluff, bordering on farce and as easy to take as seven-minute frosting.